A trail traces through wildflowers on a slope at Tandy Hills Natural Area. Photo by Don Young/Wild DFW. 
Aug. 18, 2022
A few years ago, I shattered my C2 vertebra, an injury only two percent survive. The surgeon's solution was to fuse my top three vertebrae, but the end result was to make my head unable to turn, diminishing my sense of balance by 20 percent. 
As I learned to walk again with a walker and then a cane, sidewalks and streets were essential, but I yearned to hike on dirt again. Six months after the neck wreck, I stopped by Clear Creek Natural Heritage Area near Denton. 
I was so excited about hiking again, I took off down the trail, forgetting to take my neck brace and cane. Within 30 yards on the slick, uneven ground, the world began to spin. I staggered and fell forward onto my hands and knees.
"You can't take this away from me, God!" I cried. 
I wasn't about to give up the joy of hiking without a fight. I pounded the ground in frustration. 
I struggled to my feet and plowed down the trails, staggering like a drunk. 
Over the next hour, free of the neck brace, my neck began to adjust, filling in for what my fused vertebrae could no longer do. 
By walking dirt paths, I regained my balance —and my freedom. 
A DEARTH OF DIRT TRAILS 
On paper, Dallas and Fort Worth have lots of trails — paved trails. Great if you're on wheels: road bicycles, strollers, wheelchairs and such. They help the elderly and mobility impaired who have difficulty lifting their feet when they walk. If you want to walk outdoors but don't want any chance of getting nature on you, paved trails work. 
Walking a dirt or other soft-surface trail is an entirely different experience. Walkers have to go slow and stay aware. They're more challenging to traverse, but that's the point. The uneven ground tests your sense of balance, works all your joints and muscles. For that reason, many doctors for arthritic and elderly patients recommend them. 
Kristi Kerr Leonard ascends the Scyene Overlook at Piedmont Ridge. Photo by Stalin SM/Wild DFW.
My Dallas Morning News op-ed earlier this year, "How Dallas' nature trails healed my broken spine," struck a public nerve. The newspaper published letters to the editor in response that focused on the healing power of nature. 
"I was moved by Amy's piece sharing what is usually a devastating injury and how hiking on dirt trails was instrumental in her recovery of body, mind and spirit. Soft surface and dirt trails enhance and enrich the outdoor experience and I implore the city to commit more resources to bring people closer to nature and all the benefits that nature provides." — Connie K.
"I am impressed with all the wild spaces that still exist within the city limits. I hope that Dallas parks and county leaders will consider installing more natural-surface trails to allow walkers and runners better access to these healing spaces." — Suzanne T.
An aerial view of the Escarpment Trail at Cedar Ridge Preserve. Drone photo by Vijay Tanwar/Wild DFW. 
Social media commentators chimed in with surprising perspectives about dirt trails and physical health, showing it's not just nature fans who benefit. 
"I can hike all day on dirt paths and not hurt a single bit at the end of the day. I can walk a mile on paved ground and my hips and lower back kill me. Yes, I have the correct shoes." — Stephanie G. 
"What a wonderful story. I have a degenerative form of arthritis and can walk miles on dirt but only short distances on paved trails without pain setting in." — Jennifer J.
Some people on social media credited soft-surface trails with both mental and physical healing:
"Thanks for the story. I had done the same after a severe broken ankle: two plates, three pins and nine screws. My surgeon suggested that I walk on uneven surfaces to help heal and keep ligaments moving. I went from not being able to walk to complete mental and physical healing in the back woods in the local nature preserve. It literally saved my soul." — Tara N.
WHY DIRT PATHS ARE ESSENTIAL
Soft-surface trails foster a heightened awareness and attachment to nature that paved trails rarely can. You can't walk mindlessly like you can on pavement. The slower pace and closeness to nature allow hikers to feel the curves of the terrain. All that creates an appreciation of the land.
The bare wisp of a trail through prairie wildflowers and grasses at Tandy Hills Natural Area. Photo by Don Young/Wild DFW. 
Many users seek what Texas Parks and Wildlife calls a "nature immersion experience." They want to leave behind urban sprawl and work stress, expectations and schedules. Oneness with nature is what they desire. A new trend is forest bathing, which offers mental health benefits. 
It's hard to get that kind of experience on paved paths. But a long-distance soft-surface trail can get you someplace free of residential, industrial and traffic clamor, where the air is fresh without exhaust and pollutants. 
Naturalists and birdwatchers need to be far enough from civilization to study wildlife in their natural surroundings. There are also trail runners and fitness hikers who seek dirt trails with significant mileage.
DIRT PATHS: TOO FEW FOR THE DEMAND  
Walking soft-surface nature trails is by far the most popular activity in Texas state parks. Yet when returning home, those users find scant trails for hikers, not off-road bikers, and few have significant length.
A wooded path explores the Piedmont Ridge. Photo by Daniel Koglin/Wild DFW. 
Dallas County Open Space is engaged in a vigorous discussion on the possibility of increasing dirt-trail mileages in many of their more than 20 preserves. 
The Trails And Preserve Program of Dallas County Open Space board members noted that their two preserves with significant dirt trail mileage — Goat Island Preserve and Cedar Ridge Preserve —were overrun with users, especially on weekends, indicating pent-up demand. 
THE KEY TO URBAN NATURE TOURISM 
A sufficient amount of dirt trails does more than appease local nature fans and help improve citizen health. An extensive, professionally designed dirt-trail system brings in urban nature tourism. 
While younger nature enthusiasts seek adventures in camping and backpacking, the older set tends to have a different ideal. They want to enjoy a big breakfast, pack a picnic lunch, and hike all day. Then at day's end, return to a comfy hotel room, rinse off and sit down to a nice meal at a restaurant that night, maybe even take in a show.  
Now that's a considerable infusion of money into the economy. If you build it and then market it, they will come. 
The naturalist-run 10,000-acre Sonian Forest in southern Brussels is credited with great tourism revenue and increased citizen health.
If there were a decent dirt-trail system, nature tourists could easily spend a weekend hiking the 6,000-acre swath of Great Trinity Forest, from the Bonton Woods to Goat Island Preserve. 
Parks and preserves in eastern Collin, Dallas, and Kaufman Counties could easily fill two days. So could those along the Elm Fork from Frasier Dam Recreation Area to Lewisville Lake Environmental Learning Area and on to Lake Ray Roberts State Park. Fort Worth Nature Center & Refuge alone would fill a weekend.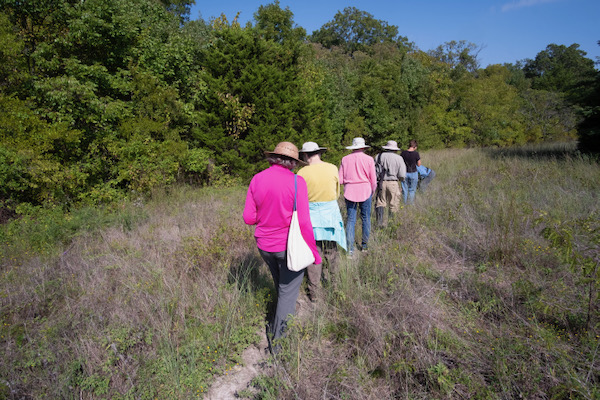 See Amy Martin's Hiker's Guide to Dirt Trails in DFW. Photo of hikers at Spring Creek Forest Preserve in Garland by Adam Cochran/Wild DFW.
Reach out to your mayor, city councilperson and county commissioner to urge a considerable investment in soft-surface trail construction. The citizenry's mental and physical health might depend on it. 
Now that I've made the case for more dirt trails, check out our excellent local offerings in my Hiker's Guide to Dirt Trails in DFW in Dallas, Tarrant, Collin and Counties.
RELATED ARTICLES
Hiker's guide to dirt trails in DFW
7 best places for long hikes in DFW 
Name chosen for trail connecting Dallas and Fort Worth
---
Stay up to date on everything green in North Texas, including the latest news and events! Sign up for the weekly Green Source DFW Newsletter! Follow us on Facebook and Twitter. Also check out our new podcast The Texas Green Report, available on your favorite podcast app.