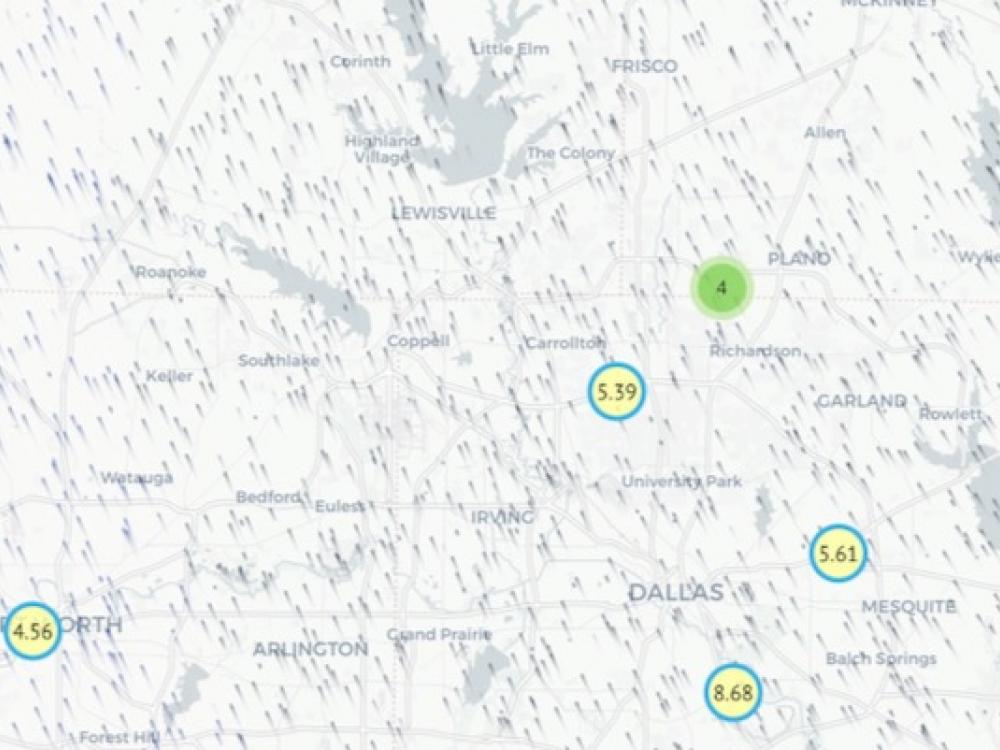 Downwinders at Risk recently unveiled a system of new air monitors in Dallas. Photo courtesy of Downwinders at Risk.
Oct. 22, 2020
A 26-year-old clean air advocacy group is stockpiling new ammunition to fight Dallas City Hall in a quest to move air polluters away from neighborhoods.
Frustrated by a dearth of accurate air sampling in Dallas-Fort Worth, Downwinders at Risk recently unveiled SharedAirDFW, a grassroots network of 10 air quality monitors, created in partnership with the University of Texas at Dallas, Paul Quinn College, the city of Plano and Dallas County and Dallas College. Each monitor is within a 2-mile radius of the "mothership" monitor. More monitors are planned after an initial testing phase.
An online map shows the monitors' real-time readings of airborne particulate matter - microscopic solid or liquid substances that adversely affect human health. 
One of the monitors installed for the Shared Air DFW project. Courtesy of Misti O'Quinn.
"We can take the data to city government and show them the 'smoking gun,'" said Misti O'Quinn, the Downwinders' community liaison.
"Once we have data to present to the city of Dallas, we hope to spur the process of relocation of the polluters" through amortization, said O'Quinn, who also serves as the North Texas organizer for the Sierra Club's Beyond Coal campaign.  
SharedAirDFW has received funding from a variety of sources including Downwinders and EarthX to build and eventually place 100 monitors in various locations around North Texas, including the frontline communities of Joppa, West Dallas and Midlothian.
The monitors placed thus far are being tested. Here is the online map with real-time readings.
The project has been three years in the making, since it was a National Science Foundation grant runner-up in 2017, according to a press release. Then in early 2018, Joppa residents asked Downwinders to monitor air quality because of a concrete batch plant in the neighborhood.
"These neighborhoods, surrounded by industry, are in a bowl of toxicity," O'Quinn said, "with a railroad switch yard, a concrete batch plant and additional polluters." 
The online map's black circles indicate locations of industries that have been granted "major air pollution permits," said David Lary, Ph.D., physics professor at the University of Texas at Dallas who, with his students, has helped lead the project. 
To find the emitters, "Just check the box labeled Air Pollution Burden," Lary said. 
The locations were identified in a study conducted by Paul Quinn College. 
Illustration of particulate matter size. Courtesy of U.S. EPA.
The problem with particulate matter, according to the SharedAirDFW website, is that when it's smaller than about 10 micrometers "it can settle in the bronchi and lungs and cause health problems. Fine particulate matter (PM2.5), tend to penetrate into the gas exchange regions of the lung, and very small particles may pass through the lungs to affect other organs."
O'Quinn says there are only three Dallas PM monitors operated by EPA and Texas Commission on Environmental Quality. That's too few to provide a realistic assessment of the air quality of the city, which covers 350 square miles, she says.
"How can you tell how many parts per million of particulate pollutants are in the air you are breathing? There's no way if the monitor is 10 miles away. It won't be accurate."
TCEQ media relations specialist Gary Rasp said in an email, "Particulate matter is measured at three stations within the city of Dallas (Hinton, Convention Center, and Earhart). There are six additional stations measuring PM across the Dallas-Fort Worth metroplex – one in Denton, three in Fort Worth, one in Midlothian and one in Kaufman. TCEQ does not have any comment on the SharedAirDFW project."
The "mothership" air monitor being installed in Dallas. Courtesy of Misti O'Quinn.
The monitors are stationary, set up on a grid and mounted on poles at appropriate heights, 20 feet for the "mothership" and 6 feet for the "satellites." They can be moved if necessary. 
"We are committed to open data," said Lary in an email, "and transparent open science (all our sensor designs and code for the sensors and sensor construction was done by the students). The sensors we build make measurements every few seconds. We already have online a visualization portal that was also built largely by the students and streams the data in real time, allowing us to accurately capture the time evolution of air quality at a site so we can answer the question, How representative is an individual observation of what was encountered over a time window?"
All the data files are available online.
"The goal of my lab is Open Data from calibrated sensors to facilitate actionable insights for societal benefit," Lary said in his email. "The designs for our sensors are open design platforms that can easily be replicated by others. My assumption is that good air quality is in everyone's interest, and that open tools with real-time actionable data help us all make better decisions, whatever our role."
O'Quinn said that after data is collected, the citizens plan to seek action from the city of Dallas. 
"Some areas are zoned improperly," she said. "There's no reason a batch plant should be across from someone's home."
RELATED ARTICLES
Portable air monitors are latest tool for North Texas activists
Air monitoring training to be held in Dallas
Citizen network to monitor tiny, deadly air hazard in DFW
North Texas watchdogs partner with academics, cities to step up air quality monitoring
---
Stay up to date on everything green in North Texas, including the latest news and events! Sign up for the weekly Green Source DFW Newsletter! Follow us on Facebook and Twitter. Also check out our new podcast The Texas Green Report, available on your favorite podcast app.