Help us recognize those outstanding innovators, leaders and volunteers who are making North Texas greener. Photo by Jim Domke.
Oct. 13, 2023
There's still time to nominate your favorite green heros for the 12th annual Green Source DFW Sustainable Leadership Awards! 
Nominations will be accepted through Oct. 15, 2023. See NOMINATION FORM.
The annual green awards, hosted by Green Source DFW and its parent nonprofit the Memnosyne Institute, were launched in 2012.
This year's winners will be honored at a ceremony that is still being planned. Details to be announced. Winners will be announced prior to the ceremony.
Kathryn Bazan, chair of the Dallas Environmental Commission, received the 2022 Environmental Justice Award from GSDFW Director Wendel Withrow. Photo by Jim Domke.
THE PROCESS
The public is invited to submit their nominations in eight categories this year. 
The winners will then be selected by a panel of judges from the North Texas green community. 
Previous winners include radio host, author and organic gardening pioneer Howard Garrett, Half-Price Books CEO Sharon Anderson, former Dallas Morning News reporter Robert Wilonsky and Marsha Jackson, the South Dallas community leader who battled Shingle Mountain in her backyard and won. See all PREVIOUS WINNERS.
EIGHT CATEGORIES!
This year's categories are as follows:
• Environmental Justice (Outstanding advocate for the health and well-being of a community with regards to environmental hazards.)
• Conservation Activist (Outstanding advocate for the preservation and protection of natural resources, wildlife, green space)
• Green Innovation (Project, program or innovation by a for-profit or a nonprofit.)
• Coke Buchanan Volunteer of the Year (Dedicated volunteer service to a green cause or organization)
• Environmental Educator of the Year (Teacher dedicated to educating students on sustainability and/or environmental issues.) NEW CATEGORY!
• Next Generation (A youth or young adult showing initiative and dedication with regards to environmental advocacy.)
• Unsung Hero (Wild card category for the person who doesn't easily fit a category but whose efforts make a difference.)
• Lifetime Achievement (Outstanding dedication to environmental advocacy over decades.)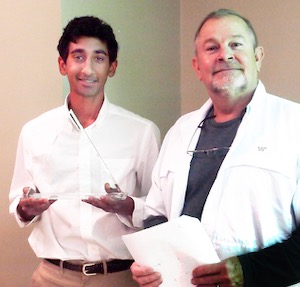 St. Marks student Akash Munshi received one of two 2022 Next Generation Awards presented by GSDFW Director Wendel Withrow last year. UNT student Brand Richter tied for first place in that category. Photo by Jim Domke.
Sponsorships are available. Get your business' name out in front of green-leaning North Texans. See SPONSORSHIP LEVELS.
Questions? Contact Green Source DFW editor Julie Thibodeaux at Julie@GreenSourceDFW.org, 817-732-0722
See NOMINATION FORM.