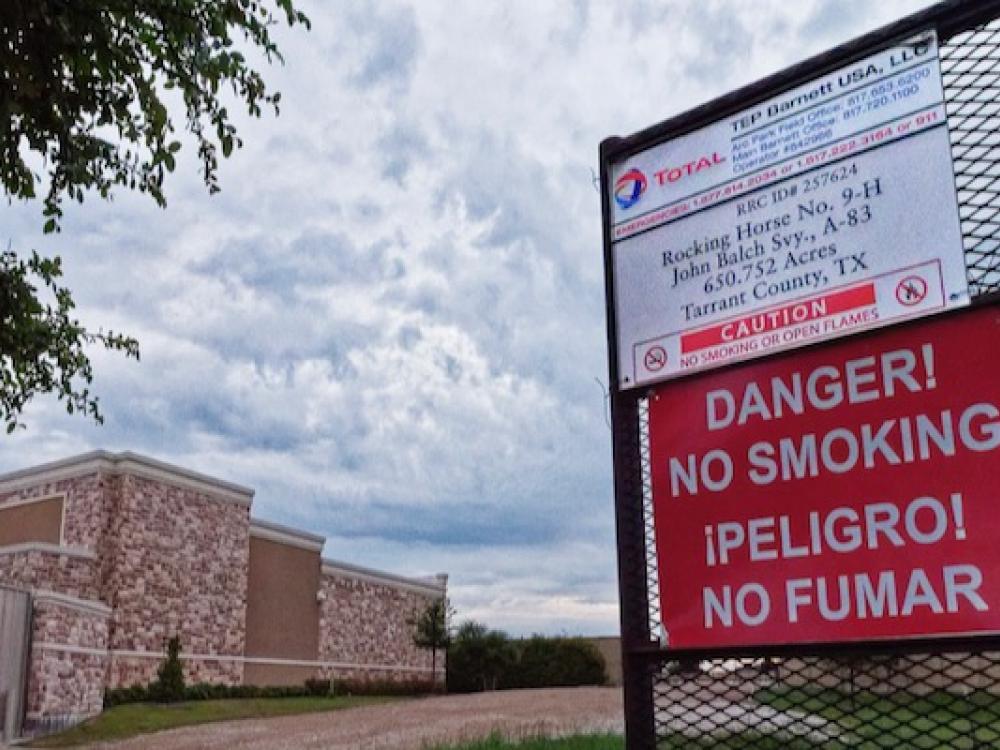 The Rocking Horse drill site at 4945 South Collins Street in Arlington was named for a nearby preschool. Photo by J.G. Domke.
Sept. 9, 2020
A fracking watchdog group in Arlington is sounding the alarm after the city approved seven new gas wells in south Arlington without a City Council vote or public input.
The city's planning and development department recently approved the wells at 4945 South Collins Street, known as the Rocking Horse drill site. 
Aerial view of the Rocking Horse drill site at 4945 South Collins Street, just yards from Childcare Network daycare. Courtesy of Google Earth.
The site next to Arlington Municipal Airport was established over a decade ago and is named for a nearby preschool that has since been renamed to Childcare Network, according to the Star-Telegram.
It is now operated by TEP Barnett, the Fort Worth affiliate of Total, the France-based oil and gas giant which took over Barnett Shale operations in North Texas from Chesapeake Energy in 2016.
The approval on Aug. 7, came just two months after the Arlington City Council denied a request by Total to drill new gas wells near another day care center, located in a predominantly Latinx and African-American residential neighborhood in east Arlington.
Last month, TEP Barnett gained approval for the additional wells for the Rocking Horse site because the special use permit granted in 2013 established a drill zone and required only administrative approval to drill the new wells, according to Susan Schrock, communications specialist with the City of Arlington.
Ranjana Bhandari, founder of Liveable Arlington, a grassroots anti-drilling group, says this loophole in the permitting process must be closed. 
"In the middle of a pandemic, we can't allow the city to conduct a backroom deal that threatens our health."
According to Bhandari, TEP Barnett plans to put new gas wells within 300 feet of the Childcare Network location.
Arlington's current drilling ordinance requires a 600-foot setback from protected uses, such as schools and homes. However that can be reduced to 300 feet with the support of seven out of nine council members.
Childcare Network, formerly the site of a preschool, for which the adjacent Rocking Horse drill site is named. Photo by J.G. Domke.
Bhandari says, the city should be winding down fracking not expanding.
In the nearly two decades since the Barnett Shale fracking boom started in the early 2000s, more studies have shown that gas drilling is not safe in urban communities, she said. She cites the findings of Dr. Anne Epstein, an internal medicine doctor who sits on the Lubbock Board of Health, who has become an outspoken critic of gas drilling.
In her 2017 paper on The Human Health Implications of Oil and Natural Gas Development published on ScienceDirect.com, she states that:
"Six epidemiologic public health studies demonstrated that people who live in close proximity to multiple oil and gas wells in densely developed shale basins have experienced an increased incidence of childhood leukemia, asthma attacks, congenital heart defects, low birth weight, and preterm birth compared to people who live with no production wells nearby."
According to Epstein's research, a one to two mile setback is the distance needed to protect residents from carcinogens such as benzene, which have been found in high concentrations at drill sites. Epstein also cited the risks of blowouts and explosions.
"I could support 2,000 feet, but I think the 500-foot setback is reckless and dangerous," said Epstein in a video posted by Liveable Arlington.
Liveable Arlington has launched a petition demanding a public hearing before approving any new gas wells in Arlington. As of this writing, 125 people had signed the petition.
"There is new information and there should be new hearings," Bhandari said. "All the facts must be considered before more drilling can be made."
RELATED ARTICLES
New gas wells denied in east Arlington
Changes to Arlington gas drilling ordinance fall short, activists say
Gas driller wins second round of Arlington waiver fight
No disposal well – application for Lake Arlington site withdrawn
---
Stay up to date on everything green in North Texas, including the latest news and events! Sign up for the weekly Green Source DFW Newsletter! Follow us on Facebook and Twitter. Also check out our new podcast The Texas Green Report, available on your favorite podcast app.