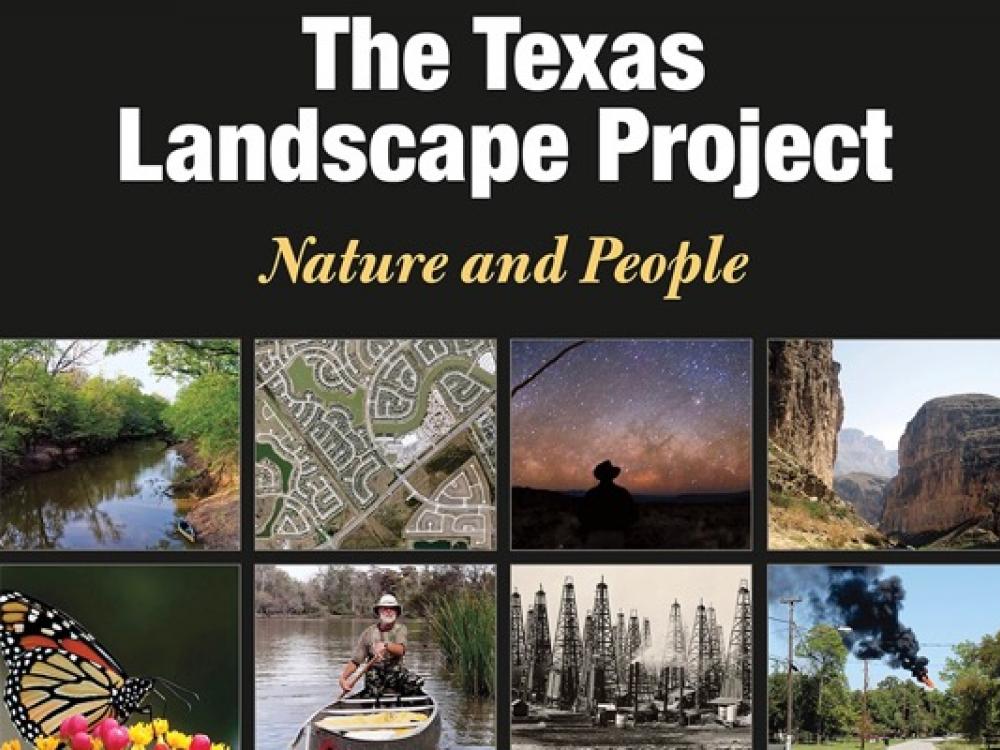 "The Texas Landscape Project: Nature and People includes more than 300 maps and 100 other figures to illustrate major environmental events and conservation work in the state. 
Sept. 6, 2016
There's plenty of Texas lore to read in The Texas Landscape Project: Nature and People but environmentalists, Texas history buffs and geography lovers alike will enjoy just perusing its maps, aerial views and historic photos. The richly illustrated 500-page environmental history atlas was published by Texas A&M University Press in June.
The Austin-based authors David Todd and Jonathan Ogren, who worked on the project for 5 years, will be speaking at the Dallas Sierra Club meeting at Brookhaven College on Sept. 13.
Todd researched and wrote the text for the book while Ogren provided graphics that bring to life historic and current data on the state's natural resources and conservation efforts. With 300 maps and 100 more photos and charts, readers will find illustrations of all the environmental topics you'd expect to see – pollution tracking, native prairie and forest losses and other bellwethers of encroaching civilization. However, like a good mystery novel, the book meanders through the material with interesting twists and turns in an effort to trace our impacts. A map called "Introduction of Nonnative Grasses" shows when and from where Johnson grass and Bermuda were introduced into Texas. There's a map showing yearly wildfire totals from 1922-2014 to demonstrate the effect of recent drought. Another graphic tracks the locations of 1,200 sawmills built from 1834-1992 in the East Texas Piney Woods as explanation for the state's disappearing forest.
Authors David Todd and Jonathan Ogren. Photo by Jorge Sanhueza-Lyon/Houston Chronicle
The material is as dense as a textbook but never dull thanks to Todd, an environmental lawyer with a B.A. in architecture and urban planning from Princeton, an M.S. in environmental science and engineering from Rice and a law degree from Emory, and Ogren, a geographic information systems and cartography expert who earned a B.A. in biology and a M.A. in environmental science and conservation planning from the University of Texas at Austin.
Todd said he got the bug to chronicle the environmental history of Texas about 20 years ago after the legendary Texas environmentalist Ned Fritz suffered an embolism. 
"It occured to me that a whole generation of environmentalists were getting up in years," he said. 
Red imported fire ants are hardy and harmful invasive creatures that hail from South America and first appeared on American shores in the 1930s, likely in Mobile, Alabama. By the early 1950s, the ant had entered the southeastern corner of Texas.
So he started the Texas Legacy Project to compile the history of the state's environmental movement told through environmentalists' eyes. He recorded 230 interviews and ended up including 60 people in the book, which was published by Texas A&M University Press in 2010. A year later, his publisher asked if he wanted to do a sequel. 
Todd suggested doing an atlas this time, although he admits he didn't know what he was getting into.
"It was kind of a lark," he joked. 
But he liked the idea of showing the big picture. He said while The Texas Legacy Project was an idiosyncratic view of environmental history through the lens of eyewitnesses, The Texas Landscape Project is more factual. It's about places and visual images. 
"Instead of peoples' hazy biased memories, it's more objective. We see the books as complementary, as companions."
All of the illustrations are freshly created by Ogren using data from databases, maps, aerial photos and charts collected from around the state. 
The book is divided into Land, Water, Air, Energy and the Built World. Within those big topics many intriguing streams pass through.
Flippling through its pages, one predictably sees a pattern of destruction across the land over the last few hundred years. Still, there are stories of hope and redemption, points out Todd.
"The forests are in far better shape than they were in the 1930s. They clearcut them until 1920s. If you looked at the panhandle during the Dust Bowl years, they were losing tons of soil per acre. Those fields are much better managed now. Air quality is much better than it was 40 years ago, especially in terms of lead pollution. I think we're learning a lot. I don't think it's all bad news. It's kind of a mix."
This map shows the rapid growth of the wind industry in Texas. 
Todd said through his research, he was inspired by the people who impacted the state's ecology for the good. For example, he pointed to famous Texas cattleman Charlie Goodnight's effort to save the buffalo, which helped build the herd that exists today. Or the hundreds of citizen scientists that researchers rely on to track invasive species like sparrows and starlings. Plus, the landowners who are turning ranches and farms into wildlife habitats. 
"I think that's an encouraging sign for the future."
What: Meet the authors of this environmental atlas published by Texas A&M University Press
When: Sept. 13, 7 p.m.
Where: Dallas Sierra Club Meeting, Brookhaven College, 3939 Valley View Lane, Bldg H, Farmers Branch. Directions.
Info: Kirk Miller, 972-699-1687 or or KirkMiller@DallasSierraClub.
Buy the book $45.
---
Sign up for the weekly Green Source DFW Newsletter to stay up to date on everything green in North Texas, the latest news and events. Follow us on Facebook, Twitter and Pinterest.