The Duncanville City Council officially designated the 42-acre property at 609 W. Danieldale Road as the Charles F. Ladd Nature Preserve on Tuesday night. Photo by Mark Graham.
July 21, 2023
On the heels of a new natural area being acquired by the city of Dallas last month, some more good news for conservation in North Texas.
On Tuesday night, the Duncanville City Council voted to create the Charles F. Ladd Nature Preserve, establishing the city's first nature park.
10-Mile Creek runs through the heart of the Ladd Nature Preserve. Photo by Mark Graham.
The 42-acre property, bounded by Cedar Hill Road, West Danieldale Road and South Sante Fe Trail in Duncanville, was gifted to the city by former Duncanville business owner and real estate mogul Bob Ladd in 1998. The deed restricted the property for "purposes related to the promotion or advancement of cultural, artistic or educational objectives."
Such uses were defined as libraries, educational facilities, interactive learning centers, theaters for live performing arts, indoor ice rink, botanical gardens and nature trails.
For 25 years, the property sat untouched, with a few proposals for development floated over the years. Meanwhile, the green space attracted curious residents like Mark Croydale, who utilized it as an informal nature area.
"I started going there, maybe 20 years ago," Croysdale said. "We have a dog that's 12 years old and she's been going down there since she was a puppy."
Now, thanks to a grassroots army made up of residents like Croysdale, the Ladd property will be officially preserved as one of the city's last remaining natural remnants in a city that is 95 percent built out.
A video created by Duncanville Nature Conservancy promotes the preservation of the Ladd property. Courtesy of DNC.
25 YEARS IN THE MAKING
At the heart of property is Ten Mile Creek, which is bounded by riparian woods and patches of native grassland.
City Councilman Jeremy Koontz, an avid runner, was one of those who had noticed the open space and wondered about its history.
"I would run by Ladd property and think, I'll bet there's some great trails in there, I need to go check it out," he recently told CIPS, a local Zoomcast.
A great blue heron is one of the many bird species seen at the Duncanville park. Photo by Mark Graham.
Looking for information, he researched the property's deed and learned it was owned by the city. Meanwhile, he discovered photos online by local photographer Mark Graham, who captured the beauty of the parcel's creek and meadows, along with its varied wildlife, including otters, beavers and herons. 
Koontz also noticed comments across various social medium platforms by Graham and other residents who wanted to see the property preserved.
At first, he tried unsuccessfully to initiate a city survey to gauge residents' interest in keeping the lot as a green space.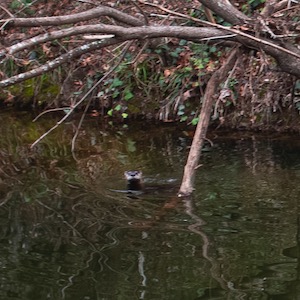 An otter swims in 10-Mile Creek. Photo by Mark Graham.
After his efforts stalled in the Council, he connected with a group of Ladd property fans online, who then took up the cause and began lobbying the city to create a nature preserve. The grassroots movement grew and soon they had hundreds of supporters. 
Out of the informal coalition, the Duncanville Nature Conservancy was created, a 501c3 friends group, led by Duncanville resident Jim Jones. The volunteers did their homework — consulting dozens of master naturalists, land management experts and nature center managers.
"We spent hours and hours in interviews, meetings and onsite tours," said Jones. "We wanted to know the ins and outs of running a nature preserve."
Based on their research, a vision for the property was created — it would be an outdoor classroom for the local ISD and a green oasis for local wildlife and the community.
According to Jones, residents packed at least seven council meetings as well as two town halls. The turning point came when they collected 1,800 signatures on a petition calling to formally designate the property as a nature preserve.
That convinced the city to go forward with the plan. More research ensued as the volunteers worked with city leaders to craft a new ordinance to preserve the property.
On Tuesday night, Koontz spent hours hammering out the final language of the ordinance, to rid the document of what he saw as loopholes. The coalition's persistence paid off. The city council voted to create a new zoning district — designed just for nature preserves — and the Ladd property became the first property in the city to acquire that zoning.
A blackland prairie restoration is one of the projects planned for the Ladd Nature Preserve. Photo by Mark Graham. 
FIELD OF DREAMS
Koontz said many plans for the park have already been pitched, so the friends' group and city planners will have a plethora of goals to consider as they put together a master plan in the coming months.
First, practical tasks will be tackled, such as erecting a boundary fence, establishing rules and of course putting up a sign to let residents know the park is open. Long-term goals include acquiring grants, building trails, creating an eco-friendly educational arena and restoring the native prairie.
"I want the land to remain natural forever and to have areas of it returned to a Blackland Prairie, much as this whole area once was," Graham told the Focus Daily News.
Sam Kieschnick, the Texas Parks and Wildlife urban biologist who helped document the more than 1,000 species of flora and fauna that have been observed at the site, said he was thrilled at the outcome.
"I genuinely think that the true winners of this decision are the countless living organisms out there that have used the Ladd land as a preserve for millennia. Their refuge is preserved by this status, and that's a beautiful thing," he said. "It's a refuge for those of us that need to engage with nature as well."
For now, Koontz said there's time to "celebrate, recover and enjoy the moment." 
"In two or three weeks, we can get back to work. Then we can start working on the fun stuff."
He said time will prove that preserving the Ladd property is good for the whole community, not just those who fought to save it. And Koontz and Jones both confirm that Ladd publically gave the project his blessing.
"This is a win for the whole city," Koontz said. "It's a change in direction of its culture. Before, we have been focused on development. Now we're aware of the need to protect green space. A hundred years from now, those generations will be thankful that we did what we did."
RELATED ARTICLES
Activists rally to preserve Duncanville natural area
300-acre natural area acquired by city of Dallas
---
Stay up to date on everything green in North Texas, including the latest news and events! Sign up for the weekly Green Source DFW Newsletter! Follow us on Facebook,Twitter and Instagram. Also check out our podcast The Texas Green Report, available on your favorite podcast app.