This wooden children's block set from Wee Gallery is one of the many eco-friendly gift ideas in our 2022 Green Gift Guide. Photo courtesy of Wee Gallery.
Dec. 15, 2022
Want to find the perfect gift, while also staying green? We've done a bit of research for you and found several charming and eco-friendly ideas. These are sure to be treasured, while being easy on the planet.
PUTTING DOWN ROOTS
These decorative wooden Christmas trees can be purchased at Rooted In, located in Pilot Point. Courtesy of Rooted In.
Daniel Cunningham and Clint Wolfe, both formerly of Texas A&M Ag Extension, have opened Rooted In Nursery, specializing in native and adapted plants. The garden center is located at a vintage farmhouse in Pilot Point up near Celina. 
Packed with adorable holiday charm, you'll find nature-themed ornaments, loads of high-quality gift ideas, and potted living Christmas trees as well as fresh-cut trees – plus real pine and fir garland and wreaths. 
Just the aroma will bring back holiday memories and you can create new ones for your friends and family. The Rooted In team is all about conservation.
Check out these ready-to-decorate wooden Christmas trees – perfect for this year, next year and just about forever. Crafted from genuine upcycled pallets, each one is handmade, showing all the character of the wood.
They can be had for $30 (36" high), $50 (44" high) and $70 (55" high). Custom sizes available. Rooted In, 12804 Pelzel Road, Pilot Point 76258. 979-777-4522.
LOCAL YOCALS
How can you support Texas farmers as well as ensure that your loved ones will be eating fresh local food?
​
Produce from Farmhouse Delivery. Photo by Casey Woods Photography.
Just order from one of the area food services that deliver regional culinary delights right to your doorstep. 
Jeff and Lee Bednar of Profound Foods in Lucas offer a la carte ordering from a plethora of local goodies on their website. The couple also hosts frequent events at their 2.6 acre farm. 
In addition, both Farmbox and Farmhouse Delivery services offer fresh food subscription boxes in weekly, bi-weekly or even monthly deliveries. 
MARY MARY NOT CONTRARY
Mary Porter of Delightful Sweets by Mary in Desoto.
Mary Porter knows the value of family. She began baking more than 20 years ago with her mom in their home state of South Carolina. 
As a Texas transplant, Mary has continued her sweet Carolina traditions by focusing on cupcakes at Delightful Sweets by Mary, with both vegan and conventional flavors. 
Mary's standard flavors  ($4 each) include Carrot Cake, Chocolate Caramel & Pecan, German Chocolate, Hummingbird, Key Lime and her South Carolina specialty, Red Velvet. 
Delightful Sweets by Mary in DeSoto sells traditional and vegan options. Courtesy of Delightful Sweets.
Vegan flavors  ($5 each) include Chocolate, Lemon, Snickerdoodle, Strawberry and Vanilla. Visit Delightful Sweets – Wednesday thru Saturday, noon to 7 p.m., but hours may vary. Be sure to call to confirm hours and to order ahead if you need large quantities, 469-319-0889. Delightful Sweets by Mary is located in the Grow DeSoto Marketplace that is a unique incubator for growing companies, 324 E. Beltline Road, Desoto, 75134
VEGAN VAHALLA
If you haven't visited Mashup Market in Denton, specializing in plant-based and gluten-free foods, now you have a good reason to drop by. They've moved to a hip new location near the University of North Texas and it is the bomb!
Proprietor Cheri Reed has loaded Mashup with all things plant-based from chips and salsa to vegan shrimp, plus fresh food to go! 
The Mashup Deli team will grill a yummy vegan sandwich for you such as a Trky Rueben. 
For holiday gifting, we just love this Kea Teddy cork leather backpack by White Rhino, $165, named for the endangered New Zealand Kea Parrot, one of the most intelligent birds on the planet. Cheri uses one of the bags herself and notes that it is practically indestructible. 
White Rhino bags are designed by a Canadian vegan who was frustrated with other bags on the market. The Canadian and Austin-based company offers several designs, including clutches, shoulder bags and their signature backpacks, starting around $80. 
Mashup Market, 1302 West Hickory Street, Denton, Texas 76201. 940-222-9553.
DON'T TREAD ON ME


Forever Sneakers are made from sustainably sourced materials and are fully recyclable.
Ever wear out a pair of shoes and wonder why they can't be recycled? According to the U.S. Department of the Interior, Americans throw away at least 300 million pairs of shoes each year. These end up in landfills, where they can take 30 to 40 years to decompose. 
The Forever Sneaker® by Everlane aims to solve that problem with durable organic cotton tennies with rubber soles that are fully recyclable when they eventually wear out. 
Available in several colors in womens' and mens' sizes for $65. The perfect gift – and grab a pair for yourself! 
Visit Everlane.com to read more about the company's sustainability initiatives that they call Radical Transparency. If only every company would follow suit.
Also, visit Soles4Souls, a non-profit that will recycle or repurpose your old shoes and clothing and give them new life
HIDDEN FIGS
During WWII, coffee was in short supply, so desperate Brits found alternatives. One that has stood the test of time is dried and ground figs. 
Fig Brew Caffeine-free coffee alternative brews into a truly delicious drink. It has a dark, nutty taste with just a mild hint of the original fig fruit – and it's actually good for you. 
As the company says on their website, "Figs aren't like your typical fruit - because they're not fruits at all. Figs are inverted flowers and come with amazing health properties like prebiotics, antioxidants and adaptogens. Fig benefits include a source of soluble fiber, natural sugars and minerals such as potassium, calcium, magnesium, iron, copper, antioxidant vitamins A and K that contribute to health and wellness." 
After meeting two of the founders at the Dallas Gift Market, Andy and Marianne Whitehead, I tried adding some FigBrew to my decaffeinated pourover coffee and have become hooked on this richer version of my morning wake-me-up. I also love their sustainable packaging – nifty tins that I have repurposed as pencil holders and such. $17.99 for a 6.5 oz tin. FigBrew.com.
DEEP IN THE HEART OF SCANDINAVIA
Bookkeeper Norine Childers runs her own tax service but she also loves to support local goods. So she founded Chisholm Country Store and Cafe in Rockwall to showcase handmade items, such as these beautiful knitted holiday stockings, $20 each. 
One of Norine's vendors, Rudi Derby, is 83 years old and is originally from Vejle, Denmark. She has been knitting her entire life and learned these skills, passed down from her mother and ancestors, going back hundreds of years. 
Her Tex-Scandi stockings feature holiday themes in bright colors to complement traditional or modern decor – with plenty of room for either Hanukkah or Christmas treats. 
Other finds at the Chisholm Country Store include vintage furniture, home and holiday decor, preserves, salsas, spices, a variety of wine from seven East Texas vineyards, and much more inside their cafe and store. 
Chisholm Country Store, 1251 S State Highway 205, McLendon-Chisholm, northeast of Sunnyvale/Forney. Call (469) 614-2069 for hours and directions.
EYES OF TEXAS
Anyone who enjoys shopping at Half Price Books knows that there are hidden gems all around the store. 
An example is this Texas Signature Edition Notebook, with quotes from famous Texans. The gift will inspire the recipient, whether they are native-born or a recent transplant. 
This Texas-themed notebook can be found at Half Price Books.
Doodle, sketch or journal alongside historical photos, architectural plans, battle maps and more. You will learn a little bit of history without even knowing it. 
Compact and durable, this journal is a fun gift for folks both in and out-of-state. Around $6.50 at Half Price Books around the area.
PLANET PRIMER
Another Half Price Books find is for young eco-warriors. The Extraordinary Book That Eats Itself is made to become part of the planet again with over 30 earth-friendly and stimulating activities that will encourage kids to compost, build worm houses, garden, recycle and more.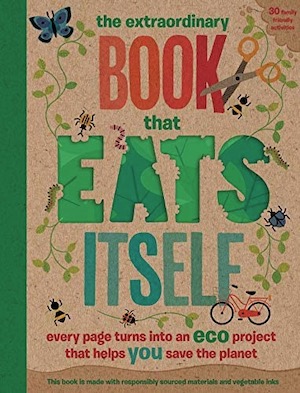 Each page is a new project. 
The pages themselves are literally used in the activity. 
There are also eco-quizzes and nature games, growing projects, organic recipes, bug hotels and plastic-free diaries. 
From $8.50 used and $13.50 new at Half Price Books stores and online.
KITS FOR KIDS

Recycled Paper Beads kit from Toysmith.
Who doesn't enjoy making something useful with their own hands? Our little ones can learn as they have fun with these eco-friendly kits that will spark their creativity. 
First is the Recycled Paper Beads Kit from Toysmith ($13.99 at Amazon). Make necklaces, bracelets, anklets and more out of old paper and newspaper. Ages 5 and up. 
Solar Lantern Kit from KiwiCo.
For older kiddos, check out the Solar Lantern Kit from KiwiCo. Your youngster can assemble a handy lantern from pre-cut wood parts as they learn about solar energy. $27.95 at Kiwico.com.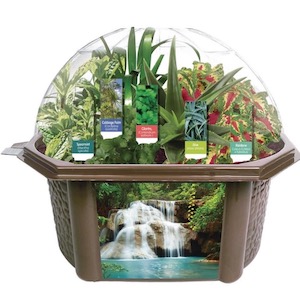 Eco-Biosphere Plant Dome from Kaplan Co.
Budding gardeners can go green with Kaplan's Sensory Eco-Biosphere Plant Dome ($27.95). Kit includes five different seed packs to grow plants including aloe, pink polka dot plant, eucalyptus and more. Includes dome habitat, soil, two kinds of gravel, stone and instructions. Kaplanco.com.
BIG KID KIT

If you haven't watched some of Mark Rober's online engineering videos, you've just got to binge tonight! His backyard squirrel mazes are legendary. 
Get 12 kits per year for a $300 subscription from Crunch Labs.
Now your kids or grandkids can learn engineering directly from Mark with his monthly subscription kits – and maybe they will save the world! 
For an annual cost of $300, youngsters will receive 12 build-it-yourself toys per year plus unlock a video from Mark every month that teaches engineering superpowers. 
Kids can also register for a chance to win a trip to the CrunchLab to hang out with Mark Rober himself! Heck, we'd like to do that! Crunchlabs.com.
NOT JUST BLACK AND WHITE
Woodland Village blocks for children from Wee Gallery.
Young eyes and minds are intrigued by bold, black and white patterns. That's the theory behind Wee Gallery toys, created by Surya Sajnani and Dave Pinto. 
Their enchanted Woodland Village is sure to become a family favorite and would make a lovely part of a home's decor when baby outgrows it. 
The Wooden Village fits neatly into its tray holder.
Crafted of sustainable and sturdy bamboo, each little house, tree or deer is easy to grasp and will inspire imaginative play for hours on end. So pretty that you won't want to put it away, although it fits nicely in its own storage tray. $52.95 at WeeGallery.com.
MEOWY CHRISTMAS
Kitty needs a fun gift too – and Ecological Market offers a few for Mew Mew. 
Wool cat cave from Ecological Market.
Your kitty will love curling up and hiding in this fashionable wool Friendsheep Eco Kitty Cave, felted from 100 percent cruelty-free New Zealand wool and colored with azo-free, eco-friendly, color-fast dyes. No toxic dyes or fragrances. Hand felted with just warm water and vegetable soap and then sun dried in Nepal by women artisans who are paid a fair wage. 
Packed in a beautiful organic and unbleached cotton drawstring Friendsheep bag. Product and bag are compostable. Kitty Caves are also recyclable in textile recycling. Offered in three color choices for $72 each. EcologicalMarket.com.
MEW-SICAL GIFT
Here's some music to sooth your savage housecats or those that need a little TLC. David Teie, a soloist for the National Symphany Orchestra, created some calming music just for cats.
Working with animal behavior experts, Teie came up with sounds and tones that he says are comforting to our feline friends. 
Two independent studies done at University of Wisconsin and Louisiana State University School of Veterinary Medicine concluded that the music seemed to have a positive effect on cats.
Teie's two CDs start at $20. Or you can download each for $17. MusicforCats.
Watch this video about Teie. Listen to his TED talk, linked at end of article.
WHERE'S THE BEEF?

If Fido has allergies to beef, chicken or other proteins, there are new alternatives that cause fewer problems with digestion and itchy skin. They're made with insects! 
Jiminy's Cricket Cookies off an alternative protein for dogs.
Jiminy's is formed from cricket protein that is hypoallergenic, easier to digest, acts as a prebiotic and, according to the company, has more omega-3 and B12 than salmon. 
Another benefit is that the cricket-based treats save 200 gallons of water per bag over meat-based products. Plus dogs seem to love them. Around $10 per bag. Jiminys.com.
GREEN CLEANUP
Here's a stocking stuffer for the dog lover in your life.
These compostable pet waste bags by BioBag ensure that you're not adding plastic waste to the landfill everytime you take your four-legged friend out for a walk.
BioBag Pet Waste Bags are made from resin derived from plant starches, vegetable oils and compostable polymers like our other compostable products.
They come in standard size, large size, on a roll, and with handles for easy portability.
Available at Whole Foods and Natural Grocers. Box of 50 standard bags go for around $5.99.
RELATED ARTICLES
Made in Texas: Our 2021 Green Gift Guide
---
Stay up to date on everything green in North Texas, including the latest news and events! Sign up for the weekly Green Source DFW Newsletter! Follow us on Facebook and Twitter. Also check out our new podcast The Texas Green Report, available on your favorite podcast app.