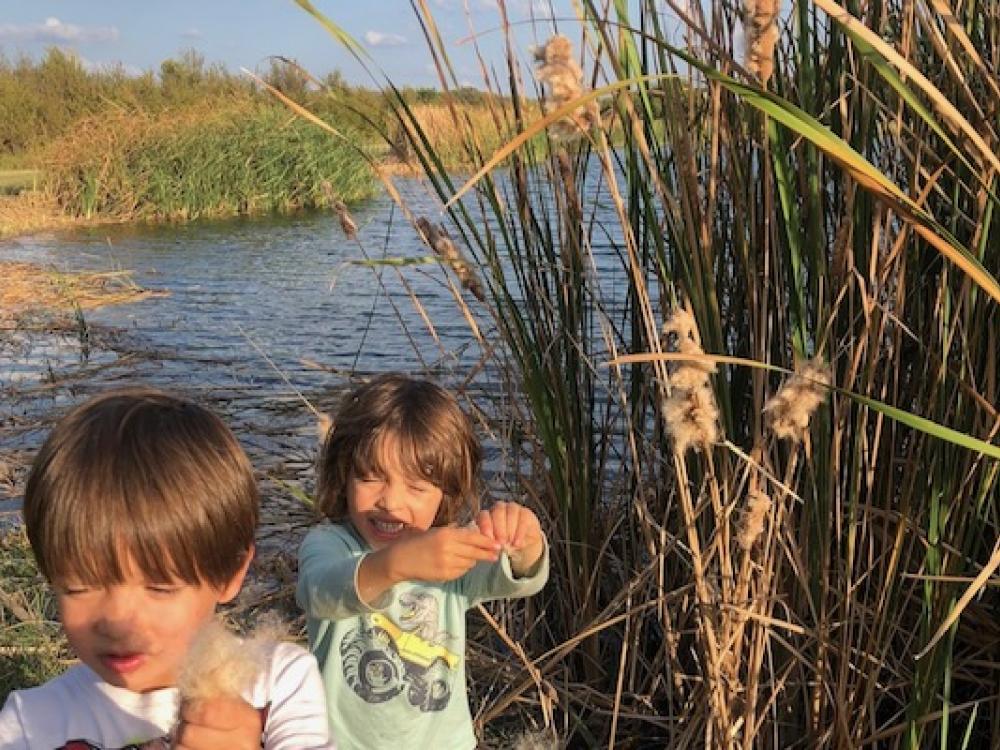 Above, Hunter and Knox Roy explore Maxwell Creek in Murphy. The waterway is a playland for area kids, but could change if a nearby wastewater treatment plant is approved. Photo courtesy of Sylvia Roy.
Nov. 3, 2021
"This place is amazing."
You can sense the awe in Sylvia Roy's voice as she describes her quiet, pastoral neighborhood in the North Texas community of Murphy, six miles east of Plano. It's a place where her three small children can immerse themselves in a natural world of butterflies, tadpoles, fish and dragonflies, all nurtured by Maxwell Creek, a sleepy rivulet that occasionally floods but usually meanders along at a babbling trickle past a cluster of towns that include Murphy, Lucas, Parker, Sachse and Wylie.
Roy is now worried that the idyllic habitat is in peril. A proposed wastewater-treatment plant nearby would release 200,000 gallons per day of treated, chlorinated effluent into what she describes as a "perennial" creek, which sustains a plethora of wildlife year round, with two-hour peak flow rates of up to 800,000 gallons per day.
A video shows aquatic life in Maxwell Creek. Courtesy of Sylvia Roy.
"You have the chlorine, the increased flow rate that will disrupt the nurseries — because with the puddles that you have in a creek, that's where your amphibians reproduce, where the tadpoles are, your different nurseries for your fish, you have your insect populations like dragonflies — there are a ton of insects that have a certain stage that occurs in water," said Roy, who holds a master's degree in cell and molecular biology, and is the past legislative director for former Texas Sen. Florence Shapiro. "When you just all of the sudden, say, dump in 800,000 gallons in two hours, what are you doing? You're flushing it all out. You cannot sustain it."
A proposed wastewater-treatment plant would release 200,000 gallons per day of treated, chlorinated effluent into Maxwell Creek, with two-hour peak flow rates of up to 800,000 gallons per day.
The developer, Dallas-based Restore the Grasslands LLC, has applied for a municipal wastewater permit with the Texas Commission on Environmental Quality to build the plant near Murphy's northern boundary with the city of Parker. Such permits set limits on wastewater disposal activities, and public documents indicate that Restore the Grasslands is following TCEQ's prescribed permitting process.
According to the TCEQ, "The effluent limits and conditions in a wastewater permit are designed to maintain a water body's designated uses, maintain groundwater quality and to protect human health and aquatic life."
And that's the point that Restore the Grassland's John Cox hopes to convey to worried residents.
"All sewer treatment plants discharge the treated wastewater into rivers, creeks, lakes and reservoirs. The requested permit is neither unusual nor a danger to the community," Cox said. "The TCEQ regulates the wastewater permitting process," not the developer, he explained in an email.
Cox noted that TCEQ studies lakes, streams and other surface-water bodies to determine how they are currently used, how well they can tolerate added nutrients or pollutants, and what restrictions should be placed on new wastewater discharges to ensure that the water's current use can be maintained.
A turtle swims in Maxwell Creek. Courtesy of Sylvia Roy.
"If the TCEQ decides to issue a municipal wastewater permit (called a Texas Pollutant Discharge Elimination System permit), it will require the applicant to clean their wastewater to specific standards before discharging to a waterway," he stated.
The plant would be situated on undeveloped land in Collin County about half a mile northwest of the North Murphy Road and Rolling Ridge Drive intersection. The site, in the city of Parker's extraterritorial jurisdiction, is adjacent to Martha Hunt Elementary School, where 649 students are enrolled.
The wastewater facility, to be built in two phases, would serve a planned residential development with higher-density housing than is typical in most of the immediate area, contrasting with the one-acre lots that characterize the city of Parker and the large lots in nearby Hunters Landing neighborhood where Sylvia Roy and her family reside. The new subdivision would depart from the local convention of a self-contained septic system for each home.
Instead, sewage from the development would flow into the wastewater plant, where it would be cleaned and released as treated effluent into Maxwell Creek. It would then flow to Muddy Creek and continue into Lake Ray Hubbard.
PLANT PUSHBACK
Signs expressing opposition to a wastewater treatment plant that would discharge effluent into Maxwell Creek in Collin County are posted throughout areas that could be impacted. Courtesy of Sylvia Roy.
With the permitting process entering its end stage, Roy and hundreds of like-minded residents in communities along Maxwell Creek have joined forces and are urging TCEQ to put the brakes on the permit. Along the way, they've picked up some powerful allies, including the city governments of Murphy and Parker, which both have adopted resolutions opposing the facility. [Update: On Nov. 4, the city of Lucas also adopted a resolution opposing the facility]
The Dallas Sierra Club also is lending its support to the residents' opposition.
"The ecological ripple effects would be massive and widespread," said Victoria Howard, who serves on the club's Conservation/Eco Action Committee.
Texas District 89 Rep. Candy Noble, a Republican who represents the area, has taken on a leadership role in the fight to stop the permit. In an emailed statement to GreenSource DFW, Noble expressed concern that the development could exacerbate flooding issues and disrupt the balance of nature in the region.
"The area of the proposed development is primarily serviced via septic systems that each of the landowners or businesses have installed and maintain," Noble said. "The developer has asked for permission to dump their treated wastewater into Maxwell Creek, which already experiences flooding, at times both up and downstream from that location. Another grave concern is that the chlorine level of the treated wastewater would be detrimental to the natural ecosystem that depends on Maxwell Creek."
On behalf of her constituents, Noble asked TCEQ to hold a public meeting on the issue. The agency complied, and the meeting is set for Dec. 6 at 6:30 p.m. at Southfork Ranch, 3700 Hogge Drive in Parker, according to the coalition's Facebook page. District 8 State Sen. Angela Paxton, who also represents the area, did not respond to our request for comment, but residents say her policy analyst has been engaged on the issue.
A meeting with TCEQ will be held Dec. 6 at 6:30 p.m. at Southfork Ranch.
In the meantime, citizens who could be affected by the wastewater plant have jammed the public comments section of TCEQ's website. As of Nov. 3, of the more than 1,200 comments about the facility, all but one had expressed opposition to it.
"I'm sorry but this is a horrible idea," wrote Parker resident Mark Larson. "No one wants to live next to this, and Parker isn't a city where people don't take care of their land and property. It is a place where people help each other out and move there to get away from city noise and chaos. To put this in the middle of that will cheapen the land and open up a door that will lead to more development of more things that don't blend with the beautiful country living that Parker has to offer. Some places just need to be left alone. There aren't many left."
A girl who identified herself as Amy, a 9-year-old attending Martha Hunt Elementary, wrote on the TCEQ site, "Please don't put a waste area in our backyard because we want to live here and maybe I'm not a grownup yet but I do understand that this is bad for us being so close."
The consternation has also boiled over onto social media, where worries about sewer odors, the plight of area wildlife and concerns over flooding are being aired out on a daily basis. A Facebook group called Stop Parker Extraterritorial Jurisdiction Wastewater Treatment Plant has attracted 1,100 members.
"There is unity among all of these municipalities and neighborhoods," Murphy resident Roy said. "I can say that 99.999 percent of the people who know about this are very much opposed. This is a community thing. They are standing up and saying, 'Nope. Nope, nope, nope.'"
With the TCEQ public meeting set for December, a decision on the wastewater permit is unlikely to be reached before 2022.
---
Stay up to date on everything green in North Texas, including the latest news and events! Sign up for the weekly Green Source DFW Newsletter! Follow us on Facebook and Twitter. Also check out our new podcast The Texas Green Report, available on your favorite podcast app.