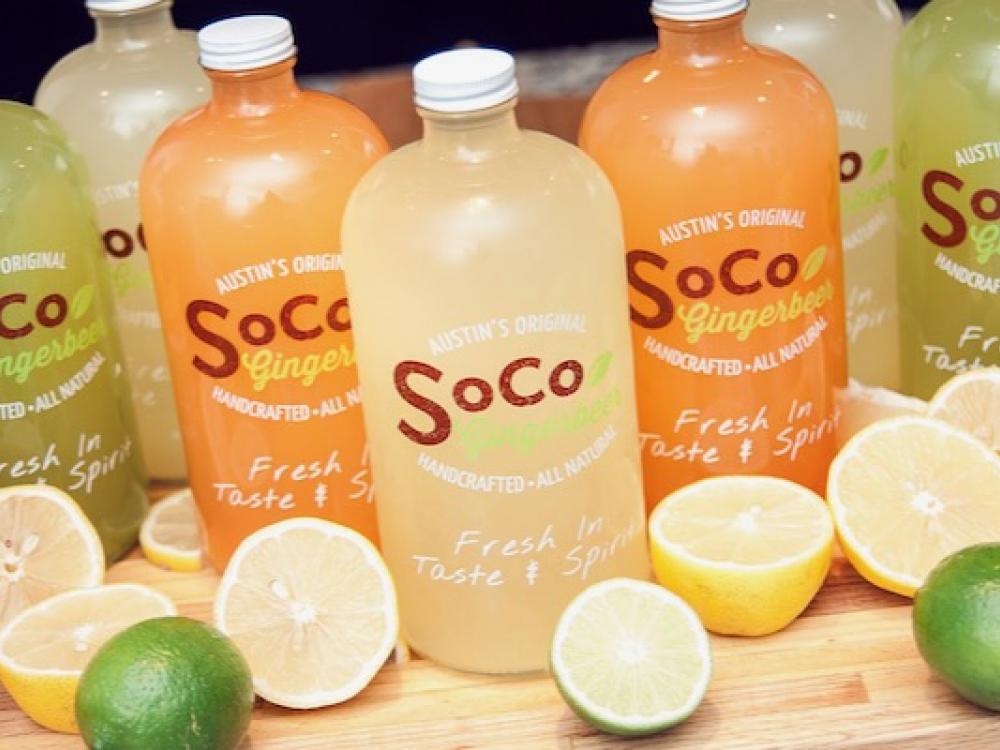 Austin-made SoCo Ginger Beer, available at Cox Farms Market, offers a refreshing libation for Dad. Courtesy of SoCo Ginger Beer.
June 11, 2021
Dad's Day is just around the corner so why not make it as green as possible? We've found a few gift ideas that just might be exactly what your Father Dearest will enjoy - while you also honor Mother Earth.
PLAY IT AGAIN, DAD!
Vinyl is the new CD and in tune with the "recycle, reuse, reduce" mantra. Panther City Vinyl in Fort Worth has all of Dad's favorites.
This rare Australian Beatles Singles Collection is one of the gems you might find at Panther City Vinyl. Courtesy of Panther City Vinyl.
Founders Ted Stern and Dan Lightner met at Half Price Books many years ago and both are crazy for vinyl records. So starting their own record store was a natural for them.Ted's wife, Cloe, normally helps out too but she's a bit busy right now with their new baby girl. 
Panther City certainly exudes a sentimental vibe with nostalgic posters and memorabilia on display. Ted notes, "Our specialty is classic rock but we also have a lot of the mid-century romantics such as Frank Sinatra. Those sell fast, especially to young customers."
He stressed that there's something for everyone and you'll surely find some tunes that are just right for your pops. If not, you can buy a Panther City Vinyl gift card and let Dad choose his own. 
Records start at around $2 but can go up into the hundreds or more. But be sure to dig through the clearance rack where 45s are 3 for $1! PantherCityVinyl.com. 1455 W. Magnolia Ave, Suite 113, Fort Worth, TX. 76104. 682-252-8441.
JUICE HIM UP!

Infuse Dad with some sweet fruits and veggies at Juice Junkies, with locations in Keller and Fort Worth. 
Moondance, with orange, apple, ginger, lemon and tumeric, packs a delicious and nutritious punch. Courtesy of Juice Junkies.
These delightful, locally-owned, juice bars specialize in healthy drinks made from Mother Nature's best. It's a great way to boost Dad's metabolism and show him how much you care. Pick up an assortment of bottled juices for Dad or take him there for breakfast or lunch.
The Juice Junkies menu is loaded with yummy goodness such as their Better Than "Tuna" Wrap ($10) or the Fiesta Salad with Chipotle Ranch Dressing ($8). You can also grab a superfood smoothie or one of their gourmet vegan snacks, all gluten and dairy free. Their website claims that they also have the "est house made organic almond milk in town!"
Juice Junkies is owned by Fort Worth native Hillary Biediger. As a longtime dancer with the Fort Worth Ballet, she knows what it takes to stay healthy and fit. Locations: 925 Foch Street, Fort Worth 76107, 817-885-7775 and 251 Town Center Lane #2109, Keller 76248. 817-741-3665.
Davis Street Mercantile features Immaculate Beard Products, handmade just down the road in Dallas. Dallas. Courtesy of Davis Street Mercantile.
FUZZY FATHER

If your bearded pater familias needs some help with his fuzz, drop by Davis Street Mercantile, one of the coolest shops in Oak Cliff.
Peruse their line of Immaculate Beard Products, handmade just down the road in Dallas. From beard balm to beard oil, beard shampoo to shaving supplies, Immaculate Beard has got your Dad covered.
No wonder the collection is one of the best sellers at Davis Street Mercantile, with prices starting around $12.
Hot Sox Socks feature a variety of designs for men, including this pair for the mushroom lover. $12. Courtesy of Davis Street Mercantile.
But don't stop there, Davis Street owner Kirsten McDonald has curated a store full of nifty knick knacks for Dads of all ages. 
A few other favs include a huge selection of locally-made soda pop for Pop, hard-to-find vintage candies, nuts, cheeses and so much more. The company even makes its own candles. 
One visit and you'll flip for the store just like we did! 
Davis Street Mercantile. 710 W Davis St, Dallas, TX 75208. (214) 541-9999. DavisStreetMercantile.com
KEEP IT IN THE FAMILY


Cox Farms Market features Austin-made Soco Ginger Beer. Courtesy of Soco Ginger Beer.
Mark Cox grew up in his family's grocery business in West Texas, traversing the state in his old pickup truck buying the freshest produce that he could find. Now he and his son, Cameron, have continued the tradition at their three Cox Farms Market locations: Oak Cliff, Duncanville and Farmer's Branch. 
It's not uncommon to visit one of the stores and see father and son unloading live plants or stocking the shelves. From the most delicious melons to oranges that will give new meaning to juicy, the fellows love to feature Texas produce, but their markets are so much more than that. The grocery side of each store is packed with an array of daily staples plus tons of unique finds such as Austin-made Soco Ginger Beer. 
Soco is so cool and made with limited cold-pressed ingredients such as fresh ginger, fresh lemon, organic cane sugar and sparkling water plus flavors based on what's in season and a few all-year flavors. 
How about a gift basket with an assortment of Soco and add some of that famous Cox Farms Market fruit?!? Dad will be thrilled! CoxFarmsMarket.com.
VEGGIES MADE EASY


Farmbox Delivery in Roanoke serves DFW, Waco, Round Rock and surrounding areas. Courtesy of Farm Box Delivery.
If you'd rather shop from home, why not order Papa his very own fresh food box subscription from Farmbox Delivery? 
This Roanoke-based service covers the whole Metroplex with their selection of local and Texas fruits and veggies, locally-baked bread, farm-fresh eggs and tons of other local and regional products. 
Co-owner Leslie Rochford gave us a forecast. 
"We always get super excited for the summer squash varieties and green tomatoes coming up in the next week from Denton Creek Farm," said Rochford. "The weather has delayed things a bit this year, but we will soon have a plethora of awesome local greens, cucumbers, Japanese eggplant and cantaloupe. Late in the summer we also look forward to local okra and tatsoi." 
Each box includes your choice of all-fruit, mixed fruits and veggies or all-veggies plus lots of add-ons such as meat, eggs, milk, snacks or other yummies. 
Choose Wee Farmbox for $19.99, Regular Farmbox for $35.99 or Large Farmbox for $45.99 and delivery can be either every week or every other week. 
Look for my son's Frankly Good vegan ginger cookies on the site. Dad will love them! Serving DFW, Waco, Round Rock and surrounding areas. FarmboxDelivery.com.
HOT SOLAR
If Dad is a solar fan, he will beam for these sun-powered gadgets from GoSun, now on sale for Father's Day. 
The Solar Lamp for $29. Courtesy of GoSun.
Low on the budget end of the spectrum, anyone would love this portable Solar Lamp that provides 20-50 lumens for up to 6 hours. Great for camping, reading outdoors, or even as a backup emergency light at home.  Weighs a mere 6 ounces so it's perfect for toting around. One full day of sunshine will completely recharge the battery. Now only $29. 
The Solar Kitchen features a solar cooler, hybrid solar electric over and a solar table with a built in solar panel. Courtesy of GoSun.
If you've got money to burn, give Dad this full-blown Solar Kitchen that will let him cook, cool, and charge — anytime, anywhere. Includes a Solar Cooler, Hybrid Solar/Electric Oven, Solar Table with Built-In Solar Panel and a 144 Wh PowerBank+ for recharging all of Dad's devices. Can also be plugged into wall power with an included AC Adapter. 
Also makes a great backup for power failures. On sale for $1,199. The Father's Day sale will be ending on June 22. GoSun.com
BEST BEANS


Dad might enjoy a Cold Brew for the hot days ahead. Courtesy of Noble Coyote Coffee Roasters.
When Kevin and Marta Sprague launched Noble Coyote Coffee Roasters a few years ago, they had no idea that it would grow to what it is today. 
As their website notes, "From our humble beginnings at Good Local Markets farmers market, to the opening of our coffee lab in Expo Park, we strive to provide space for people to enjoy and explore coffee."
The store also sells these handy burlap bags online originating from an assortment of countries and farms for $2-$5. Courtesy of Noble Coyote Coffee Roasters.
The couple just loves coffee. Really, really good coffee. Their customers must as well because their brews can now be found in stores all over Texas and far beyond. One taste and you'll know why. 
Those little Noble Coyote beans pack the biggest punch of coffee flavor that this writer has ever tasted. They also support their coffee farmers with fair rates and trade practices plus they use 100 percent wind power for their roastery. 
Find Noble Coyote Coffee at retailers around the area or just drop by their coffee lab near Fair Park in Dallas. From around $19 per 12 oz. bag. NobleCoyoteCoffee.com.
PIE R SHARED
Humble Pie offers a twist on an old recipe with its Bourbon Chocolate Pecan pie. Courtesy of Humble Pie.
A chance meeting while students at Texas A&M led to a marriage made in pie heaven for Chef Sean Jett and his wife Erin, owners of Humble Pie. 
Their mission is to make the best pies in town for family and friends (and every customer becomes a friend). The hard part for you will be choosing which of Chef Sean's delectablecreations will tickle your dad's fancy the most. 
One favorite is the Bourbon Chocolate Pecan, aka Derby Pie. Sean takes a traditional Texas pecan pie and gives it an added twist, infusing it with Herman Marshall Texas Bourbon and semi sweet chocolate for a rich and smoky flavor that will knock Dad's socks off. 
Bayoo Goo features a decadent blend of sweet cream cheese, filled with candied pecans, topped with chocolate cream, then smothered with Chantilly Cream, chocolate shavings and more candied pecans. Courtesy of Humble Pie.
Or how about Bayoo Goo, a decadent blend of sweet cream cheese, filled with candied pecans, topped with chocolate cream, then smothered with Chantilly Cream, chocolate shavings and more candied pecans? You get the idea. 
Most pies run around $35 for a whole or $6.50 for a slice. Don't eat it on your way home! Humble Pie, 9014 Garland Road, Dallas, 75218. 214-458-9039. HumblePie.com
LEADER OF THE PACK
Dog-themed playing cards from Artiphany.
A while back, we featured some edgy and fun playing cards by Artiphany, but they were often out of stock. Well, they're back with even more companion designs. 
You'll spot your own hounds' behaviors as their muddy paws create club-shaped paw prints, spades become their noses and ears, they bury their bones in a field marked with diamonds and pull a sweet heart blanket over themselves. 
Artiphany also sells birthday and greeting cards with designs for animal lovers. Courtesy of Artiphany.
Designed by San Francisco artist, John Littleboy, his adorable Kitten Club Playing Cards and PopinJay (birds) are also available. These playing card sets are some of the cutest gifts for animal lovers that we have ever seen but Artiphany features even more such as tea towels, totes and even throw blankets. 
Don't miss the offbeat birthday cards such as the dog putting out his birthday candles in the only way that a dog could. Many fun cat card designs available as well. Cat or Dog Playing Cards $13/set. Artiphany.com.
RELATED ARTICLES
---
Stay up to date on everything green in North Texas, including the latest news and events! Sign up for the weekly Green Source DFW Newsletter! Follow us on Facebook and Twitter. Also check out our new podcast The Texas Green Report, available on your favorite podcast app.