Vegan version of southern comfort foods are a staple of TLC Vegan Cafe. Photo by Amy Martin.
Jan. 18, 2023
Troy Gardner loves plants: growing them, cooking them, eating them.
The vegan chef's new restaurant in Richardson, TLC Vegan Cafe, even has a whole wall of plants in tiny pots, attractively arrayed in a wooden grid in the small seven-top dining area. Fitting for a restaurant that specializes in artfully prepared plant-based creations.
TLC Vegan plant wall. Photo by Amy Martin.
The chef of the now-closed V-Eats in Trinity Groves tried out his latest concept at a ghost kitchen in Garland, offering his wares to-go and at various special events before opening his storefront in Reverie Bakeshop's former location at Coit and Campbell. While Reverie's focus is all vegan sweets, TLC's menu centers around the main course: mock meats and a variety of faux cheese approaches, plus flatbreads, salads and vegetable dishes. TLC's name derives from "tastes like chicken."
Food for pick-up remains an anchor of TLC Vegan, with handy double and family-size meal portions offered. But I tested out the place in person recently with my friend Dorothy Buechel while also ordering to-go for our husbands back at home. An energizing Motown soundtrack was a big plus of dining in besides the mod décor with a giant octopus painting.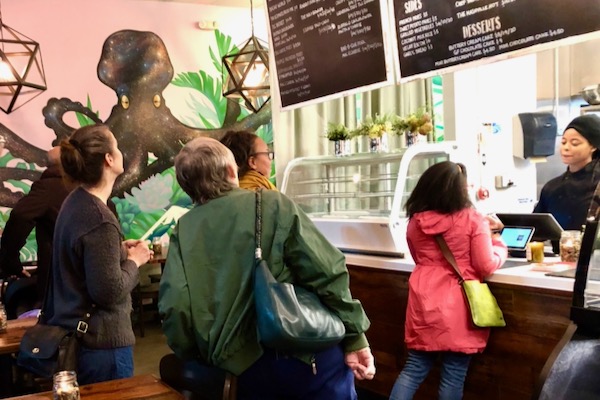 TLC Vegan's to-go business is brisk with after-work crowd grabbing food for enjoying at home. Photo by Amy Martin. 
Much like V-Eats, comfort food made from mock meats is a mainstay. Impossible Burger for the beef and pork. Better Balance, whose U.S. headquarters is in Dallas, chimes in with beef and chicken. Tindle Chickn, which vegans know from Project Pollo, is also offered and has only nine ingredients, unlike the ridiculously complex Impossible mock meats.
Mock meats sandwiches are a big draw, with a bonus of several being offered with bean patties as well. One includes a portobello mushroom option. Burgers are available in traditional toppings, aka The Dad, also with avocado, and a Not Yo Mama's Sloppy Joe made with Impossible Crumbles.
Dorothy went for the Chicken-fried Steak Dinner, a fried Impossible patty that she deemed "more tender than the usual." Served up with mushroom gravy and mashed potatoes, which she wished there was more of: "It was really good." Same yearning for more of the grilled veggies. 
VEGGING OUT
TLC Vegan Cafe flatbreads are crispy, flavor-filled celebrations of vegetables. Photo by Amy Martin.
For long-time vegetarians who have lost their taste for meat, TLC's menu excels in vegetable dishes. Take advantage of the crispy chicken-fried oyster mushrooms, presented as a hoagie, as well as a plate with coconut-milk rice and broccolini. My hubbie adored his to-go sandwich, but staffing kinks are an ongoing issue. His wasn't packed with the promised pickles, arugula, pickled onions, and tomatoes: 
"I definitely feel like I'm missing the whole experience." 
Dorothy's hubbie enjoyed his Buffalo Cauliflower Wings — "Well spiced" — which isn't always the norm in vegan dishes. It was served up with a side of macaroni and a unique cheese made without soy or nuts and spiced with just a hint of cumin.
The flatbread pizzas were a revelation. I went with the Bar-B-Q Chick-N Pizza, made with Better Balance plus zucchini, pear, tomatoes and red onions atop barbeque sauce. The vegan mozzarella was very dry, like parmesan, making the flatbread quite crispy. It reheated beautifully. Other pizza offerings include more conventional tomato-sauce based sausage and mushroom and a pig-less pepperoni.
I accompanied my pizza with flash-fried Crispy Brussels Sprouts & Pineapples drizzled with not-quite-enough of cilantro citrus sauce. Regular and sweet potato fries boast seasonings from Gardner's Veganize It! product line of spice mixes and dry goods.
The Crispy Brussels Sprouts & Pineapples dish was wonderfully textured. Photo by Amy Martin.
TLC is renowned for its Texas chili made with four types of beans, accented with house-roasted tomatoes and onions, plus cilantro and plenty of jalapeños. Go for Tex-Mex with the Stuffed Taco-Cado blending Impossible Crumble, black beans, and a hearty amount of avocado.
Rounding out the vegetable offerings are salads. The spinach-based Holy Bowler looked like a work of art, with pear tomatoes, sweety drop peppers, broccoli and a variety of mushrooms, accented with walnuts and toasted pumpkin seeds. Rounding it out were a couple of creative lettuce-based salads.
SWEET AND CHEESY FUN
Having been dairy-intolerant for decades, I plan to return for TLC's dishes made with house-made faux cheeses. The Buffalo Cauliflower Penne N' Cheese sounds perfect, as do Chili Cheese Fries (so long since I've had cheese fries!) and nachos. Gluten-free pasta is available.
But the star of the cheese offerings is Impossible Cheesy Lasagna with house-made ricotta, mozzarella, and parmesan, and stuffed with spinach, zucchini, and Italian-seasoned Impossible Crumble. Layered with house-roasted tomato sauce and served with garlic bread.
Try your hand at some of TLC's dishes at home with Chef Troy's cookbook, Easy Southern Vegan Cookbook. Photo courtesy of Amazon. 
Do your best to try the cakes, which I must return to try. Advertised are a buttery yellow cake with buttercream icing and whiskey sauce, and a gluten-free chocolate cake with chocolate buttercream icing adorned with dark chocolate sauce. The bananas foster pudding gets raves. 
ROOM FOR IMPROVEMENT
While the food excels, issues of poor kitchen management plague TLC. November's highly-promoted vegan Thanksgiving to-go was a meltdown. A long line of customers waited outside in a cold drizzle for a long time, even hours, for their meals. Some felt their serving sizes to be far smaller than expected. Others gave up and left, tasked with finding a holiday meal on a day most places were closed. 
TLC Vegan Kitchen is located at 1930 N Coit Rd Suite 140 in Richardson. Phone: 469-562-4001. Hours are Friday to Monday, 4 p.m. to 9 p.m.
RELATED ARTICLES
Gourmet vegan restaurant just steps from Dallas parks
One Spiral closes, three new venues to open next year
Taco shop expands vegan fare in Fort Worth
Vegans get 'chikn' fix at new plant-based venue in Dallas
---
Stay up to date on everything green in North Texas, including the latest news and events! Sign up for the weekly Green Source DFW Newsletter! Follow us on Facebook and Twitter. Also check out our new podcast The Texas Green Report, available on your favorite podcast app.