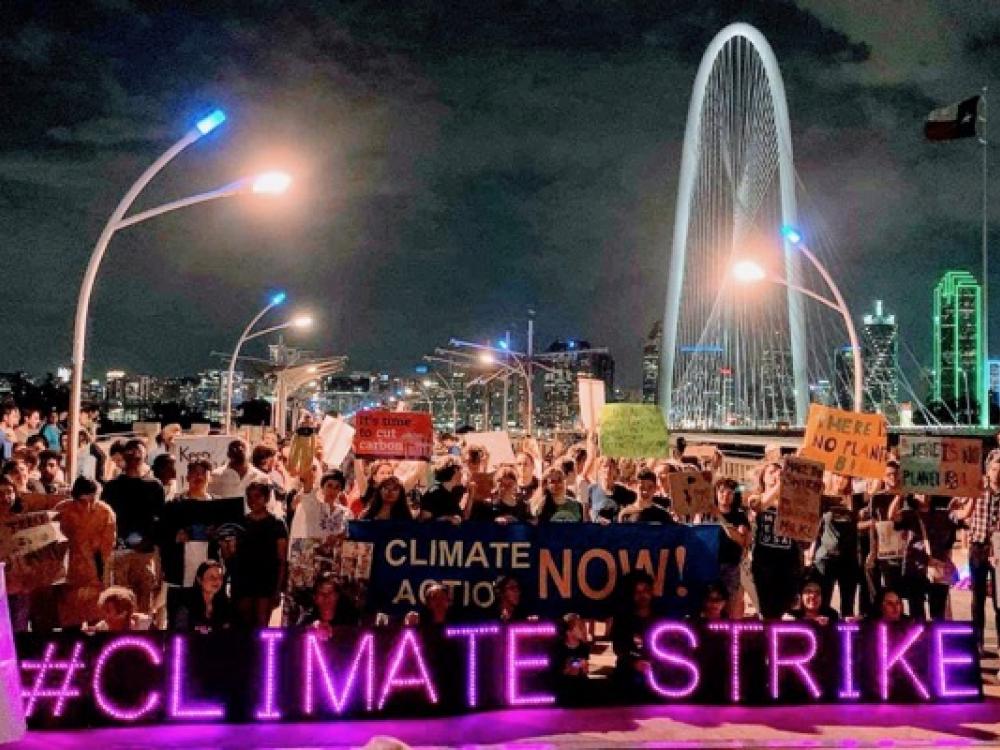 Dallas activists flooded the streets near the Margaret Hunt Hill Bridge during the Dallas Climate Strike in September. Photo by Zack Cleveland, courtesy of 350Dallas.
May 21, 2020
A national public health and economic crisis has rallied government officials, experts and communities to respond.
No, not COVID-19, the daily headline, front-of-brain, shelter-in-place crisis. 
The other earlier, longer, costlier and equally deadly crisis: climate change. 
Although Texas' coronavirus response has been uneven and conflicted,  climate change response in the Lone Star State has been far more limited. A "not here, "not yet," "not me" mentality appears in public polling. 
The City of Dallas is on the job, however, taking its climate action plan to city council vote Wednesday, May 27. The Comprehensive Environmental and Climate Action Plan, or CECAP, comes after two year's planning work and public input, and several years of monitoring greenhouse gases, reducing City emissions and building some renewable energy generation within City facilities.  
At 7 p.m. May 26, the night before the vote, EarthX, Trammell Crow's Dallas-based nonprofit, hosts a CECAP Adoption Week Town Hall via Vimeo. Climate activists and construction and sustainability professionals will engage in a panel discussion of the Plan, followed by up to an hour of public comment.
Dallas Climate Strikers last fall. Photo by Jeff Corkran, courtesy of 350Dallas.
CECAP contains 97 actions, supporting eight major goals. 
"I'd estimate we're already working on about 50 percent of those actions, within our current budget," said Susan Alvarez, assistant director of the city's Office of Environmental Quality and Sustainabilty that developed the Plan, recently by phone. 
Scores of environmentalists, community groups and other concerned residents have weighed in during the plan's development. 
Supporters of the city's plan include Public Citizen, 350 Dallas, Dallas Sierra Club, Climate Reality Project, Dallas Environmental Justice Network, Joppa Freedman's Town Association, West Dallas One and Green Careers Dallas.
Dallas People's Climate Coalition​ sign. The group advocates for a stronger climate plan than the one proposed by city of Dallas.

Meanwhile, various groups under the name Dallas People's Climate Coalition, including Texas Campaign for the Environment, have called for stronger actions. They support adding measures for ongoing citizen review, stronger urban agriculture programs to meet persistent neighborhood food shortages and energy generation by the City. They'll likely have more to say, at this last public comment session before the council vote. Readers may, too. 
"We're really excited," Alvarez enthused. "We think it's a good start, and we'll be working hard on implementation...The community has shared some really good ideas, we'll look at ways to incorporate those."  
Dallas' Office of Environmental Quality and Sustainabilty continues responsibility for climate action plan implementation and coordinates with 18 City departments involved in environmental services.
THREE CHOICES
"We have three choices: mitigation [cutting greenhouse gases], adaptation [actions that reduce the discomfort of living with climate change] and suffering."
Thus remarked former Obama climate advisor, John Hedron, quoted by atmospheric scientist Dr. Katharine Hayhoe, director of the Climate Science Center at Texas Tech University, in a recent Power Dialog 2020 panel.
CECAP offers a developing roadmap for choices one and two - and a "no" to suffering. 
CLIMATE URGENCY
Below are some the reasons why a climate plan matters now.
Quality of Life
We'd all like to lower our energy costs, live and work in a thriving economy, enjoy clean air and water and good health and have affordable transportation, manageable taxes and relief from broiling summers and dangerous storms. Unattended climate disruption thwarts all those desires. 
Cost of Natural Disasters
Texas needs to end its status as ground zero of all U.S. states for climate disasters - in total, even worse than California's situation with horrific forest fires. 
Map shows the frequency and cost of billion-dollar weather and climate events in the U.S. Courtesy of NOAA. See interactive version.
Drought, severe storms and flooding, exacerbated by climate change extremes, all 10 disaster categories, intersect right here. Last October's tornado swarm that roared through Dallas is one example. 
From 1980 to April 8, 2020, Texas experienced 114 weather and climate losses exceeding $1 billion, with economic effects rippling to everyone. That's a money pit. And the NOAA analysis doesn't even count events that rang up less-than-$1 billion losses. 
Dallas Climate Strikers in September. Photo by Jeff Corkran, courtesy of 350Dallas.
Air Pollution
The air pollution that's dogged Dallas-Fort Worth for decades not only contributes to climate disruption, it drives respiratory disease. DFW has ranked 8th to 13th of U.S. metro areas for atmospheric ozone over the past decade, reports the American Lung Association. In one period, ozone levels here were worse than Houston's, with its refineries and the Houston Ship Channel. In industrial and vehicle emissions, ozone is often accompanied by greenhouse gases
Covid-19
Sadly, climate-exacerbated chronic asthma and other lung diseases make more North Texans vulnerable to the novel coronavirus. [See Why climate change is bad for our health from Green Source DFW's Texas Green Report podcast.]
CLIMATE MAYORS AGREEMENT
In 2017, then-Mayor Mike Rawlings signed Dallas to the Climate Mayors Agreement. He was responding to President Trump's Rose Garden vow to remove the United States from the hard-won international Paris Climate Agreement.  
Mayors agreed to the goals of the global Paris accord, to limit global temperature rise to "well below 2 C degrees" - about 3.6 F degrees - and pursue efforts to further limit the rise to 1.5 C degrees. With an approved climate action plan, Dallas would elevate its standing among the 440 U.S. cities now signed to the Climate Mayors Agreement.  
Currently, Dallasites produce 12 to 14 tons of greenhouse gases per person yearly, according to the City's research. To meet the Paris Agreement will require slashing that to 2.5 T per person of GHG. Hayhoe reports in her Global Weirding Youtube episode that Texas has the highest emissions in the U.S. But good news: Texas also has the nation's greatest potential to reduce GHG emissions, by capitalizing on its huge wind and solar resources.
"Being party to the Climate Mayors Agreement is even better, with a plan," said Alvarez of OEQS. "Member cities with climate plans are eligible for technical support to implement our climate actions...Dallas will be eligible...for funding, as well." 
"There are significant resources available to cities that are actively planning and implementing climate adaption measures. The first question they ask you is, 'Do you have an adopted climate plan?' Until now, Dallas has been a 'no.'"  
"Also, we are one of three cities selected for a city business climate alliance that's part of the Carbon Disclosure Project of C40 cities," a Rockefeller Foundation program. "We'll get technical consulting to help us work with businesses to pull them around to what their peers are doing, say an AT&T or a Toyota, to become more sustainable...free consulting to help influence businesses to reduce their carbon footprint." 
Influence, education and incentives are CECAPS' initial tools to get action. Enforcement is not planned until 2030. It's the "catch more flies with sugar than vinegar" principle, said Alvarez.
Dallas's strained budget is tighter still with COVID-19's blows to employment and the local economy.
"We're working within OEQS' existing budget without asking for additional city funding," said Alvarez. 
ENERGY ACTIONS
Success will rely heavily on public-private partnerships, education initiatives to reduce energy use and emissions, and grants. 
The biggies of Dallas GHG emissions are the focus of about 40 of the Plan's action: energy use, power sources and transportation. 
Three sectors of Dallas energy users produce 87 percent of Dallas' total emissions: commercial users, transportation and mobile sources, such as vehicles from outside the area, and residential users. Eleven energy actions are included in the Plan. Here are a few discussed in recent interviews. 
EXPANSION OF MUNICIPAL RENEWABLES
"It's in our power agreement to do some localized generation. We're definitely looking at that, " commented Alvarez. "Like a solar farm or a a wind farm." 
Dallas currently generates some energy from methane released by a City landfill, and reduces its water treatment plant's use of energy from  the power grid, by using power produced from the plant's sludge digester.     
CITY-WIDE POWER SAVINGS & CONVERSION TO RENEWABLES 
This would be supported by how-to education of commercial and residential users on economies to make and renewable power choices, as well as new programs such as home insulation. 
EXPANDING RENEWABLES WORKFORCE
One important target is to promote community college partnerships to train and establish a workforce in renewable energy technologies. 
ADVOCACY
Advocacy is needed to promote a regional partnership, including with other cities, to promote adoption of renewable energy and advocate for renewable energy policies at state and federal levels. The regional power grid, controlled by the state, currently runs on 68 percent fossil fuels.
EQUITY AND JUSTICE
Environmental justice and equity are principles of CECAP, such as continuing current efforts to revise zoning and city code to end siting of polluting facilities in residential areas. 
CRITICS
Meanwhile, critics of CECAP, known as the Dallas People's Climate Coalition, created the People's Climate Action Plan. Those supporting the alternative plan include Dallas Green Alliance, Democratic Socialists of America North Texas, Grow North Texas, North Texas Transit Riders, Poor People's Campaign, Sunrise Movement Dallas, Texas Campaign for the Environment, Texas Drought Project, Texas New Era/Jobs with Justice, Veterans for Peace, and Young Active Labor Leaders. 
The People's Plan strongly advocates a roster of additional actions for CECAP, and focuses squarely on increasing equity and justice in City policies and programs. Another goal is stronger urban agriculture actions to end food insecurity in disadvantaged neighborhoods, many of which lack grocery stores. The PCP would even require the City to build a renewable energy plant. There's no mention of possible funding sources for that.
Further details will be aired as the public discussion continues.
BRIDGING THE REDUCTION GAP
Dallas charted both greenhouse gas forecast and GHG reduction target. 
The forecast is based on current emissions levels and existing mitigation efforts, "where we are now and actions we're already taking," as plan developers explain. The latter, reduction target is "where we want to go."
See a larger version of this graphic on page 29 of CECAP. The emissions forecast is based on current actions, only about 50 percent of action planned. Courtesy of City of Dallas.
Meeting the reduction target will require serious, extensive effort, as they explained: all the actions in CECAP; increasingly stronger City guidance, from educating and urging to mandating with penalties; and strong participation by partners, funders, businesses, nonprofits, community and environmental organizations and citizenry. It's not a "let the City do it" undertaking.
Achieving the target would meet agreed global goals and avoid the worst, compounding effects of uncontrolled, disastrous climate disruption.  
By 2030, less than 10 years from now, based on current emissions levels and existing mitigation efforts, the CECAP forecast is 25 percent below 2015 GHG levels. Alvarez noted that current action is only about 50 percent of action planned.
By 2030, GHG target is 43 percent below 2015 levels. 
By 2050, Dallas' GHG forecast is 66 percent below 2015. The target is 100 percent and meets the Paris Agreement. Success achieving the 2050 target for Dallas and participating with other cities and nations to do the same, would mean attaining survivable, sustainable conditions in which human civilization and life on earth can thrive, in an altered but still recognizable planet. 
Failure, let's not think about. Scary.
This gap - between projected GHG forecast at our current action level and targeted reductions - could be called "the ambition gap." 
That borrows a phrase from international climate leaders over decades, pleading again and again, that to win a viable future, what the world community needs is "greater ambition." Ambition for more energetic action and for climate finance to fund action for impoverished people in undeveloped regions, already overwhelmed by climate losses.
What about it, Dallasites? Are we feeling ambitious??
RELATED ARTICLES
Why climate change is bad for our health
---
Stay up to date on everything green in North Texas, including the latest news and events! Sign up for the weekly Green Source DFW Newsletter! Follow us on Facebook and Twitter. Also check out our new podcast The Texas Green Report, available on your favorite podcast app.