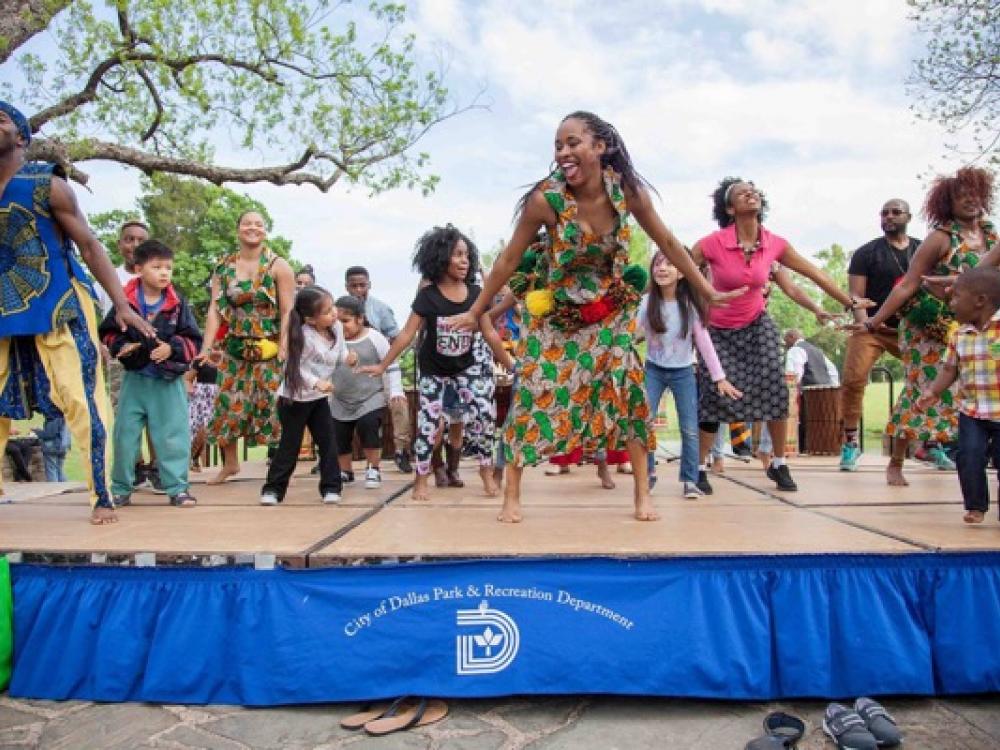 Green Source DFW's parent nonprofit, the Memnosyne Institute, hosts Oak Cliff Earth Day on April 15 at Lake Cliff Park in Dallas.
March 30, 2018
Earth Day celebrations have popped up in almost every city in North Texas over the last decade. It's an encouraging sign of a changing culture. Fortunately, they're staggered throughout the month so greenies who want to make the green fest circuit can find one going every weekend. 
This year, Green Source DFW's parent nonprofit is bringing back a popular grassroots event. The Memnosyne Institute hosts Oak Cliff Earth Day on April 15 at picturesque Lake Cliff Park. Plus, this year, we're tying in the Green Source DFW's Run for the Environment. The 5K/1 mile fun walk benefiting GreenSourceDFW.org will kick off the event at 9:30 a.m. Hope to see you there!
Here's a schedule:
April 7
Spring Trash Off & Environmental Fair - Flower Mound
Hosted by Keep Flower Mound Beautiful
8 a.m. -1 p.m.
Trash event is 8-11 a.m.  Festival at Flower Mound High School is from 10 a.m. to 1 p.m.  Environmental education, kid's activities, document shredding, e-waste recycling and donation station for housewares and clothing. The Trinity Forks Chapter of the Native Plant Society of Texas will host its annual native plant sale. 
Hosted by: City of Allen
10 a.m. to 2 p.m.
Nature walks, wildlife demonstrations and environmental activities at Dayspring Nature Preserve, behind Boon Elementary.
April 14
EcoCoppell Earthfest - Coppell 
Hosted by: City of Coppell
9 a.m. to noon
Green booths, plant sale, document shredding at the Square at Old Town.
Great American Cleanup & Beach Party - Plano
Hosted by: City of Plano
9am to 1:30pm
Cleanup is followed by party for volunteers.
Hosted by: River Legacy Living Science Center
10 a.m. to 2 p.m.
Enjoy nature walks, story times, crafts, activities and demonstrations at the park.
Hosted by: City of Lewisville
10 a.m. to 5 p.m.
Family-friendly event features art demos, crafts, artisans, kite flying contest and eco-education.
Chalk art contest at last year's ColarPalooza. DFWImages.com.

April 15
Hosted by: The Memnosyne Institute
11 a.m. to 6 p.m.
The Memnosyne Institute, the parent nonprofit of Green Source DFW, hosts the popular green fest this year. The day will include green vendors, environmental education, artisans, food trucks and live music at beautiful Lake Cliff Park. Those who enjoy dressing up can enter the Mother Nature and Green Man contests The Green Source DFW 4th annual Run for the Environment kicks off the event at 9:30 a.m. 
April 18
Hosted by: Red River UU
8:30 a.m.-5 p.m.
Green vendors, children's activities, workshops, recycling at Sherman Municipal Grounds. All welcome.
April 20-22
Earth X - Dallas
Hosted by: Earth X
10 a.m.-6 p.m.
Billed as the world's largest eco expo, the formerly named Earth Day Texas is held on three days and attracts thousands of visitors to Fair Park. Hundreds of exhibitors will be on hand, including environmental nonprofits, businesses, academic institutions and government agencies aiming to raise the environmental consciousness of North Texans. There is also a full schedule of speakers and demonstrations and films at this free fest founded by Dallas philanthropist Trammell S. Crow. The EarthXSolar conference is just one of the new features this year.
Bluebonnnet Trails Festival - Ennis
Hosted by: Ennis Garden Club
Three day festival featuring arts and crafts, bluebonnet souvenirs, children's activities and music. Download a free map for the Bluebonnet Trails driving tour.
April 21
Earth Day Celebration - Grapevine
Hosted by: Keep Grapevine Beautiful, Grapevine Convention & Visitor's Bureau and Farmer's Market of Grapevine. 
8 a.m.-11:30 a.m.
Vendors, educational presentations, crafts and information on environmentally friendly living and shopping local at Town Square Gazebo in downtown Grapevine. 
Denton Redbud Festival - Denton
Hosted by: Keep Denton Beautiful
10 a.m.-4 p.m. 
Family event featuring vendors, workshops and plant sales at the Denton Civic Center.
W.P. Bluebird Festival - Wills Point
Bluebird themed festival with pageant and car show.
April 23
Earth Day & Arbor Day Celebration - Cedar Hill
Hosted by: City of Cedar Hill
5 p.m.-7:30 p.m.
Visit with environmentally conscious vendors, enjoy sustainability tours, food, tree giveaways for CH residents, at the Cedar Hill Government Center. 
April 27-29
Artscape Fine Art Show & Sale - Dallas
Hosted by: Dallas Arboretum
9 a.m. to 5 p.m.
Juried fine art show and sale in the garden featuring artists from around the country. Event includes demonstrations, food and entertainment.
April 28
Bicycle Fest - Irving
Hosted by: Keep Irving Beautiful
10 a.m. to 2 p.m.
Fun educational event at North Lake College features live music, food trucks and vendors.
April 28-29
Japanese Garden Spring Festival - Fort Worth
Hosted by: Fort Worth Botanic Garden
10 a.m.-5 p.m.
Enjoy traditional Japanese dance, music, martial arts, sword demonstrations, raku, tea ceremonies and nature in the beautiful outdoor venue.
Don't see your favorite Earth Day fest on our list? Email Julie@GreenSourceDFW.org.
---
Stay up to date on everything green in North Texas, including the latest news and events! Sign up for the weekly Green Source DFW Newsletter! Follow us on Facebook and Twitter.