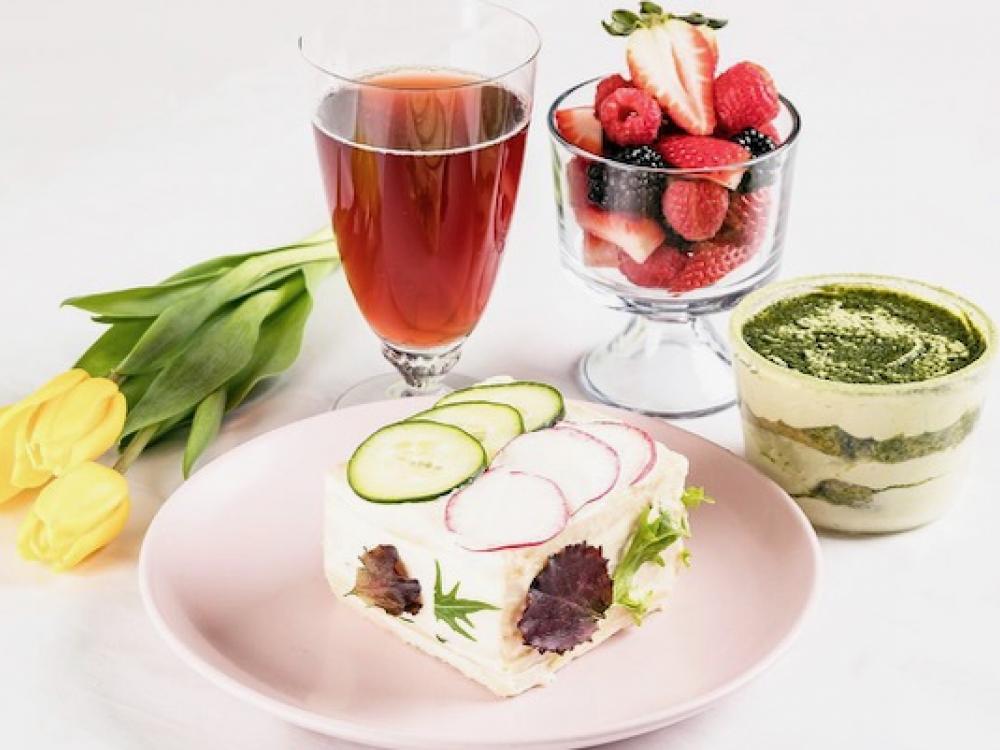 Teasom in Dallas is offering a tea service for two, which includes bottomless teas, a three-layer sandwich, fresh fruit bowl and matcha tiramisu for $35. Photo courtesy of Teasom.
Feb. 11, 2021
Love is in the air and we've got some great, green gift ideas that will please your heart's desire while being kind to the planet. Treat your sweetheart, your loved one or yourself!
BOARD THE PHOTO ARK
A few years ago, when I was doing live radio, I was honored to interview one of the top nature photographers in the world, Joel Sartore. 
For over 14 years, he has been documenting the diversity of animals around the world in his very distinctive collection called the Photo Ark. He is hoping to get them "on board" while they still exist. 
Join Joel in celebrating his 11,000th species photo with a special print sale on some of the animals that he was able to document during the pandemic - the perfect Valentine's gift for any nature lover. 
Along with native birds, mussels and streamfish, Joel photographed hundreds of fascinating insects over the past few months. Make sure to use the code PhotoArk11K when checking out to save 30 percent off traditional prints from the gallery. Don't wait! - Sale ends Feb. 26th!
Joel Sartore is celebrating his 11,000th species photo with a special print sale. Photo ©Joel Sartore/National Geographic Photo Ark.
A NIGHT TO REMEMBER
Give your sweetie an experience that they'll never forget with a delicious brunch, lunch or dinner at one of the many eco-friendly restaurants around town. 
Many have reopened after such a difficult year and are painting the town pink for Valentine's. Show them that you support eateries that source ingredients from local, Texas or sustainable suppliers and farms. 
A few area highlights are Celebration Restaurant and Market in Dallas, Sankofa Kitchen in Oak Cliff, The Healthy Hippie in Watauga and Righteous Foods in Fort Worth. 
A reader favorite is Spiral Diner, which is taking reservations for their three sit-down locations (Oak Cliff, Denton and Fort Worth) for Valentine's Day dinner. 
You can also order delicious meals to go including Lasagna for two for $38.99 or Caesar Salad for two for $13.59 and don't forget dessert such as their amazing Tiramisu Parfait for $7.99. Wow! A Spiral Diner gift card is always ideal if you'd rather delay your night out until a later date. Visit SpiralDiner.com.
Spiral Diner is offer a special Valentine's Day menu. Courtesy of Spiral Diner.
EARTH LOVE
We love going to EarthX each year at Fair Park of Dallas and we missed it so much in 2020. Now you can show your support for this amazing event, the largest Earth Day celebration in the world, and give the gift of an EarthX Membership. 
Sign up before Valentine's Day and your dearest will receive an EarthX T-shirt and many other benefits, depending on your level of membership gift, starting at $35. 
Upgrade to a Sustaining Member at $100 and your loved one will also receive a copy of a Commemorative Edition book, celebrating 50 years of Earth Day. Visit Earthx.org for full details.
GALENTINE GIFT BOX
White Rock Soap Gallery in Dallas is offering a Galentine Gift Set. Courtesy of WRSG.
Don't have a Valentine? Then give gifts to your platonic pals instead on Galentine's Day, Feb. 13. Our friends at White Rock Soap Gallery have assembled the cutest collection of affection, including this adorable Galentine Gift Set featuring Pink Sugar Body Polish, Pink Sugar Bath Soak, Tiny Heart Bath Bomb, Rose Pink Lip Balm and a Galentine's Votive Candle. 
The confetti-lined gift box is tied with a pretty red ribbon. Ideal for your beloved as well as just about anyone. $25 at White Rock Soap Gallery, 10233 East Northwest Hwy, Suite 401, Dallas 75238. 
Check out this as well as lots of Valentine's ideas too at WhiteRockSoapGallery.com. Only $5 for shipping on orders under $40. Over $40 includes free shipping!
GO LOCAL
I'm happy to see more local, small grocery stores popping up around the Metroplex such as Brown Box Provisions and Lucky Mouth in Dallas and The Table in Fort Worth. 
Many are offering fun ideas for this lover's weekend such a delightful basket of sweets for your sweetie from Neighbor's House Grocery in Fort Worth, featuring a dozen roses, a dozen chocolate covered strawberries and a bottle of wine for $150.
Neighbor's House Grocery in Fort Worth is offering a special box with a dozen roses, a dozen chocolate covered strawberries and a bottle of wine for $150. Courtesy of Neighbor's House.
Another hip idea, especially during the last year, has been food delivery services that specialize in produce from local farms and products from local makers. Why not order your amour a subscription for a few months or choose some a la cart items that you know that they will enjoy? Check out Farmbox Delivery, Profound Foods, The Table and Turn Compost - all locally owned and offering a variety of products and covering various areas of town. 
VEG OUT
Rooster Home and Hardware can help your betrothed jump-start their spring veggies with the VegePod Raised Garden Bed Kit. The kit offers the size of a raised garden with the benefits container gardening, starting around $200. 
The built-in round-top cover allows light and moisture in, extending the growing season and boosting plant growth. The whole unit is a snap to set up and maintain and the built-in watering system is only required during the early stages of plant growth. 
Choose from several models and accessories including raised platforms and even castors. Click here to watch video. 
While you're at Rooster, be sure to pick up seeds too. Spring varieties are in! Rooster Home and Hardware, 10233 East Northwest Hwy. Suite 409, Dallas, 75238. 214-343-1971. RoosterHomeandHardware.com.
TEA LIGHTS
Looking for something fun to do on Valentine's weekend? Our friends at Teasom over at West Village in Dallas have some awesome options! 
Teasom in Dallas is offering a tea service for two, which includes bottomless teas, a three-layer sandwich, fresh fruit bowl and matcha tiramisu. Photo courtesy of Teasom.
Try their new tea service for two. For $35/person, you get two hours of bottomless teas (8 blends from which to choose), a delicious three-layer sandwich (choose egg sandwich or hummus sandwich), fresh fruit bowl and to-die-for matcha tiramisu. 
Or lighten the mood with a fun Make-Your-Own Candle Class at Teasom on Saturday, Feb. 13, at 5 p.m. You and your Valentine or Galentine can join Emily from Get Candle Lit and sip on bottomless teas and tea cocktails while you learn about candle making.  Choose between three different vessels, a variety of waxes and even your own wick to create a truly unique gift or keep it for yourself. 
Bring your partner with you and make a matched pair, no pun intended. $30 per person. Register in advance for both activities at Teasom Teas, 3699 McKinney Ave #510, Dallas, TX 75204. Call 214-519-9397 for more information or visit TeasomTeas.com.
COMPOSTABLE COFFEE PODS
Tayst offers a variety of gift boxes including 20 cups of flavored coffee and a coffee mug for $25 plus shipping.
Single cup coffee pods create an incredible amount of waste in our landfills and who wants that? One of our favorite gift ideas is Tayst 100 percent Compostable Coffee Pods. Save 10 percent with the promo code VDAY10 for a limited time. 
Choose a gift box or monthly subscription to Tayst and your sweetie will know how much you care for them and Mother Earth. 
Made from a blend of bioresins and coffee chaff (bean skins) then printed with earth-friendly inks, the pods are offered in six java blends from Medium & Magnificent to Bold & Brazen (my favorite), espresso, decaf, vanilla and hazelnut. All beans are harvested from Rainforest Alliance Certified farms. 
Tayst offers a variety of gift boxes including 20 cups of flavored coffee and a coffee mug for $25 plus shipping. Monthly subscriptions start at $22. Go to Tayst.com.
RELATED ARTICLES
Green gift ideas for Mother's Day
Eco-friendly treats for your Valentine
---
Stay up to date on everything green in North Texas, including the latest news and events! Sign up for the weekly Green Source DFW Newsletter! Follow us on Facebook and Twitter. Also check out our new podcast The Texas Green Report, available on your favorite podcast app.