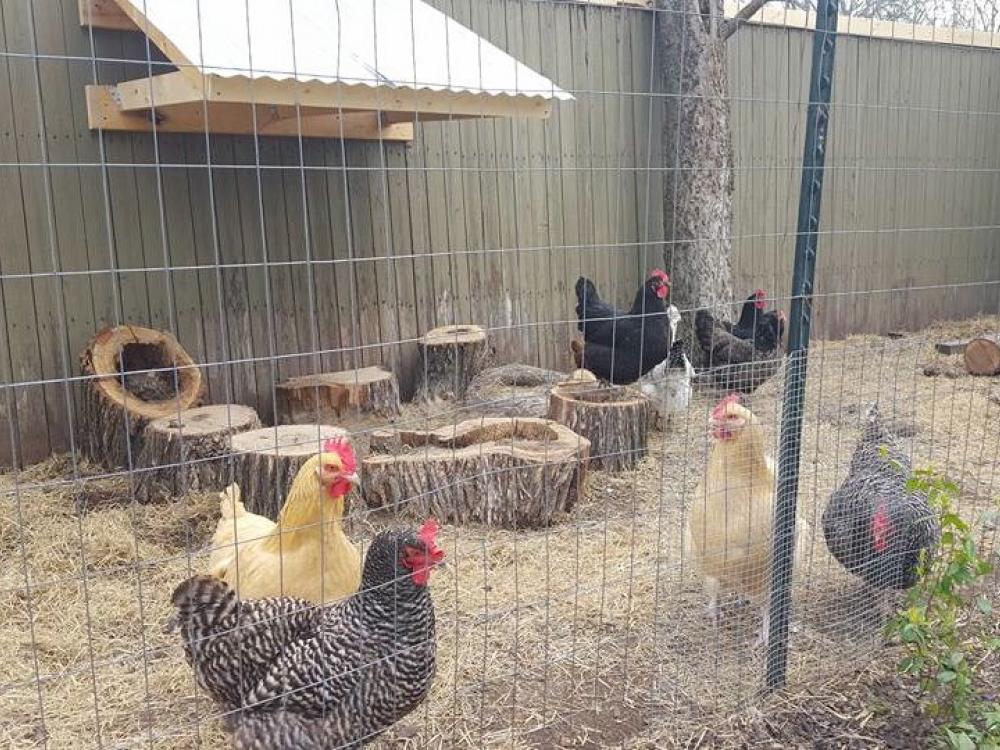 Tour de Coop will be held on April 30 in McKinney followed by A Peep at the Coops May 1 in Dallas. Courtesy of McKinney Tour de Coop.
April 25, 2016
Chicken fever has spread in North Texas as evident by not one but two coop tours in the spring. The fowl fests kick off with the Tour de Coop on April 30 at Chestnut Square in McKinney followed by A Peep at the Coops May 1 at Moss Haven Farm in Dallas. 
Little Bit Country
Yvonne Evans is the city chick behind the Tour de Coup, now in its fourth year, benefiting Historic McKinney Farmers Market.  
"I love all kinds of animals and romanticize about living in the pseudo-country but my definition of country living is being no further than 20 minutes from a Starbucks," joked Evans. 
That's why she created her own backyard farm with a designers touch – installing fancy chicken coops with chandeliers and hanging china plates and filling them with beautiful happy hens. 
Evan's coop is one of seven that will be on the Tour de Coup in McKinney, an event that drew more than 300 visitors in its first year. Organizers are expecting as many as 700 attendees to flock to the coops this year.
A licensed aesthetician by day, Evans cares for six hens, three puppies with help from her husband George in her spare time. She hopes to increase the hen count to 12 very soon.
"There are over 300 different breeds of chickens and I currently have five different chicken breeds represented," she says. "Although I do have laying hens, my two favorite girls are bantam smaller breeds that lay smaller yummy eggs. They are small in stature but loaded with personality. Pumpkin is a Silkie and Boo-boo is a Cochin Frizzle and they do come when I call them – they are my yard fairies."  
According to Evans, the purpose of Tour de Coop is twofold, promoting the "self sustainability" movement, while supporting a local charity, Chestnut Square.
"It allows the future hobbyist or curious spectator an opportunity to get an intimate look at several interpretations of what constitutes an ideal backyard chicken set-up that is both functional and aesthetically pleasing." 
In addition to taking a gander at a variety of chickens and their cool coops, folks can also take part in a Q&A with the actual coop owners.
"We've added new this year four free educational lectures geared for the beginner-intermediate poultry hobbyist," Evans says.
In addition, event-goers can participate in a silent online auction for a chicken coop valued at $2,500, built by a local home builder, Integrity Custom of McKinney. 
When: April 30, 2016, 9am-2pm
About: Self guided (walk/car/bike) tour of 5 chicken coops located throughout historic McKinney, with 1 additional coop just outside of the historic district. Children activities (egg toss, crafts, etc.) at Historic McKinney Chestnut Square. Proceeds will benefit the Historic Chestnut Square and the Farmers Market.
Where: Get maps at the Tour de Coop Booth at the Farmers Market at Chestnut Square, 315 S. Chestnut Street in McKinney. Bring proof of ticket purchase or buy tickets on site.  
Cost: $10 per person. Age 3 and under get in free. Early Bird Specials: $8 each or buy 4 for $30.
Additional: A silent online auction will be held for for cedar framed chicken coop with corrugated metal roof (pictured), built and donated by Tumbleweeds Architectural Company.
Poultry Peeps
If you're in the mood for more coop touring, then stop by A Peep at the Coops May 1 in east Dallas at its new location at Moss Haven Farm. The venue provides an outdoor classroom for students at Moss Haven Elementary. 
In its seventh year, this urban coop tour draws more than 1,000 in attendance each year.
This year there will be nine coops including the Moss Haven Headquarters Coop.  
"All other eight coops have never been on this or any other Coop Tour previously," says Peep at the Coops co-chair Elly Weyenburg. "We have quite a range of styles this year, from efficient, well thought-out and contained, to sprawling, creative and resort-like for our chicken friends." 
Weyenburg says there will also be a number of artistic, hand-crafted coops to inspire anyone looking to build their own coop or make improvements on an existing one. There will be more than 20 different breeds represented and at the Coop Headquarters, folks will find food trucks, games, local and green vendors and entertainment.
Weyenburg helped launch Moss Haven Farm back in 2012 and says the site has eight hens, five of which were hatched in the classroom last April.
In addition to the new venue, for the first time there will be a raffle for a custom backyard coop that houses up to eight hens valued at $1,500 and a unique chicken art sculpture made out of oil cans by students at El Centro Community College.
Do chickens make good pets?
Weyenburg says indeed they do. 
"They connect humans to the process of healthy living by associating what we feed our hens enhances the health of their yummy eggs. The hens run towards to the students when they come to visit them in the coop and are intelligent creatures and just like pets."
Evans agrees. 
"Over the five years that I have gotten into this hobby and subsequently went head-over-feather with poultry passion, I have owned under two dozen hens and initially named each one," she said. "I have learned that not all hens are dog-like and bond and follow you everywhere you go, but enough of them do and these more extroverted hens make it all the more enjoyable."
When: May 1, 2016, 11am-5pm
About: 9 chicken coups, local artists & vendors, food trucks, live music. Hosted by and benefitting Moss Haven Elementary
Where: Coop Tour Headquarters, 9202 Moss Farm Lane, Dallas.
Cost: $10. Kids 12 and under free.
Additonal: Enter to win a mobile coop from Texas Ranch Hen Houses (pictured) $5/ticket.
---
Sign up for the weekly Green Source DFW Newsletter to stay up to date on everything green in North Texas, the latest news and events. Follow us on Facebook, Twitter and Pinterest.