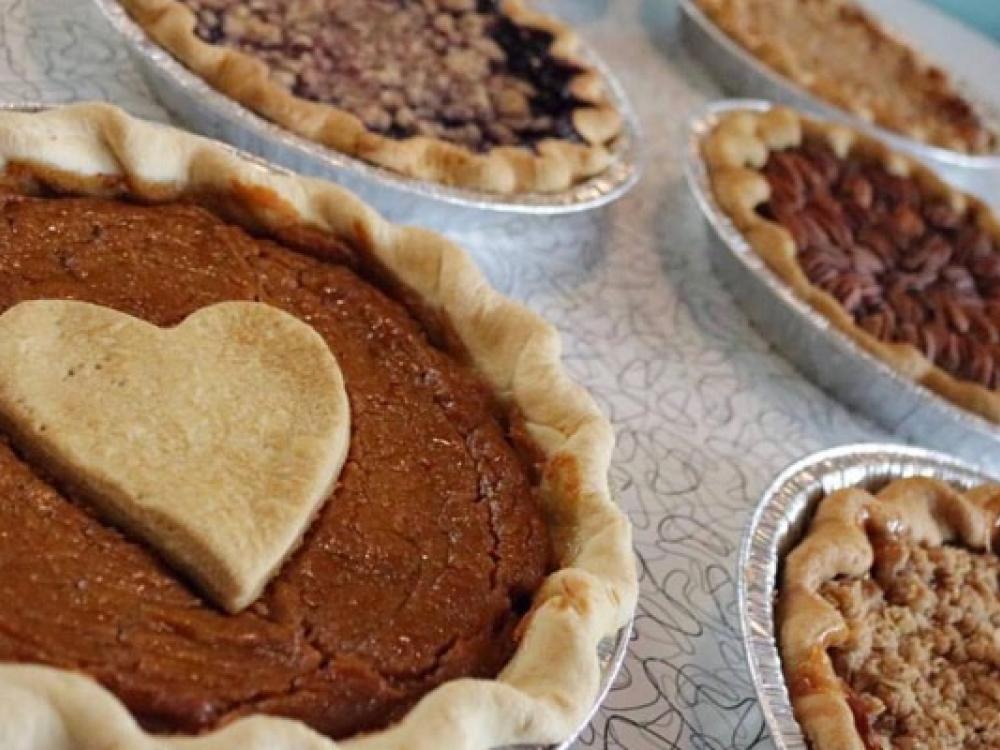 The all-vegan Spiral Diner and Bakery in Fort Worth and Dallas offer a variety of holiday pies, which can be preordered. Courtesy of Spiral Diner.
Nov. 28, 2016
Two years ago, I opted for a plant-based diet after I heard that eating more fiber helps one lose weight. As I was trying to get in shape for a trip abroad, this seemed like an attractive prospect.
Holiday meal from V-Eats, an vegan restaurant in Dallas.
However, since I began following a strict vegan diet, my eyes have been opened to not only the personal health benefits but also the impact one's food choices have on the world. I've come to believe, being vegan stands for much more than simply saying goodbye to your beloved double cheeseburger or turkey dinner; it represents being a proponent of preserving all forms of life and protecting the environment. 
A 2010 United Nations report said a global shift towards a vegan diet is critical to mitigating the global issues of hunger, fuel poverty and the worst impacts of climate change.
Here in the Lone Star State, where beef reigns supreme, being a vegan was once no easy task. But things have changed and these days it is much easier to follow a plant-based diet here in DFW, whether you eat in or out, even during the holidays. So, while we wait for the rest of the world to catch up, I'm here to help you, dear readers, work your way through the turkey-laden, dairy-filled holidays that are upon us! Here are a few ways to spice up your holiday feasts with some healthy, cruelty-free alternatives.
Explore meat and dairy alternatives 
Gone are the days of meat substitutes tasting like unsalted cardboard. Faux meats are a great way to make a worthy change for the holidays by cutting out the real stuff. Most local supermarkets including Tom Thumb, Sprouts, Target and even Costco carry a healthy amount of vegan protein options ranging from short ribs to turkey breast to hot dogs. Most of these products are made from tofu (soy-based) or seitan (wheat-based). Trader Joe's has introduced several vegetarian and vegan options including their Breaded Turkeyless Stuffed Roast with Gravy which can easily be prepared even in a "mixed" family for those non-vegans who want to try a meatless alternative. In addition to having numerous prepared items available in-store, Whole Foods dedicates an entire page on their website to vegan holiday recipes. 
Surf for veg recipes 
Find a few veg-based meal plans to help you get started and then add one per week to build up your repertoire. In addition to meatless main dishes, the list of veg-based holiday sides and dessert plates is endless from Pumpkin Apple Harvest Rice to Fluffy Mashed Potatoes topped with savory mushroom gravy to Bourbon-Laced Pumpkin Pie with Walnut Crumble Topping. Doing a quick Google search for holiday vegan dishes will provide a plethora of simple recipes to make your holiday meals unforgettable. A few sites that make it easy are VegKitchen.com and VegetarianTimes.com. (See 41 Delicious Vegan Thanksgiving Recipes.)
Try local veg venues 
The DFW is exploding with exciting new vegan and vegetarian restaurants plus a few that have been longtime favorites. Many are serving special holiday meals, though reservations are recommended, and some offer pre-orders for holiday take-out. I have been a longtime fan of Spiral Diner and Kalachandji's, both that have holiday menus. I recently sampled V-Eats at Trinity Groves and thought that I was in vegan heaven. From the amazing Tofu Crisps w/ Citrus Chili Sauce to the Bar-V-Q Brisket Sandwich, every bite was better than the last. They are open on Thanksgiving with Herb Roasted Turkey w/ Mushroom Gravy and Chick-un Pot Pie as just a few of the meatless offerings. You can also pick up an assortment of vegan desserts at the all-vegan Reverie Bakeshop in Richardson.
The Festivus sandwich from Spiral Diner.
Alter your diet gradually 
Start with Meatless Monday and then stop your red meat intake for one month. Once you realize that you don't miss the meat, cut out chicken and other poultry. Then fish. Finally eliminate eggs, dairy and even honey from your diet if you opt to go that far.
Get a buddy to join you 
It's much easier to stick with a vegan or vegetarian diet when you aren't trying to do it alone. Even cooking for two instead of just yourself or trying new restaurants with your buddy can help reinforce your new lifestyle.
Watch out for junk food 
Just because potato chips are vegetarian doesn't mean that they are good for you. Stock your pantry and fridge with healthy snacks such as nuts and cut-up veggies with hummus.
Even if you're not ready to quit cold-turkey, following any of the tips listed above is a nice way to thank Mother Earth. Cutting out just a fraction of the animal products one uses would reduce global greenhouse emissions, improve overall health and save countless feathered and furry lives in the process.
RELATED ARTICLES
Go veg for the holidays! Recipes, tips from local plant-based cooks
---
Sign up for the weekly Green Source DFW Newsletter to stay up to date on everything green in North Texas, the latest news and events. Follow us on Facebook, Twitter and Pinterest.