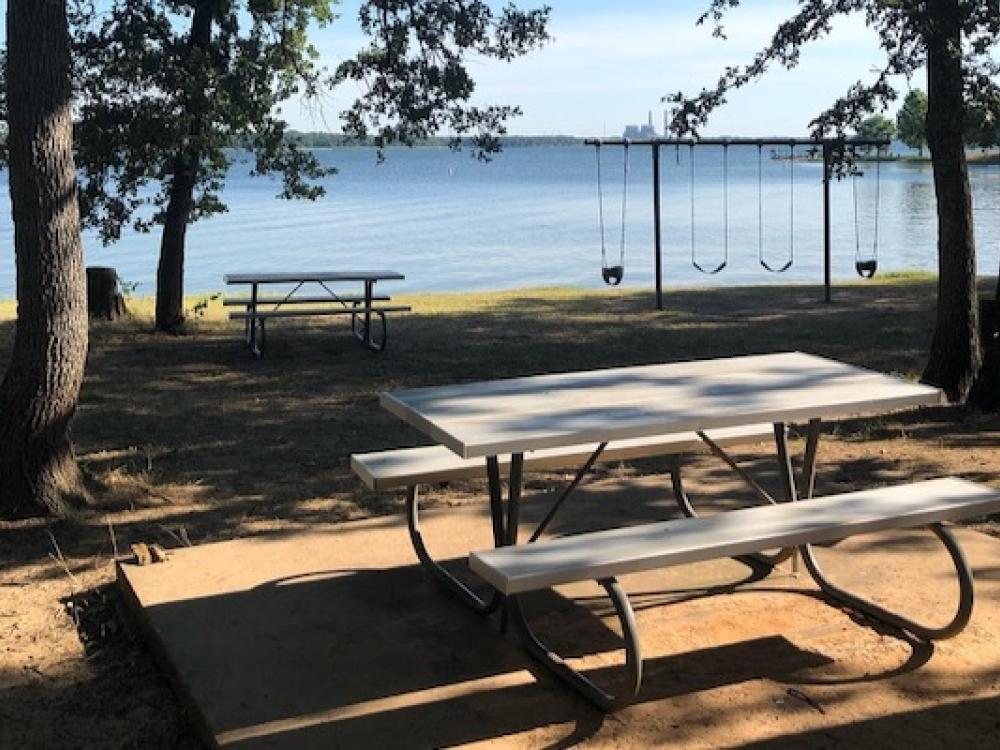 Fairfield Lake State Park, located off Interstate 45 between Dallas and Houston, has been a popular spot for hiking, camping and fishing, attracting 80,000 visitors annually. Photo courtesy of TPWD.
Feb. 24, 2023
A state park about 100 miles southeast of Dallas is set to close Feb. 28 but state lawmakers and park advocates are looking for ways to keep it open.
UN-FAIR GAME
The 1,800-acre Fairfield Lake State Park was established on private property in 1976. The Texas Parks and Wildlife Department leased the parkland from Vistra, which operated a coal-powered plant nearby on Fairfield Lake. 
In 2018, Vistra shut down the power plant, known as Big Brown, following years of pressure by environmentalists. In 2021, Vistra put the entire 5,000-acre property, including the parkland, up for sale for $110 million.
Despite efforts by Texas Parks and Wildlife to secure a deal with Vistra, the land was recently sold to Dallas-based Todd Interests.
The property's new owner has no plans to preserve the park. Instead, the company plans to develop the site into a gated luxury housing community with a golf course. 
Texas State Parks now has less than 120 days to vacate the state park before it is turned over to the new owner.
More than 800 species of wildlife and plants have been documented at the nearly 50-year-old Fairfield Lake State Park, including the bald eagle. Photo courtesy of TPWD.
LAST DITCH EFFORT
The Texas Parks and Wildlife Department said in a press release it will continue to work to buy and potentially expand the park.
"Losing Fairfield Lake State Park would represent a significant step backward in our efforts to expand outdoor recreational opportunities for Texas' booming population," said Texas Parks and Wildlife Commission Chairman Arch "Beaver" Aplin III. "This loss is especially unfathomable at a time when we are celebrating 100 years of state parks. Rest assured Commissioners remain committed to working with Todd Interests to maintain this important public asset and grow outdoor recreation in Texas." 
According to Texas Parks and Wildlife Department, state legislative leadership strongly supports helping the TPWD acquire the property. 
On Feb. 14, Rep. Angelia Orr, whose district includes Fairfield Lake State Park, filed House Bill 2332, which seeks to use the state's power of eminent domain to gain ownership of the property and keep the state park open.
"This treasured piece of Texas has blessed our local families and countless visitors for generations, and losing it is hard to comprehend," said Rep. Orr (R-Itasca). "I join park lovers in Freestone County and across the state in expressing my sincere disappointment in hearing this news. As a result, we are now working on legislation to prevent this from ever occurring in any of our other beautiful state parks going forward."
Rep. Trent Ashby, Chairman of the House Culture, Recreation and Tourism Committee, and Rep. Ken King, Former Chairman of the House Culture, Recreation and Tourism Committee, also expressed their support and commitment to saving the park.
"The recent announcement about the closure of Fairfield State Park is a huge disappointment," said Rep. Ashby (R-Lufkin). "The prospect of a developer taking this treasure out of our state park system is deeply troubling, especially at a time when both the Governor and members of the Legislature have called for the expansion of state parks across the state," he added. "I plan to work with members of my committee to determine how we can prevent this practice from occurring in the future."
Rep. King (R-Canadian) said he was "very disappointed" about the Fairfield Park closure.
"I strongly encourage Vistra and the potential buyer to continue working with the Legislature and the department for a better solution for all Texans. Keeping all of our state parks open to the public is, and will remain, a top priority for me."
EMINENT DOMAIN
Austin attorney Luke Ellis told KERA, the state of Texas already has the sovereign power to take land for public use.
"I think the intent of that bill was both to draw attention to the issue and also to make it abundantly clear that if anyone were to challenge that the state of Texas, in fact, had the right to condemn [the land] for the purpose of continuing to maintain the public park, I think they wanted to be certain that there was also legislative approval for the state's ability to act," said Ellis,. 
"Whether they actually need that House bill to pass for the state to be able to take it, I think could be disputed. But certainly by passing the bill, it further emphasizes the state's right to take the property for a public park."
Ellis went on to say that he thinks the state is "very likely" to have the legal right to take the land in this case regarding the Fairfield Lake State Park. 
"The bigger question that I think will exist in this case is, what is the correct amount of just compensation owed to the property owner that results from the taking? I suspect that could be an issue that could be hotly disputed."
BORROWED LAND
Since Vistra announced the sale of the Fairfield Lake State Park, questions have been swirling about the security of other Texas parks.
According to the Houston Chronicle, 14 other state parks are located on leased land, including several in or near DFW. Cedar Hill State Park, Lake Whitney and Eisenhower State Park are all on U.S. Army Corps of Engineer Property. Ray Roberts Lake State Park in Pilot Point is owned by the cities of Dallas and Denton and USACE. Lake Tawakoni State Park in Wills Point is owned by the Sabine River Authority.
Lake Colorado City State Park, north of San Angelo, is the only other state park besides Fairfield Lake State Park located on land owned by a for-profit company. The property is owned by the Texas Electric Service Company. The remainder of the 15 state parks located on leased land are leased from nonprofit entities such as the U.S. Army Corps of Engineers, river authorities, or city or county government agencies, according to Stephanie Garcia, a TPWD spokesperson.
Rep. Orr said she is now working on legislation to prevent any other vulnerable state parks to be lost.
"This is not a county or regional issue, I think it is quickly becoming a statewide issue and it's making us have to look at other state parks and who owns or leases that," Rep. Orr told the Star-Telegram. "I don't know that we're gonna have a good outcome for Fairfield Lake — I hope so — but if we don't, at least we've started having discussions."
TAKE ACTION
Environment Texas has created an online letter to send to state legislators, urging them to save Fairfield Lake State Park.
RELATED ARTICLES
Texas state park could be lost to development due to land sale
---
Stay up to date on everything green in North Texas, including the latest news and events! Sign up for the weekly Green Source DFW Newsletter! Follow us on Facebook and Twitter. Also check out our new podcast The Texas Green Report, available on your favorite podcast app.