Take your mom out for a kayaking adventure this Mother's Day. Courtesy of Trinity River Kayak Co.
May 5, 2023
This beautiful planet we live on is the mother of humankind. So with Mother's Day coming up May 14, let's show Mother Earth some love by choosing gifts that respect the planet and all creatures who live on it while celebrating our own wonderful moms.
Below are nine suggestions that put an eco-friendly spin on the occasion.
FLOAT HER BOAT
Mom will flip (well hopefully not) when you take her for a kayak ride down the Trinity River! 
Pam and Jeff Varnell founded the Trinity River Kayak Co. to share nature with visitors who wonder at an urban wilderness that few DFW residents will ever see.
Choose from a variety of 2 to 12 mile adventures that include a brief orientation, kayak, life jacket, and paddle. Venture from as far north as Lake Lewisville Dam and all the way down to California Crossing Dam, near NW Hwy and Hwy 114. Daytime or evening options available as well as an upcoming kids' camp this summer. 
Prices start at $49 for a single person kayak or $89 for a double. Canoes are $99 with room for 2 adults with a 3rd seat for a child under 10. 
All excursions include shuttle services back to the Trinity River Kayak Co. headquarters at 1601 E. Sandy Lake Rd. in Coppell. Call (214-513-0649 for visit TrinityRiverKayak.com. Watch a video here: 
In Tarrant County, Trinity Coalition is set to reopen a former kayak rental facility under the name TC Paddlesports on Panther Island, north of downtown Fort Worth. The grand opening party is May 13.
CURRY SOME FAVOR

Looking to add some spice to Mom's life? Houston-based author and self-styled Spice Girl Shubhra Ramineni, has penned a delightful cookbook, Healthy Indian Vegetarian Cooking that proves once and for all that vegetarian cuisine is just as delicious, if not more so, than conventional fare. 
Combining traditional Indian favorites with Shubhra's modern twist, your mom will find over 80 recipes from soups and salads to desserts and drinks, from bread and "cheese" to pickles and chutney. 
Shubhra also includes a selection of vegan and gluten free dishes, plus most meals can be adjusted to suit an individual's dietary needs or palate. 
Check out Shubhra's other book as well, Entice with Spice and visit her @SpiceGirlKitchen on Instagram where you can meet both her mom and kids as she often features both. Find links to purchase her books at SpiceGirlKitchen.com. $9.99 to $19.99.
GET OUTSIDE
The Bison Viewing Deck opened this spring at the Fort Worth Nature Center. Photo by Michael Smith.
My late mother enjoyed outings with us kids and her grandchildren more than any store-bought gift we could buy her. 
Why not treat your mother to something a little bit off the beaten path by taking her on a nature walk? 
Some of the top parks in the area offer breathtaking views on journeys that range from short to long and beginner to advanced.
The 3,600-acre Fort Worth Nature Center offers several treks such as the longtime birdwatcher favorite, Caprock Trail Lookout. At just over one-half mile, it's an easy jaunt even for older folks. Don't forget to drop by to see the new Bison Viewing Deck while you're there.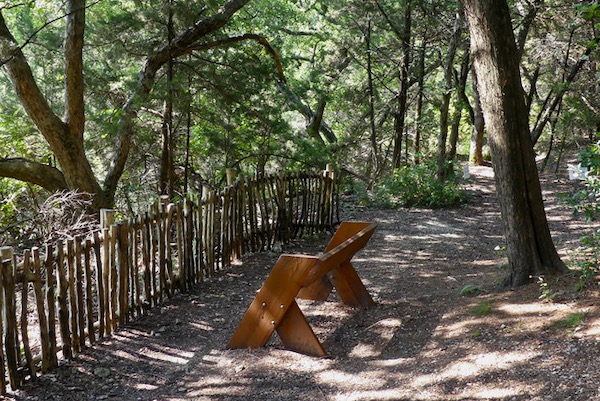 A bench provides a perfect place for birdwatching at Dogwood Canyon Audubon Center in Cedar Hill. Photo by Michael Smith.
Dogwood Canyon Audubon Center, a part of the White Rock Escarpment, is a little-known gem that's a hop, skip and jump from either Dallas or Fort Worth, just off of I-20 and Mountain Creek Parkway. 
Enjoy both short or long trails, up to 9 miles, depending on Mom's stamina. 
The preserve is over 200 acres and home to native trees, grasses and wildflowers, butterfly gardens, diverse wildlife plus you might just see a painted bunting, a once-in-a-lifetime experience! 
You'll also want to stop in the LEED certified Gold C.E. Doolin Visitor Center that sells Audubon-related goods and local finds. Be sure to call first for hours as they close their trails during inclement weather to protect the habitat.
Want to find trails in your area? Check out HikingProject.com or GSDFW reporter Amy Martin's Hiker's guide to dirt trails in DFW.
COUNTER COMPOSTER
Has your mother been lusting after a Lomi countertop composter? 
Well Lomi has an amazing Mother's Day deal online right now that can't be beat! Save $140 when you order the Lomi Unlimited option (Reg. $499, now $359) that includes everything Mom will need to get started. The special bundle includes the magical Lomi composter, an unlimited supply of filter refills and LomiPods to keep her Lomi performing at its best ($20 per month, billed quarterly) and a free upgrade to a 3-year extended warranty. 
Why Lomi? In just four hours, Lomi will turn just about any kitchen waste into "nutrient rich plant food." 
Lomi is made by Pela, a certified B corporation, that was launched by Jeremy Lang in 2021, one of the most successful environmental crowdfunding companies ever. According to the company's website, "Using a Lomi for a year can help prevent the emissions equivalent of powering a gasoline car for 576 miles, burning 257 pounds of coal or charging a smartphone 28,221 times."
Plus it looks cool and works like a little champ. Lomi.com.
BIRD LADY
Kathy Rogers was a leader in the local wildlife rehab community for more than 30 years and was especially relied for her expertise and love for all winged creatures. Photo by Andrea Ridout.
The founder of Rogers Wildlife Rehabilitation Center, Kathy Rogers, died last month at 73 after serving 40 years as DFW's go-to wildbird expert. 
Consider giving a donation this Mother's Day to help continue Kathy's fine work. 
Like many non-profits, RWRC lives and breathes on private funding. The sanctuary rescues over 5,000 injured or orphaned birds each year, contributing to our rich eco-system. 
Has your mom also passed away? Perhaps a sustaining gift in her name could create a meaningful homage in her memory. Donate here.
AROMATHERAPY
Whether your mom loves or hates to clean, why not make her tasks a little lighter with cleaning products that not only work great but are designed to make her feel good? 
Therapy Clean offers a variety of cleaners made from "the safest ingredients available" such as essential oils, USDA-certified preservatives and natural surfactants. 
Our favorite is their Juniper and Lemon Zest Dish Soap ($5.49) that has a very pleasant and more subtle scent than Mrs. Meyers and Method. 
Ann Ruozi, who co-founded the company with her husband, James Dudra, shared their mantra, "We want to change the experience of cleaning." 
All of their products are completely safe around kids and pets and packed in recyclable bottles. Offered at surprisingly low prices starting around $3.99 at Target and CVS. Give Mom an assortment in a cute basket. She'll love you for it! TherapyClean.com
COOL TREAT
Send Mom some sweetness of the West Coast with an assortment of amazing frozen treats from Uli's Gelato. 
Founded by Uli Nasibova, an immigrant from Azerbaijan, her delectable and unique flavors have been voted the Best Gelato and Best Ice Cream in Los Angeles. Uli's products are planet-forward, packed in recyclable paperboard cartons and boxes, with ingredients that are second-to-none. You'll please Mom while helping to elevate a women-owned business whose mission is to support small family farms. 
Uli hand-selects her ingredients for taste and integrity such as Black Tartarian cherries that are only grown in one place in California, Andy's Orchard. 
Order an Uli's Minis Box, with flavors such as the tongue-tickling Fresh Mint Stracciatella Gelato or rich and luscious Chocolate Sorbet, in either dairy-based or vegan for $44, and grab an extra pint for yourself ($6) to reach Uli's $50 minimum for out-of-area shipping. 
Gift cards also available so Mom can choose her own flavors! UlisGelato.com.
DRINK UP
Many women, especially as they age, don't hydrate as much as they should. This can lead to numerous health problems, not the least of which is painful inflammation. 
Husband and wife dentists, Dr. Arash Aftabi and Dr. Farnoush Fadavi, created Bala (from the word "Balance") to help make healthy hydration easier, with a delicious drink powder in a pre-measured stick pack that Mom can mix in a snap. 
The supplement is perfect for on-the-go, post-workout, or to blend into her favorite beverage, smoothie or even as a cocktail mixer. The mix is loaded with turmeric, amino acids, enzymes and electrolytes to help refresh and replenish any time – plus reduce inflammation, aid with joint relief and muscle recovery. 
The patented enzyme formula also aids in nutrient absorption, unlike many other beverage choices. With just 10 calories and zero sugar in each stick, Bala is vegan, fat-free, carb-free, gluten-free, keto-friendly, non-GMO and truly delicious. 
Pick up a few flavors at your local Sprouts or buy a triple flavor pack on Amazon ($17.99/12 pack). Order directly at BalaEnzyme.com and get 20 percent off your first order.
MMMMM GOOD
Make Mom say 'mmmmm' with sweet or savory empanadas from Austin-based Mmmpanadas, offered at Whole Foods stores around DFW. 
Created by husband-and-wife team, Cody and Kristen Fields, the business started after Cody got hooked on the South American stuffed pastry pies when he spent time in Costa Rica. 
The company offers several varieties made from simple, healthy ingredients, including three vegan options (Spinach Mushroom, Samosa and Spicy Black Bean) and even two with sweet fillings (Pineapple Cinnamon and Blueberry). 
Kristen recommends trying an assortment so everyone in the family can please their own palate, "Give mom a break and she won't have to fix dinner," she said. Sounds like a great idea. Visit Mmmpanadas.com to learn more and find a retailer near you.
BEAUTIFUL BOOKS
If you're shopping for a special gift with an eco-friendly twist, peruse Pretty Things and Cool Stuff, an online shop thoughtfully curated by Dallas greenie Kim Young. 
Here are a few of the lovely nature-themed books she's gathered: 
Flowers and Their Meanings by Karen Azoulay is subtitled The Secret Language And History Of Over 600 Blooms (A Flower Dictionary). Learn the secret meanings behind your bouquets and floral arrangements with this illustrated exploration of the Victorian language of flowers, including the multicultural history, rituals and mythology behind over 600 flowers, herbs, and trees. Hardcover. $19.95.
Another fun read for the nature lover is The Atlas of Amazing Birds by Matt Sewell. The hardcover book features more the 150 birds from around the world celebrating winged creatures through cheerful watercolors and humorously told tales of their habits and habitats.
The book is geared to ages 5 to 10 so great for sharing with the kiddos or grandkids. $18.50.
Another gem in Kim's library: 50 Things To See In The Sky by Sarah Barker and Maria Nilsson. Learn the science behind blue skies, sun dogs and the solar eclipse, and how to observe nocturnal wonders such as lunar halos, Martian ice caps, and far-off galaxies. $15.95.
Check out Kim's whole Mom's Day gift collection on Pretty Things and Cool Stuff.
RELATED ARTICLES
10 green ways to celebrate St. Patrick's Day
Valentine's Day is chance to show love for Mother Earth
---
Stay up to date on everything green in North Texas, including the latest news and events! Sign up for the weekly Green Source DFW Newsletter! Follow us on Facebook and Twitter. Also check out our new podcast The Texas Green Report, available on your favorite podcast app.