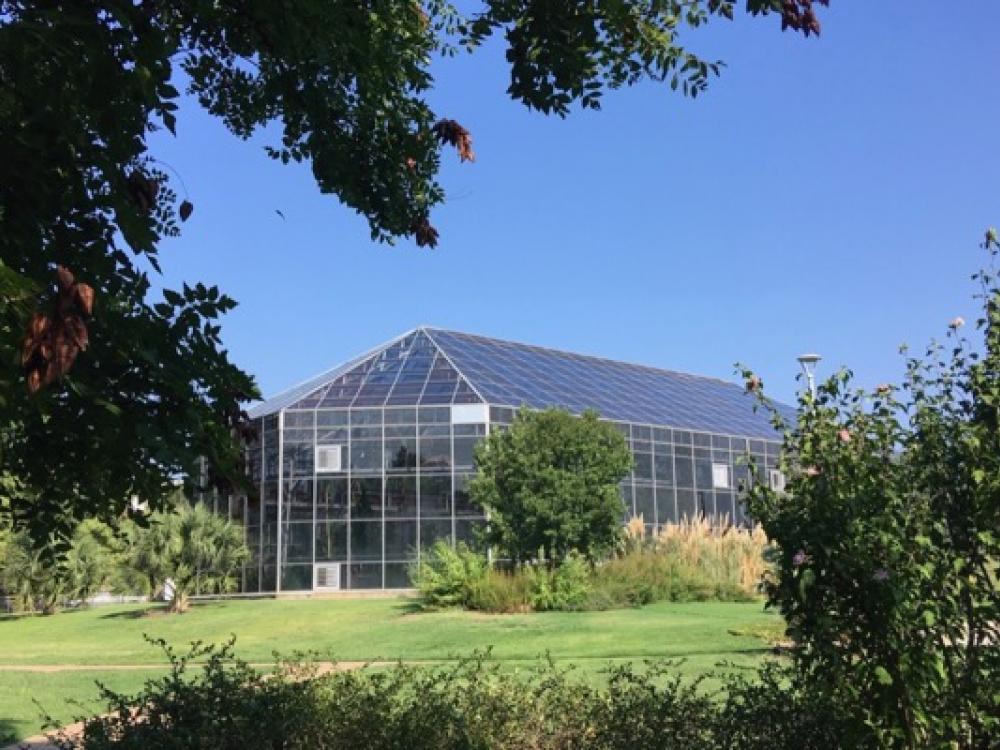 The 10,000-square-foot rainforest exhibit has been closed since 2016 for repairs. Photo by John Kent.
Aug. 28, 2019
While the Amazon rainforest burns in Brazil, a small rainforest is being brought back to life here in DFW.
Last week, the Fort Worth Botanic Garden's 10,000-square-foot Rainforest Conservatory reopened its doors to visitors without fanfare.
Backlogged maintenance, structural woes and safety concerns forced its closure in 2016.
"It's been a long wait, and we've had a lot of issues to work through," said Fort Worth Botanic Garden director Bob Byers. "We're excited to get it back open." 
Last Wednesday, Aug. 21, marked the facility's "soft opening." A grand opening event is planned for early 2020.
Repairs to the airy tropical greenhouse are ongoing, but were judged to be far enough along to allow guests to return. Work so far has included the replacement of 88 glass panes in the roof and 12 in the walls, mechanical overhauls of the misting and evaporative cooling systems, the replacement of six of the building's 12 exhaust fans, power-washing of the pavement and the removal of 17 dump-truck loads of dead vegetation. 
While much of the facility's tropical flora was lost, those plants that remain are expected to regain their former glory.​ Photo courtesy of FWBG.
Much of the facility's tropical flora was lost because safety worries prevented gardeners from entering the building and caring for the plants, and because missing or broken glass panels allowed the entry of cold outside air, which many of the heat-loving plants were unable to tolerate. One of the more significant casualties was a 15-foot-tall chocolate tree that the garden is expected to replace soon.
There were plenty of survivors, though, including elephant ears, maiden-hair ferns, calathea, yellow and red ginger, a pink-velvet banana tree, begonias, a towering bird of paradise, an allspice tree and a mango tree. A coffee tree, thought to be dead, has bounced back. 
An allspice tree that was saved is now rebounding and is expected to survive. Photo by John Kent.
Replacement plants are being sourced from nurseries, donations and other cities' gardens. Botanic Garden workers have been known to get creative in their search for trees and shrubs. One employee on vacation in Washington, D.C., asked the U.S. National Arboretum for some tropical plants to take back home to Fort Worth. The Arboretum happily complied. 
Byers sees the conservatory's reopening as especially timely. 
"The tropics are such a focal point right now with climate change, the threat to rainforests and the diversity of species there - some of which haven't even been identified yet - that we may be losing. It's important for people to be able to see first-hand, by way of the conservatory, what a diverse and interesting place the tropical rainforest is," he said.
The renovation is being underwritten by a mix of funding sources, including operating proceeds from the Japanese Garden, a $20,000 private donation and $40,000 each from the Fort Worth Garden Club and the Fort Worth Botanical Society. Byers estimates $150,000 is still needed to finish the repairs. A reverse-osmosis system, six more exhaust fans and an exit door are among the items that still need attention.
The big greenhouse's slow-motion decline was a byproduct of the garden's well-publicized budget shortfalls, which were piling up at the rate of $1.2 million a year. After much debate, the Fort Worth City Council in June adopted recommendations for paid admission to the garden, and on July 19, the fee took effect. Byers said that without the $12-per-person admission, the garden would be unable to sustain operations. (Discounts are offered for low-income residents, students and military service personnel.)
The Conservatory will host a grand reopening in 2020 along with a Butterfies in the Garden event in March. Photo courtesy of FWBG.
The Rainforest Conservatory's revival is among the first signs of the Botanic Garden's reawakening. The facility will be ready once again to host the crowd-pleasing Butterflies in the Garden event next March, and Greenhouse attendant Joyce Block, who has been integral to the conservatory's rehabilitation, is upbeat about its renaissance.
 "In six months, this place is going to be so filled out it won't even be funny," she said.
RELATED ARTICLES
Fort Worth Botanic Garden's new fees start Friday
Park advocates split over proposed Botanic Garden fee
---
Stay up to date on everything green in North Texas, including the latest news and events! Sign up for the weekly Green Source DFW Newsletter! Follow us on Facebook and Twitter.