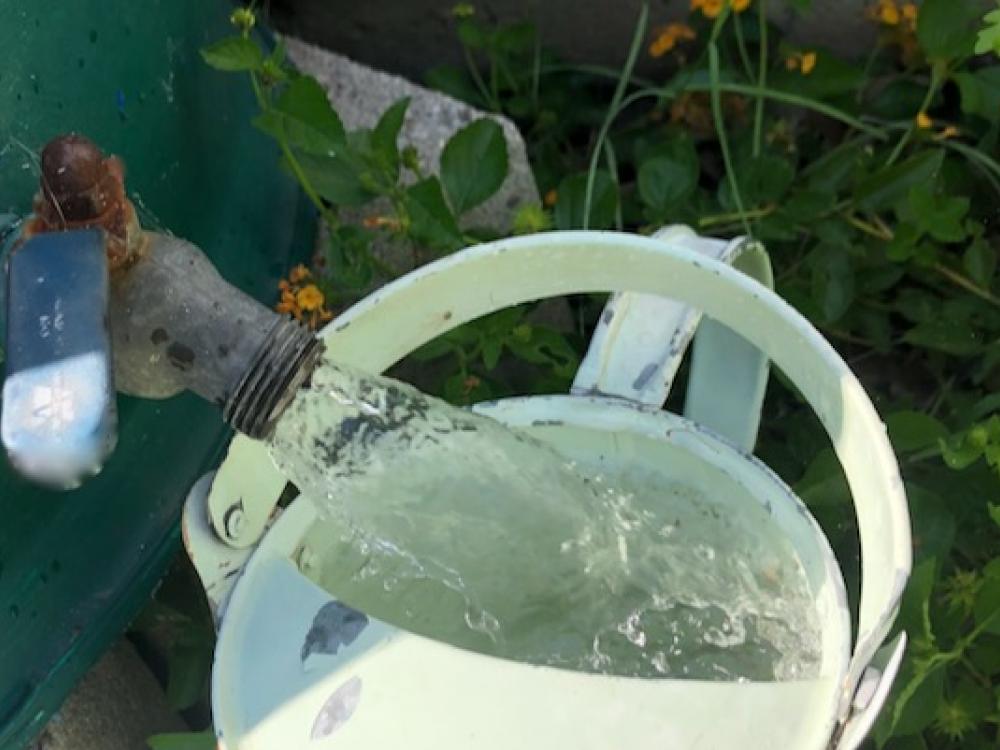 Eco-shopper Andrea Ridout shares her favorite rain barrels and rain gauges.​ Photo by Julie Thibodeaux.
Sept. 15, 2022
With all of the rain we had recently, it's a great idea to capture some of that liquid gold for use when things dry up a bit. Why not install a rain gauge and rain barrel at your home, office or urban homestead? 
According to the U.S. Environmental Protection Agency, having your own rainwater collection system can save the average homeowner over 1,300 gallons of water each year. Non-chlorinated rainwater also helps restore soil to ideal pH levels, conserves water, protects the environment and can lower your water bill.
RAIN BARREL 101
A few tips if you are a rain barrel newbie…
• BUILT TO LAST. Choose a quality unit, preferably with a brass spigot.
• LOCATION, LOCATION, LOCATION. Locate the rain barrel nearest to your garden — or where you are going to need the water from it.
• BZZZZZ. Add Mosquito Dunks to any standing water in your rain barrel to prevent mosquitos. Or cover rain barrel top with a fine screen.
• THE WEIGHT. Remember that 50 gallons of water weighs over 400 pounds. Be sure that your substrate is stable, strong, child-proof and not prone to movement during heavy rains.
• CATCH-ALL. You can generally modify an existing gutter downspout to divert water into your rain barrel. Gutter extenders are available at most hardware stores and home centers.
• DOWN IN THE VALLEY. For a roof with no gutters, position your barrel under the valley of the roof, where two slopes converge.
• CHAIN, CHAIN, CHAIN. You can use a decorative "rain chain" to get water into your barrel, which looks lovely and serves a purpose. RainChains.com sells high-end nature-themed copper rain chains, such as these acorn or honeybee cups by the foot.
Video by Andrea Ridout.
• CREATIVE COVER. Watch this DIY video from Central Texas Gardener for tips on painting and decorating barrels, including how to build a wooden cover using cedar fence pickets.
• NO DRINKING. Do not drink the water from your rain barrel or give it to your pets unless you have proper filtering systems in place. Here's general guidance from the Centers for Disease Control and Prevention.
• WHAT'S IN MY RAINWATER? Concerned about potential runoff chemicals in your rainwater? Read this study from Rutgers University.
• DIY. If you want to make your own rain barrel, Texas A&M Agrilife Extension offers occasional courses locally on building rain barrels or you can watch their video on How to Build a Rain Barrel online.
If you'd rather buy a ready-made barrel, there are lots of choices around the Metroplex. Many local hardware stores, garden stores and home centers carry various models plus there are nearly endless varieties available online. Here are a few favorites:
UPCYCLED
Epoch creates their rain barrels by repurposing high-quality food-grade pickle and pepper barrels from the Mt. Olive Pickle Company that would have gone into the landfill. 
Crafted in Stephenville, Texas by workers with physical and/or mental disabilities, these barrels are easy to install and feature a solid-brass spigot, recommended if you want your barrel to last for many seasons. 
Each barrel has a large screened top to prevent skeeters and accommodate various input options – plus an overflow port that can easily be connected in tandem to more barrels for additional water storage. Since the containers were formerly for food, they are food-safe and BPA-free. Read some rain barrel FAQs from Epoch.
Available for $179.99 in red or black at Rooster Home & Hardware on Northwest Highway in east Dallas.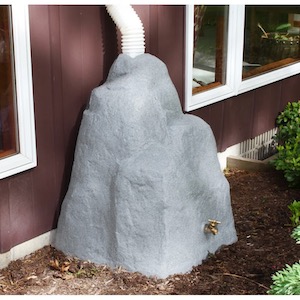 ROCK AND RAIN
Wayfair has been adding more and more outdoor products lately, including rain barrels. This unusual design has a rock-like appearance that can truly blend in. 
It's a bit less capacity than most at just 42 gallons, so might be good for smaller gardens. Wayfair offers the "rock" in four finishes to match your garden setting and outer home decor. The rustic shape could even work well near a pond. Includes a hidden debris screen that keeps out bugs. On sale right now for $171.47 at Wayfair.com.
SQUARE BARREL
Home Depot offers several rain barrels through their website but a cool choice is the FreeGarden Rain collection system. 
With a large 55-gallon capacity, the square design allows it to fit flush against a wall or tuck into a corner. It includes a powder coated steel bug screen, brass spigot, extension hose and child locking lid. The spigot is unusually high from the bottom to allow for easy watering can filling, eliminating the need for a base. The two-sided overflows allow for multiple connecting containers from either side.
Also available in beige or black. Order online for $109 from HomeDepot.com.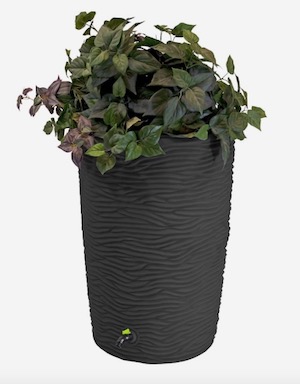 CAMOUFLAGE
If you prefer a rain barrel that is less obtrusive, Lowes offers the Impressions Eco Palm 50 Gallon Rain Saver. Made to look like the textured trunk of a palm tree, it is molded from 100 percent recycled FDA-approved and BPA-free plastic.
The unique design features a planter on top so that the barrel will almost disappear into your gardenscape. With its flat back, the unit can fit against your home or shed – but the built-in overflow channel keeps water away from your foundation. 
A large water input opening can accommodate two-by-three or three-by-four downspouts and is covered with a mesh screen to keep out insects. The only negative is the plastic spout, but this can be replaced with a brass one. Check it out at Lowes for $159.50.
FAUX WOOD
Amazon carries a variety of rain barrels, many with free shipping, such as this RTS Home Accents 50 gallon faux oak barrel, made from high-impact polyethylene that will not fade, rot or risk insect infestation. 
The flat-back design allows the rain barrel to sit flush against your wall and it sports a durable brass spigot with hose hook-up, as well as a wide-slotted top that can fit a variety of input spouts. There's also a screen to keep out debris and insects. Holds 50 gallons.
Optional stand can be purchased to raise the barrel for easier filling of watering cans. On sale at Amazon for about $137.
THE REAL DEAL
If you want to upgrade to an authentic wooden barrel, you can make your own from a recycled wooden whiskey barrel, which sells for $250 from TX Whiskey Distillary in Fort Worth.
Or purchase this converted recycled white oak whiskey barrel, complete with brass spigot from Aunt Mollys Barrels on Etsy for $399.
RAIN BARREL KIT
Amazon also carries a Do-It-Yourself rain barrel accessory kit.
All you need to supply is the barrel itself.
The kit includes: a bulkhead fitting gaskets, brass spigot, hose hookup and even some Teflon tape. $18.99.
See Texas A&M Agrilife Extension's video on How to Build a Rain Barrel online.
RAIN GAUGES
If you love rainy days and also like to stay informed, how about procuring a rain gauge for your garden? 
DESIGN TWIST
Mo Clune lives in historic Gardiner, New York and has been making The World's Coolest Rain Gauges since 1999. Her gauges are a fun twist on a classic design, using the principle of water displacement. The measurement tube, which contains a foam float, rises from the outer collection flute to show water accumulation. Watch video.
The company uses local materials and labor to create their lovely yard art that is basically a water "thermometer," letting you know how much it has rained and whether or not you might need to hydrate your garden. 
The spiral stake is made from hardened American steel and powder-coated to last for many years. 
Cost is from about $50 to $65, depending on if you prefer fence, table or ground attachment. Mo also offers a resin model that is less than $30. Free shipping. WorldsCoolestRainGauge.com
DIGITAL
La Crosse Technology in Wisconsin offers a variety of rain gauges starting at around $8, but for the ultimate gardening geek, check out this Digital Rain Gauge ($70) that not only tracks today's rainfall but it also displays your rain history for up to one year. Bright and easy-to-read screen also shows rain alert, day, date and time, and you can toggle between your indoor and outdoor temperature (with the included outdoor sensor). Backlit so it doubles as a nightlight. Uses two AA batteries (not included), USB power cord (included), or optional AC6 power cord (sold separately). Includes self-emptying rain collection container. Free shipping at LaCrosseTechnology.com.
STEAMPUNK
For over 34 years, Conant, in Anapolis, MD, has created exceptional weather instruments. Inspired by Thomas Jefferson's love of engineering and gadgetry, Conant offers the Jeffersonian Rain Gauge made of solid brass, steel and aluminum that will never chip or rust – and even includes a lifetime warranty. 
This unique design features a bright red powder-coated stainless steel float with a glass rain tube and brass number line that can easily be seen, even from a distance. Would make a stunning addition to any garden as seen in this video. Ground and deck mounts included. $179.95. ConantCollections.com.
EDITOR'S CHOICE
Finally, if you want something sturdy, attractive and modestly priced, consider the Spiral Rain Gauge, another winner from La Crosse Technology. It's made from handcrafted metal and 100 percent recycled glass. It can be installed with a garden stake or hung on a fence with built-in hanger hole. $16.95.
RELATED ARTICLES
Dallas-based company makes 'green' rain boots with charitable mission
---
Stay up to date on everything green in North Texas, including the latest news and events! Sign up for the weekly Green Source DFW Newsletter! Follow us on Facebook and Twitter. Also check out our new podcast The Texas Green Report, available on your favorite podcast app.