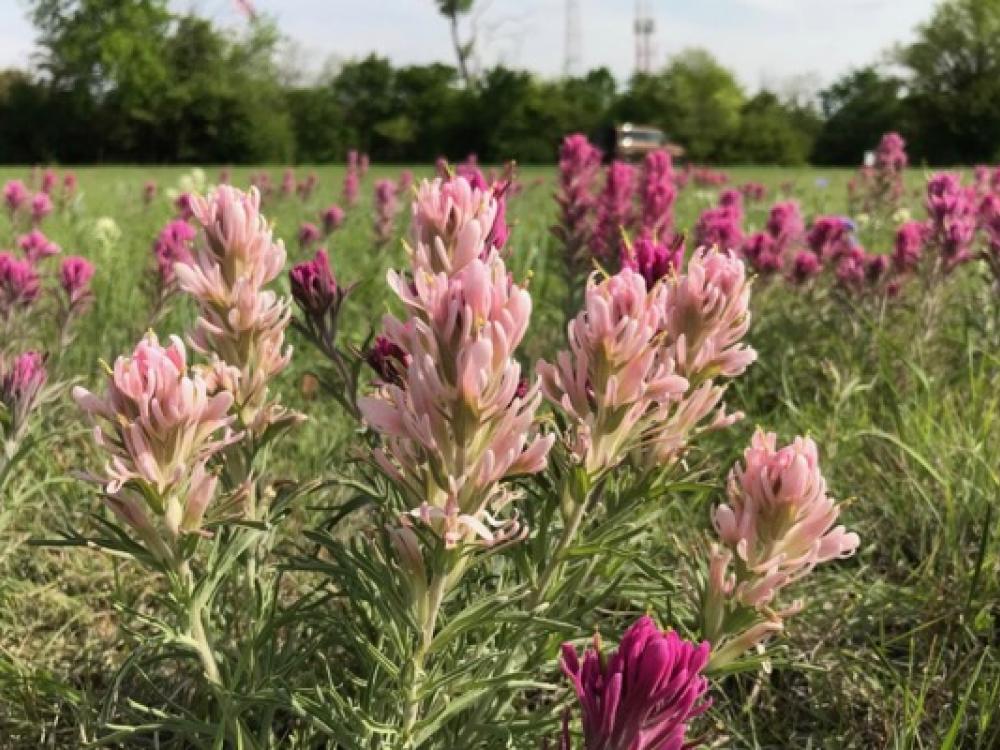 Purple Indian paintbrushes brighten Broadcast Hill in the spring. Photo by Don Young.
Feb. 12, 2020
A local conservation group wants the City of Fort Worth to hurry up and buy a picturesque and ecologically rich 51-acre parcel of land adjoining the Tandy Hills Natural Area before it becomes a housing development.
A carefully worded statement from the city suggests negotiations for the property may already be under way.
The group, Friends of Tandy Hills Natural Area, is concerned that the city's recently announced Open Space Acquisition Program, in partnership with the nonprofit Trust for Public Land, will not spool up quickly enough to enable a timely assessment and purchase of the acreage. The area for sale is an unspoiled parcel of native prairie on Broadcast Hill in east Fort Worth that is zoned Single Family A-10, and is being marketed as a future residential neighborhood.
Don and Debora Young with help from Jim Marshall have raised more than $40,000 to help buy the prairie remnant on the southside of I-30 near the Oakland Exit. Photo by Scott Ausburn.
Don Young, who co-founded Friends of Tandy Hills with his wife, Debora, says the land is an "identical" continuation of the 160-acre Tandy Hills Natural Area, an urban park comprising never-developed, mostly unmolested wilderness in the middle of town. Priced at $700,000, the available property is "a combination of wooded areas and open prairie on hilly terrain with approximately 1,200 native species and counting," Young said. "That works out to $583 per species." The Friends group says the addition of the Broadcast Hill tract would make Tandy Hills one of the largest urban natural areas in the country. 
In an emailed statement, city spokesperson Kevin Neal acknowledged the importance of the property and hinted obliquely that a deal might be percolating. 
"The City of Fort Worth does not typically discuss active real estate negotiations, so we are unable to make further comments at this time," Neal said, adding that the city "supports the preservation of Broadcast Hill and Tandy Hills Park as one of the most outstanding examples of the prairie ecosystem." 
View of downtown Fort Worth from Broadcast Hill. The property was the site of the first television station in Texas. Photo by Scott Ausburn.
Rather than waiting around for something to happen, Friends of Tandy Hills is stoking a letter-writing campaign and actively scraping up money to help the city snag the land before it's too late. 
"We asked those who can afford it to pledge to purchase one acre. 
Friends of Tandy Hills, Jim Marshall and Dick Schoech each accepted that pledge, amounting to $41,175," Young said. "Several others have pledged lesser but significant amounts. So far, more than $45,000 has been raised or pledged."
The group also is imploring residents to write emails or letters as soon as possible to city council representatives, city staffers and Mayor Betsy Price to encourage the purchase and ensure that the land is preserved as natural greenspace. If the Trust for Public Land's "Parkscore" rating is any indication, one thing Fort Worth badly needs is more greenspace. Compared to other U.S. cities, Fort Worth ranks an undistinguished 89 out of 100 in park access, acreage, investment and amenities, according to Parkscore. 
A map shows how the land acquisition would significantly expand Tandy Hills Natural Area. Courtesy of Don Young.

The City of Fort Worth acquired what is now Tandy Hills in 1960 and designated it a natural area 27 years later. Home to what many consider the most spectacular spring wildflower display in North Texas, Tandy Hills abuts Broadcast Hill, site of the first television station in Texas, where the original WBAP (later KXAS) building and a few surrounding acres are now owned by the city. The parcel currently for sale encircles the old station and connects with Tandy Hills.
In 2016, the U.S. subsidiary of France-based energy company Total bought all of Chesapeake Energy Corporation's Barnett Shale assets, including the 51 acres currently up for sale on Broadcast Hill. Total is now taking steps to liquidate the property, with Christie's International ULTERRE of Fort Worth serving as agent.
The hilly site is a prime location for transmission towers. Photo by Scott Ausburn.
Ironically, the very same piece of land went on the market 16 years ago, worrying neighbors and prompting Don and Debora Young to form Friends of Tandy Hills Natural Area with the aim of buying the property to prevent gas drilling there. 
"It was our raison d'être and our first call to action," Don Young said. "Our organization was founded in 2004 after we learned that Sagamore Hill Baptist Church was about to sell it to Chesapeake Energy. We were rightly concerned about the impacts of fracking on the property adjacent, Tandy Hills Natural Area. I visited the pastor and tried to convince him to allow our newly formed group a chance to purchase the land, but they were determined to sell quickly to Chesapeake." 
Broadcast Hill meadow in spring. Photo by Don Young.
Soon after that meeting, Friends of Tandy Hills held a Sunday-morning sidewalk protest at the church, spoke with local reporters and sent letters of concern to the mayor and city officials, Young said - all to no avail. Chesapeake bought the property but drilling operations never materialized.
Young has kept the faith. 
"This new opportunity brings us full circle, but we're now in a better position," he said. "District 8 city councilwoman Kelly Allen Gray supports a city purchase of the land, and Mayor Betsy Price hinted at a public meeting that the city was looking into the purchase."
If such a transaction is imminent, Earth Day 2020 (April 22) might be an opportune time for an announcement. It will be the 60th anniversary of Fort Worth City Council's agreement to purchase the original Tandy Hills property. 
"In other words, Earth Day is also Tandy Hills' birthday," Young said. 
Learn how you can help Friends of Tandy Hills Natural Area save Broadcast Hill here. 
---
Stay up to date on everything green in North Texas, including the latest news and events! Sign up for the weekly Green Source DFW Newsletter! Follow us on Facebook and Twitter. Also check out our new podcast The Texas Green Report, available on your favorite podcast app.