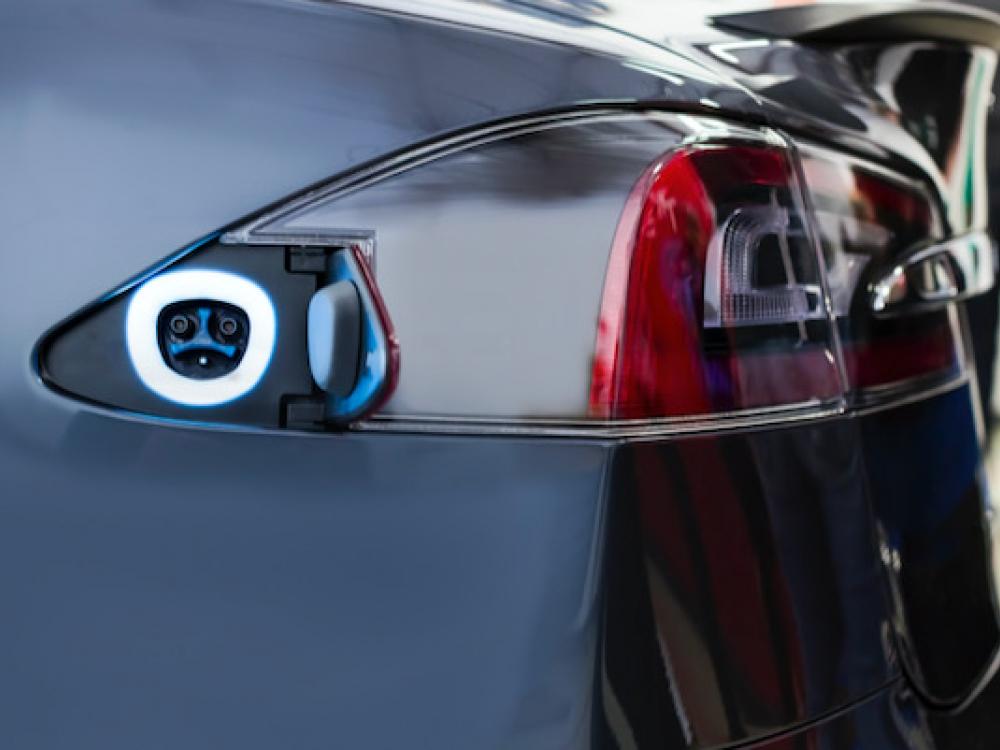 The North Texas Electric Transportation Compact announced its recent launch​. Courtesy of Storyblocks.
June 10, 2022
A new electric vehicle advocacy group aims to reduce tailpipe emissions in North Texas.
This week, the Texas Electric Transportation Resources Alliance Education Fund, a nonprofit based in Austin, announced the formation of the North Texas Electric Transportation Compact, an affiliate devoted to speeding up the transition to clean transportation in DFW. 
Brandy O'Quinn of Fort Worth was hired in March to head up the new affiliate of TxETRAEF.
Brandy O'Quinn will lead the North Texas Electric Transportation Compact. Courtesy of NTETC.
O'Quinn, who has a masters in sustainability from the University of Texas at Arlington, will work with local municipalities, large employers and educational institutions in North Texas to guide them to cleaner transportation solutions.
According to North Central Texas Council of Governments, a recent survey of fleet managers in Dallas and Tarrant Counties, found nearly 60 percent already want to electrify.
"We have a lot of municipalities who are already seeing there's a huge cost savings in maintenance, when converting from combustion to electric transportation, let alone in gas," said O'Quinn. "There's also a public health component."
OZONE VIOLATIONS
The launch of the new DFW advocacy group comes on the heels of a report that the Environmental Protection Agency seeks to downgrade DFW, along with Houston, from serious to "severe" violators of 2008 federal ozone pollution standards, according to the Texas Tribune.
"We don't really know what that means yet," said O'Quinn. "But what we do know there will be additional regulations and mandates from the federal government."
The DFW area has been unable to meet of federal ozone standards for decades.
According to NCTCOG's Air Quality Handbook, ground-level ozone, commonly referred to as "bad ozone," forms when emissions from transportation, industrial and commercial operations, as well as natural sources, such as vegetation, emit NOx and/or volatile organic compounds (VOCs). These pollutants react in the presence of sunlight and heat to create O3. Because ozone is the result of this reaction, NOx and VOC are known as precursor pollutants. Consequently, to limit ozone formation, many of the air quality improvement strategies implemented in North Texas reduce NOx and VOC precursors. 
According to the Texas Commission on Environmental Quality, "mobile sources" are the leading cause of nitrogen oxides or NOx air pollution in the region — nearly 75 percent.
Mobile Sources include cars, trucks, motorcycles and other vehicles along with planes, trains, drilling rigs, commercial boats and equipment used for agriculture, industry, construction, mining and commercial lawn maintenance. 
Sources of nitrogen oxide pollution in the Dallas-Fort Worth metro area. Courtesy of TCEQ. See larger version.
In addition to advancing for fleet electrification, the North Texas Compact hopes to have a big impact on local air quality by encouraging workplaces to provide more charging stations, telecommuting opportunities and incentives for using public transportation. 
O'Quinn said they are also encouraging entities to assess their greenhouse gas emissions.
"The Electrification Coalition will go in for free and evaluate their fleet and look at the age of their current fleet and the cost savings from converting." 
EV FRONTIER
Fort Worth's first electric city buses, known as The Dash, rolled out in 2019. Dallas' mass transit system, DART, added e-buses to its fleet in 2018. Photo courtesy of Trinity Metro.
O'Quinn was already a big proponent of EVs.
Before she joined TxETRA, she helped Trinity Metro in Fort Worth adopt the city's first electric buses in 2019. The bright red buses, known as The Dash, link downtown Fort Worth and the Cultural District, with stops every 15 minutes.
According to O'Quinn, she helped map out the route, secure funding for three years and even pick the color of the buses.
As for her new role as director of the North Texas Compact, she said she will serve as a "convener and connector."
Quarterly meetings will provide a round table of fleet managers from cities, ISDs and large companies who are interested in going electric along with those who've successfully made the transition. 
The North Texas group has already held their first virtual gathering, which drew 40 participants.
Three County Commissioners, including Dallas County Commissioner Dr. Theresa M. Daniel and Tarrant County Commissioners Roy Charles Brooks and Devan Allen, co-chair the Compact.
The launch of TxETRA's North Texas Regional Compact follows the 2020 formation of the South Central Texas Electric Transportation Compact, which is co-chaired by Travis County Commissioner Brigid Shea and Bexar County Commissioner Justin Rodriguez. 
The next meeting of the North Texas Electric Transportation Compact is Aug. 24. Interested fleet managers can contact Brandy O'Quinn at brandyoquinn.txetra@gmail.com for details.
"We just want to provide the education and resources to the community, because when it comes to electric conversion, the train has already left the station," said O'Quinn. "And if you don't do it, you're going to be left behind."
RELATED ARTICLES
Electric buses to link up popular Fort Worth stops
Deals abound on used EVs in DFW
Texas road trip shows EVs can go the distance
Farmers Branch to be powered by solar farm
---
Stay up to date on everything green in North Texas, including the latest news and events! Sign up for the weekly Green Source DFW Newsletter! Follow us on Facebook and Twitter. Also check out our new podcast The Texas Green Report, available on your favorite podcast app.