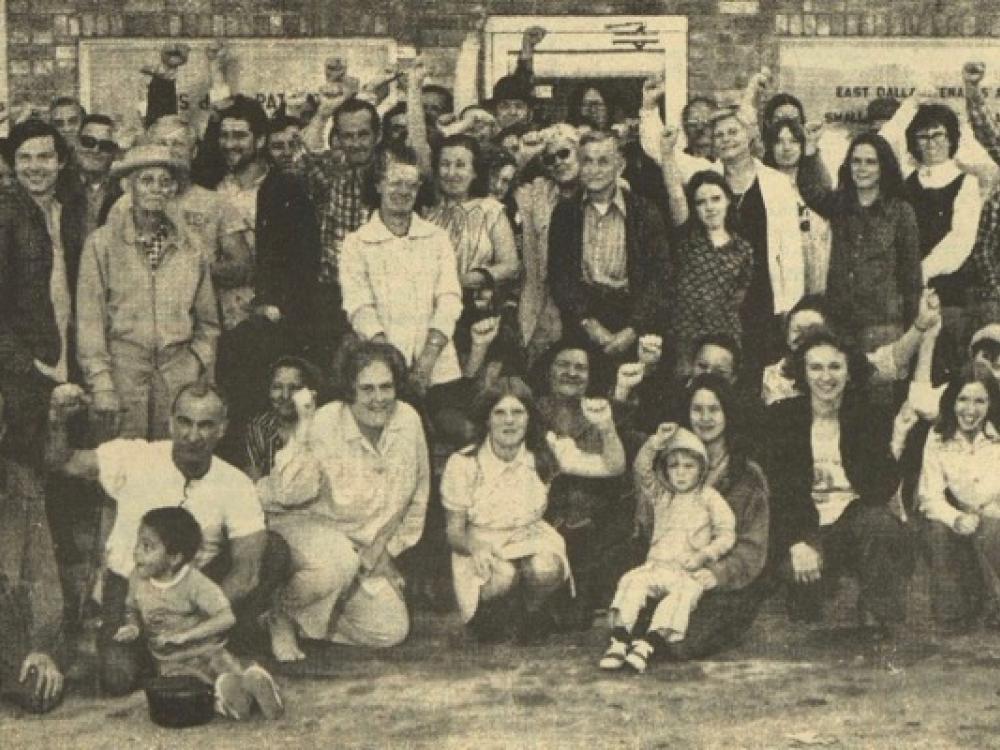 Members of the Bois D'Arc Patriots, a group of activists, and the East Dallas Tenants and Small Homeowners' Alliance, circa 1970s. Dallas native John Fullinwider, an original member of the Patriots, is one of nine guest lecturers participating in Downwinders at Risk's College of Constructive Hell-Raising, a continuing ed course on community organizing beginning in January. Courtesy of Downwinders at Risk.
Nov. 8, 2016
Beware corporate polluters, exploitative employers and unresponsive legislators in North Texas: a new crop of rabble rousers may soon be showing up on your doorstep.
Local environmental group Downwinders at Risk is recruiting students for its College of Constructive Hell-Raising to unleash a movement of grassroots advocates in the Dallas-Fort Worth area.
Classes will meet on two Tuesdays every month from January through May 2017, from 7 p.m. to 9 p.m. in the Piney Woods Room of the Meadows Conference Center at 2900 Live Oak Street in East Dallas. The cost of the program is $125.
Downwinders director Jim Schermbeck said the semester-long program is designed to help students become effective organizers in whatever issues matter to them. From anti-discrimination advocacy and environmental causes to simply opposing a city's rezoning measure, students will learn how to build up a movement and win their fight.
"It's a continuing-ed, seminar-type course designed to improve a person's ability to make grassroots social change happen, even in Texas," said Schermbeck. "It combines time-tested community organizing principles with the insights of some of the most experienced change makers in DFW history."
Mavis Belisle, Dallas Peace & Justice Center Nuclear Free World Committee Chairperson, will teach at the College of Constructive Hell-Raising.
The teachers lined up to conduct the classes are longtime Dallas civil rights activist Peter Johnson who got his start in Dr. Martin Luther King Junior's Southern Christian Leadership Conference; environmental crusader Luis Sepulveda who pushed the city of Dallas and the Environmental Protection Agency to clean up toxic lead pollution in West Dallas neighborhoods; John Fullwinder whose work in civil rights, education, police reform and raising communities out of poverty has spread his reputation far beyond his East Dallas base; LGBT activist Don Maison who's a committed AIDS treatment advocate and campaigner for marriage equality; former eco-friendly State Representative Lon Burnam and Mavis Belisle who are two of Texas' most ardent anti-nuclear campaigners; and Robert Medrano who was an original organizer of the Dallas Brown Beret civil rights movement as well as the first Mexican-American elected to the Dallas ISD school board.
"It's a continuing-ed, seminar-type course designed to improve a person's ability to make grassroots social change happen, even in Texas," said Schermbeck. 
The curriculum for the classes is a synthesis of the experiences of the teachers and material from similar programs taught around the country.
"You may have heard about The Midwest Academy, or The Highlander Institute. These organizer schools have been the midwives for entire movements over the past century. They're our inspirations and many of our materials originate with them. But until now you had to pay lots of money and stay a solid week or two in Chicago or Tennessee to get their training," said Schermbeck.
"What the College of Constructive Hell-Raising does is make that kind of professional organizer education available to Texas volunteer activists who are already doing a lot of the same work as a professional organizer, but aren't getting paid like one, as well as anyone else interested in how social change happens."
Lon Burnam, longtime eco-friendly Texas state representative, is another teacher lined up for Downwinders' organizer school.
Enrollment is open to college students, non-profit volunteers, retirees and anyone else who wants to engage in grassroots advocacy and bring about social change.
During the five-month semester, students will participate in ten classes, with topic titles ranging from The Four Dirty Words of Organizing and Strategy vs. Tactics to Perception Is Everything and The Qualities of a Good Organizer.
"Each class will tackle a different aspect of organizing. Some will be focused on the theoretical, how to think more strategically, for example. Some will look at the mechanics required to be successful, organizational structure, running meetings, media outreach, and so on," said Schermbeck. "Those class discussions are supplemented by the historic stories of our guest lecturers who've been pursuing social change in DFW over the last 50 years. You'll learn about, and from, civil rights organizing, AIDS treatment activism, energy wars and poor people's fights that took place right here in DFW."
Schermbeck said much of what he's learned as a professional campaigner comes from his decades of trials and successes and that a program such as this would have jump started his work back when he was just beginning his career.
"As a teenage student activist in DFW I often felt like an outsider. I think many people in Texas have this experience. If you look at our guest speakers, they're an entire parade of such outsiders who fought their way into the local mainstream agenda over decades, from the black and brown civil rights movements, to the LGBT movement and environmentalists. When you see it presented this way, you understand your activism isn't as rare as you thought. You actually have local political peers and predecessors," Said Schermbeck.
Rev. Peter Johnson is a Dallas Civil Rights activist who will share his experience. Johnson was on the steps of the Lincoln Memorial when Dr. Martin Luther King first delivered his famous speech. Courtesy of KERA.
"The college can make people more successful grassroots activists, whatever their starting point in terms of experience. And DFW could certainly use more successful grassroots activists."
As for the attention-grabbing name of the class series, Schermbeck said the nomenclature has roots in history.
"We hope the plainspoken title will be appreciated. It originates with Nineteenth Century union organizer Mother Jones' famous exhortation to farmers to 'raise less corn, and more hell,'" Schermbeck said. "If you want to affect change at the grassroots level, where resources are scarce, that hell-raising must be well thought-out, strategically applied, and implemented with precision. That's what this course is designed to help you do."
College of Constructive Hell-Raising
About: A continuing education course on community organizing featuring veteran organizers from a variety of social justice movements.
Hosted by: DFW air quality watchdog Downwinders at Risk
When:  Two Tuesdays every month January through May 2017, from 7 p.m. to 9 p.m.
Where: Meadows Conference Center, 2900 Live Oak Street, The Piney Woods Room, in Dallas.
Cost: $125
---
Sign up for the weekly Green Source DFW Newsletter to stay up to date on everything green in North Texas, the latest news and events. Follow us on Facebook, Twitter and Pinterest.