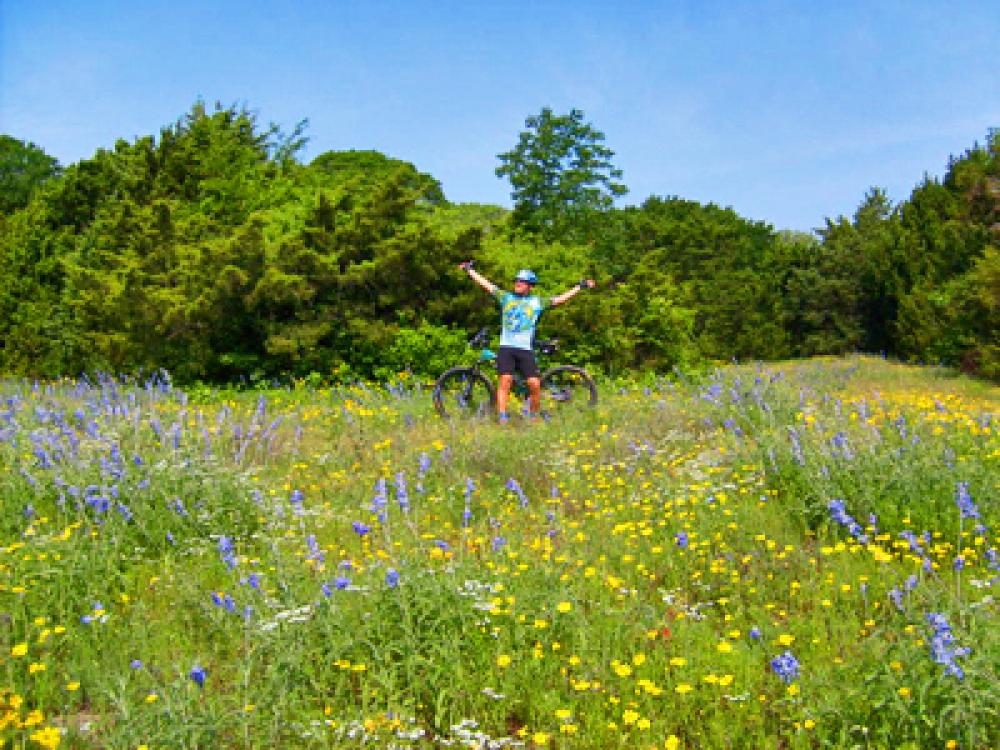 Oak Cliff Nature Preserve in Dallas is overseen by the Texas Land Conservancy. Courtesy of Texas Land Conservancy,
Jan. 27, 2012
We've all got an urban sprawl story. For years, you've driven by a picturesque pasture or stand of trees, only to find it gone one day, replaced by a row of houses or a shopping center. Yet as development continues to threaten native landscapes, land conservation is gaining momentum across the U.S.
According to the Land Trust Alliance, the amount of land protected by land trusts in the U.S. has doubled since 2000, totaling 47 million acres. Today 36 regional and state land trusts operate in Texas. Also known as land conservancies, these nonprofit organizations oversee land that has been donated or sold to the organization. Increasingly, land trusts also monitor "easement" donations or purchases, which allow the owner to keep ownership of the property but ensure development is limited, even after the owner passes the land to heirs or sells it.
According to Kate Vickery, spokesperson for the Texas Land Conservancy, while land conservation is picking up steam, conservationists still have a big task ahead of them. Of the state's 172 million acres, less than 2 percent is protected. Land trusts protect about 1.5 million acres in Texas, while municipalities and government agencies protect an additional 1.5 million.
Connemara Conservancy: Preserving North Texas landscapes
While internationally known nonprofits like the Nature Conservancy negotiate large land acquisitions, regional land trusts fill in the gaps by stitching together small acreage. Locally, the Connemara Conservancy, in Allen, north of Dallas, was founded in 1981 by North Texas native Francis Williams. She saw the development around her 500-acre family homestead and chose to set aside a beloved 72-acre meadow. Later, she convinced other like-minded land owners to join her in conserving their property. Today, the organization monitors 3,500 acres in a 33-county service area in North Texas with annual onsite visits.
 A lone flower among Connemara's meadow preserve. Courtesy of Connemara Conservancy.
Sandra Greenway, executive director of the Connemara Conservancy, said the landowners she works with come from all walks of life. One is a former developer who wanted to preserve a region he once helped subdivide. A farmer wants to protect his family's 150-year-old farm. Another client is passionate about preserving native prairie and has compiled 1,000 acres to preserve.
Greenway, whose goal is to have have 10,000 acres under easement by 2015, said she's starting to work with a younger demographic and occasionally organic farmers. 
"We've had a lot of people approach us under 40 who naturally see things differently," she said. "They might change the culture."
The Texas Land Conservancy: Dallas Roots
The Texas Land Conservancy, based in Austin, was founded in 1982 by Dallas attorney and environmentalist Ned Fritz. The first area he purchased was 100 acres in the Catahoula Forest in Jasper County. 
"He had a love for East Texas," said Vickery. "He was very concerned about clear cutting."
Today, TLC oversees about 80,000 acres across Texas. Six of the properties are open to the public, including the Oak Cliff Nature Preserve south of Dallas.

"It was a Boy Scout Camp in the '70s and '80s," said Vickery. "A group of neighbors became upset when they learned it was going to be sold for development. They worked with us and got together to purchase it."
Today, the 120-acre preserve is the fourth largest green space in Dallas.
Vickery said recently, the nonprofit has shifted to a proactive approach, which is proven to be twice as effective, according to the Land Trust Alliance. TLC targets select areas, holds workshops and asks landowners to talk to their neighbors about donating.
"For 30 years, we've been answering the phone," said Vickery. "This is a sea change for us."
Nature Conservancy of Texas: Preserving West Texas Stars
Meanwhile, the Nature Conservancy of Texas is part of one of the largest conservation organizations in the world. The Texas chapter, founded in 1964 and based in Austin, oversees more than 750,000 acres across the state.

State director Laura Huffman said the organization has been able to amass large expanses of land through creative deal making, including garnering donations, buying land and easements and partnering with local, state and federal governments.
"We work across every possible style of conservation," she said.
Huffman said at one time, the Nature Conservancy took a Noah's Ark approach, purchasing small plots to save one species at a time. Today, the organization pieces property together to capture whole ecosystems.
"True conservation has to happen at a landscape level," she said.
One of the Nature Conservancy's success stories has been creating the 32,000-acre Davis Mountains Preserve, with an additional 70,000-acre easement around it. In addition to providing habitat for a diverse animal and plant population, the preserve surrounds the University of Texas McDonald Observatory, keeping "the dark skies, dark" for the astronomers.
As the population increases, water conservation and protection is also a key issue. Like other conservation organizations, TNC targets land near watersheds and over aquifers.
Huffman finds her work encouraging. She said while politics divides residents of the Lone Star State, love of the land unites Texans.
"Conservation is one of the few issues where we can bring people together. The regard and the respect for Texas' natural heritage is there."
For more information see connemaraconservancy.org, texaslandconservancy.org and nature.org.
---
Stay up to date on everything green in North Texas, including the latest news and events! Sign up for the weekly Green Source DFW Newsletter! Follow us on Facebook and Twitter. Also check out our new podcast The Texas Green Report, available on your favorite podcast app.