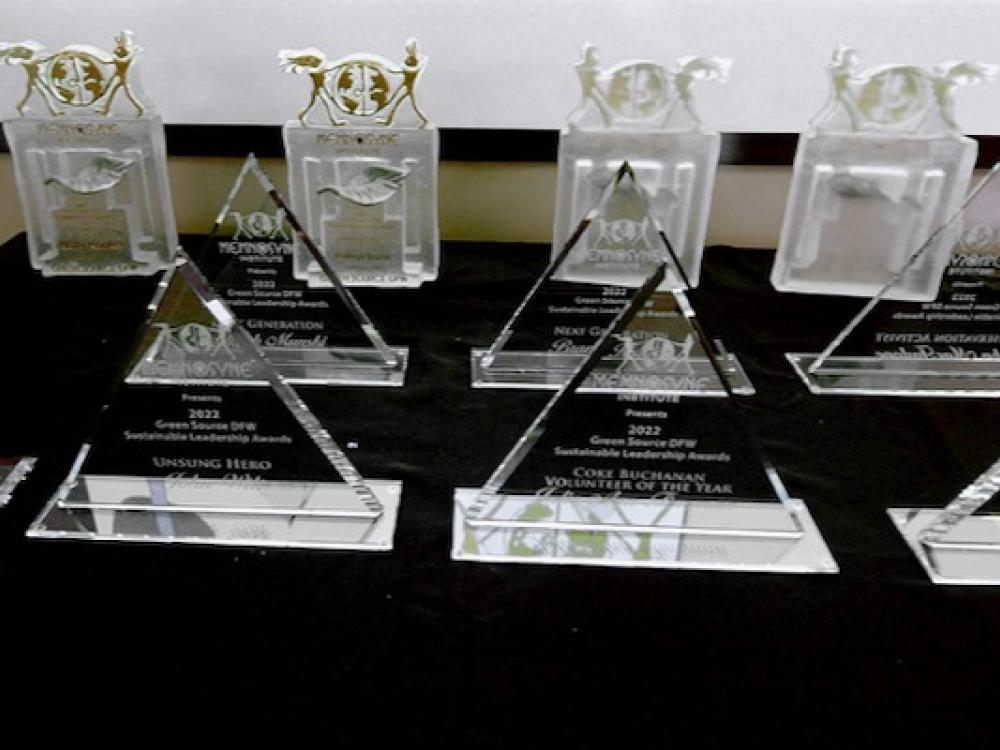 The 2022 Green Source DFW Sustainable Leadership Awards were held Sunday in Fort Worth. Photo by J.G. Domke.
Dec. 9, 2022
Local greenies gathered Sunday to honor North Texas environmental heroes at the 11th annual Green Source DFW Awards.
The event, hosted by Green Source DFW and its parent nonprofit, the Memnosyne Institute, was held at the Fort Worth Botanic Garden.
Watch this recap of the 2022 Green Source DFW Awards.
It was the first time the annual green awards have been held in person since the start of the pandemic. During the previous two years, the awards have been held virtually.
GSDFW director Wendel Withrow emceed the downsized proceedings, which honored local green leaders, activists and volunteers.
UNSUNG HERO
John Wilt accepts the Unsung Hero Award from Marcie Haley, director of Twelve Hills Nature Center, who nominated him for the award. Photo by J.G. Domke
A man who spent years piloting the skies took home the Unsung Hero Award for digging in the dirt.
John Wilt, a native New Yorker with a degree in biology, is a former pilot for the U.S. Air Force, Air National Guard and American Airlines.
Over the past decade, he's logged 10,000 volunteer hours for Dallas Citizen Foresters and North Texas Master Naturalists.
Marcie Haley, the director of Twelve Hills Nature Center, who nominated him for the award, introduced him.
According to Haley, most of those hours were spent planting native plants and removing invasive plants at area parks and nature centers.
"John has spent well over a thousand hours every year for the past nine years helping to improve and share his passion for nature," said Haley, in her nomination. "Some of those hours were lonely and sometimes thankless."
Karen Woodard, Dallas City Forester, added her endorsement of Wilt in an email to the Awards Committee:
"I can say with no qualms, without his assistance I would not have been able to grow the Community Forester program to what it is today." 
VOLUNTEER
Julie A. Fineman, winner of the Coke Buchanan Volunteer of the Year Award, with J. Lee Glenn. Photo by J.G. Domke.
Julie Ann Fineman won the Coke Buchanan Volunteer of the Year Award for her work restoring a historic pioneer cemetery in Dallas.
Fineman founded the nonprofit Friends of the Warren Ferris Cemetery. She spearheaded the group's effort to restore the site's native Blackland Prairie landscape. The group went on to create a Certified Wildlife Habitat and Monarch Waystation.
The project earned a Preservation Dallas Achievement Award and a Texas Historic Cemetery Medallion from the Texas Historical Commission in 2021.
Fineman also conceptualized the Adopt-A-Cemetery Constellation program in partnership with the Native Plant Society of Texas, which aims to encourage rewilding cemeteries across the state.
ENVIRONMENTAL EDUCATORS
The Environmental Educator Award was a new category this year and the inaugural contest was tied.
The first recipients to receive the honor were Kim Aman of Dallas and Suzanne Tuttle of Fort Worth.
Kim Aman accepts the Environmental Educator Award from GSDFW Director Wendel Withrow. Photo by J.G. Domke.
Aman, aka "Farmer Kim," is a former public school teacher and 7th generation farmer.
She has grown the school garden movement in North Texas for 15 years.
Aman is the director of Moss Haven Farm, a nationally recognized school garden program in Richardson ISD.
She is also the founder of North Texas School Garden Network and leader of Grow Garden Grow, which support school garden programs.
Aman has earned grants that have been used to support more than 50 schools to build school gardens.
She has also earned numerous awards, including the WFAA Eco Educator Award, for her work in environmental education.
Suzanne Tuttle, winner of the Environmental Educator Award, with GSDFW Director Wendel Withrow. Photo by J.G. Domke.
Meanwhile Tuttle is the former manager of Fort Worth Nature Center and Refuge, which she oversaw for more than two decades.
"Suzanne is one of the pioneers of the environmental movement in North Texas," said her nominator Don Young, cofounder of Friends of Tandy Hills Natural Area.
Tuttle serves as instructor for Texas Master Naturalists, Native Plant Society of Texas and Native Prairies Association of Texas.
She leads wildflower, tree and plant ID walks throughout North Texas.
She also helped launch the Kids on the Prairie Program at Tandy Hills Natural Area in Fort Worth.
NEXT GENERATION
The winners of the Next Generation Award were Akash Munshi, a senior at St. Marks School in Dallas, and Brand Richter, a University of North Texas geography student.
Akash Munshi, winner of the Next Generation Award, with GSDFW Director Wendel Withrow. Photo by J.G. Domke.
Munshi founded a school garden club in his sophomore year at St. Marks, which he developed into a nonprofit.
The group has installed a 300-square-foot pollinator garden and monarch waystation on Northhaven Trail in Dallas.
The group is currently working on a 11,000-square-foot prairie restoration on Northhaven Trail, featuring more than 3,000 native plants and 60 species.
The club has also planted native trees on the East Fork of the Trinity River and held education events for elementary students.
Munshi also serves on the Friends of the Northhaven Trail Committee.
According to his teacher Dan Northcut, Munshi has helped train a core of fellow students how to collect, germinate, grow and transplant a large number of native prairie plants. 
"He transformed the group from an ordinary gardening club to an eco-minded force of restoration," said Northcut. "I have never had a student who has been as motivated and effective at conceiving projects and getting them done as Akash." 
Dorothy Buechel, from the Friends of Northaven Trail, also hailed Munshi's skills as a leader.
"I've never seen a young man so engaged in the community and so caring about native plants and insects. I can't wait to see what the future holds for him." 
Brand Richter, winner of the Next Generation Award, with UNT instructor Jaime Baxter-Slye. Photo by J.G. Domke.
Also awarded in the Next Generation category was Brand Richter, who was introduced by UNT instructor Jaime Baxter-Slye, who nominated him for the award.
Richter is active in UNT Society for Ecological Restoration Chapter and Audubon on Campus. And he founded UNT Bird Campus Committee. 
He is also the winner of Keep Denton Beautiful Forestry Award and Native Plant Society of Texas Alfred Richardson Scholarship.
He currently serves on the City of Denton Sustainability Advisory Committee.
Richter also started a Lights Out initiative on campus, to protect migrating birds. And he worked to rescue one of the last jackrabbit populations in DFW.
Currently, Richter is working to expand campus tree canopy with 1,000 trees.
"Brand's mission is to conserve as much native Texas flora and fauna as possible," said Baxter-Slye. "He is a natural leader and his bright attitude impacts those around him."
CONSERVATION ACTIVIST
John MacFarlane accepts the Conservation Activist Award from GSDFW Director Wendel Withrow. Photo by J.G. Domke.
The Conservation Activist Award went to John MacFarlane, chair of the Greater Fort Worth Sierra Club since 2012.
By day, MacFarlane is an environmental protection specialist for Federal Aviation Administration.
In his off time, MacFarlane cofounded the Fort Worth chapter of 350.org and is a founding member of Environmental Justice Coalition of Fort Worth. 
Some of the conservation issues he's worked on include launching a plastic bag ban campaign in Fort Worth and organizing a series of climate marches in the city. Recently, he fought a successful campaign against Industrial Rezoning across from a Fort Worth elementary school.
ENVIRONMENTAL JUSTICE
Kathryn Bazan received the Environmental Justice Award.
Bazan is the Chair of the City of Dallas Environmental Commission, a newly formed advisory body overseeing implementation of the city's climate action plans.
She also serves on the Dallas Sierra Club's Executive and Conservation committees.
Bazan, a former air project manager for TCEQ, has spent many hours working to eliminate and minimize the impact of concrete batch plants in Dallas.
She is also the cofounder and leader of East Dallas Greater Good, a 2,000-member community action group that champions quality of life issues for neighbors.  
A certified Texas Master Naturalist, Bazan is an organizer for the Friends of the Old Fish Hatchery at White Rock Lake, working to restore a nature area clearcut in 2020. 
"Kathryn embodies the 'can-do' spirit so important for inspiring others to make North Texas a better place," said Dick Guldi, her nominator.
LIFETIME ACHIEVEMENT AWARD
This year, Lifetime Achievement honors were awarded to Tolbert Greenwood and Lon Burnam.
Tolbert Greenwood, winner of a Lifetime Achievement Award, is congratulated by John MacFarlane. Photo by J.G. Domke.
Tolbert is a lifetime member of Sierra Club. He has served as an outings leader for both state and local clubs
A retired attorney, he has provided legal counsel for Sierra Club's national and state litigation.
"Tolbert is someone who always fills in the gaps to organize and participate in whatever the club needs, said MacFarlane, Greater Fort Worth Sierra Club chair.
Fellow Lifetime Achievement honoree Rooke added:
"Tolbert has been an active and strong force in environmental issues for decades."
Lon Burnam was awarded a Lifetime Achievement Award. Courtesy of Facebook.
The final award was given to longtime activist Burnam, who was not in attendance. Burnam was working behind the scenes for a national senate race out of state.
The former State Representative from Fort Worth has been an advocate for the environment throughout his tenure in the Legislature, which lasted nearly 20 years.
He served on Energy Resource Committee, as well as the Environmental Regulation and Public Safety Committee.
While in office, he introduced and co-sponsored numerous bills related to energy conservation, air quality, water protection and civic engagement.
Rooke said Burnam's position and experience in the state legislation has been a huge asset to North Texas activists over the decades.
"Lon's interest in the environment is woven through whatever issues he has worked on throughout his life," she said.
Privately, he's also been an activist for Texas Citizen Action, the Dallas Peace and Justice Center and Greater Fort Worth Sierra Club.
In 2016, he revived the Tarrant Coalition for Environmental Awareness, a nonprofit that was cofounded by his parents Earl and Alma Burnam, who were longtime environmentalists in Fort Worth.
In recent years, Burnam has been an activist for Nuke Free Texas, a coalition fighting against a proposed a high-level nuclear waste dump in West Texas.
"Lon works tirelessly to elect political candidates in North Texas, statewide and nationwide elected that will work to protect the environment-clean air, clean water, climate action and sustainability," said MacFarlane.
NATIONAL PARK TOUR
The ceremony was capped off by a presentation on National Parks by GSDFW director Withrow, the author of a Texas camping guide book. He shared his lifetime experience exploring National Parks across the country.
His presentation, A Nostalgic Journey to National Parks, offered tips to visiting some of the most scenic parks in the country.
SPECIAL DELIVERY
Haley Samsel, 2021 honoree, receives her award for Environmental Reporter. Photo by J.G. Domke.
Two past winners also picked up their awards during the festivities — Haley Samsel, who won last year's Environmental Reporter Award, and Molly Rooke, winner of the Lifetime Achievement in 2019.
Molly Rooke, Lifetime Achievement winner in 2019, collected her trophy. Photo by J.G. Domke.
The overdue delivery was due to various reasons, including the pandemic and challenging logistics.
See more pics in the 2022 Green Source DFW Awards slide show.
---
Stay up to date on everything green in North Texas, including the latest news and events! Sign up for the weekly Green Source DFW Newsletter! Follow us on Facebook and Twitter. Also check out our new podcast The Texas Green Report, available on your favorite podcast app.