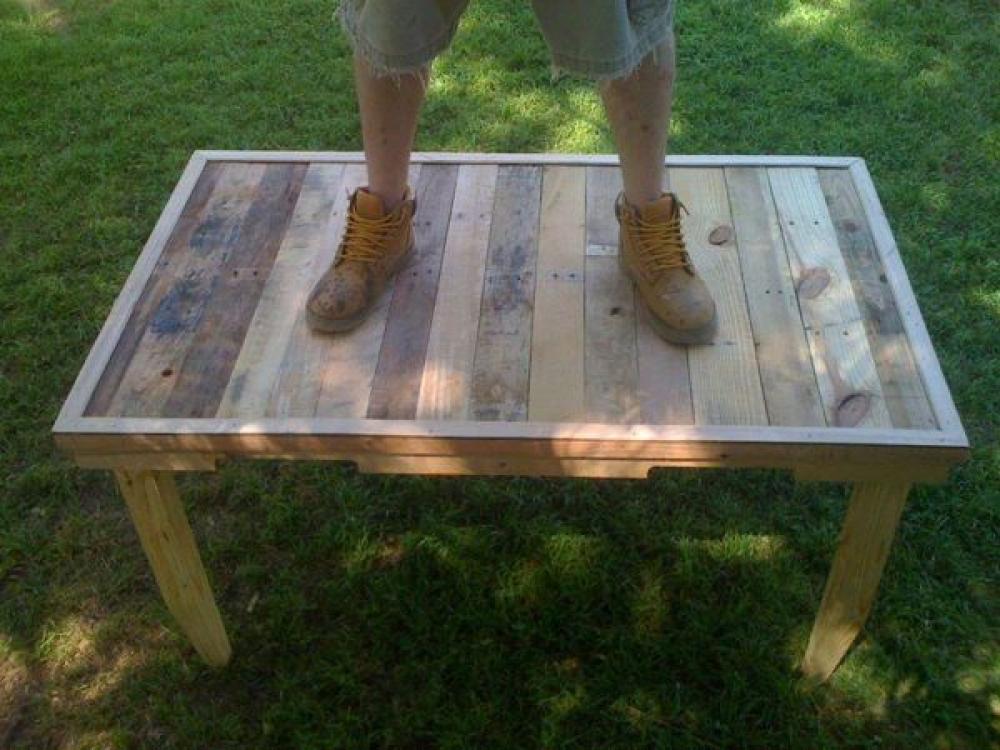 PalletSmart in Fort Worth makes furniture, home decor and custom projects out of repurposed pallets and other reclaimed material. Photos courtesy of PalletSmart.
Sept. 2, 2015
Wooden pallets are a bulky byproduct of shipping but a company in Fort Worth has built a business around upcycling them into other products. Since 2012, PalletSmart has been acquiring pallets, or skids as their called, along other salvaged materials and turning them into eco-friendly furniture, wall coverings and decor.
According to an Environmental Leader article, nearly 2 billion pallets are in circulation in the U.S. currently and they consume an estimated 50 percent of the country's annual hardwood harvest. 
According to PalletSmart founders, pallets are plentiful in North Texas.
PalletSmart co-founder John Zaskoda says the idea for the company came after he was laid off in 2012 from a long term corporate gig.
"I found myself looking for new career avenues," he says. "At the time, for fun, I hosted a weekly internet radio show and interviewed a few guests about sustainability. Pallets were a common topic and seemed to be a popular design trend."
Zaskoda says considering the fact that there were so many pallets available locally he investigated the idea further and soon enlisted the help of his good friend and business partner, Kevin Rennels. 
PalletSmart founders Kevin Rennels and John Zaskoda.
"We'd worked on a number of projects together in the past. He is a former civil engineer that has a great eye for design and construction and he's a pretty cool dude too." 
At first, the intention was to keep the company small, maybe build a few planters and sell them at the local farmers markets, but "that all changed after a few posts on social media," Zaskoda says. "We built our first table in May of 2012 in Kevin's backyard and PalletSmart became an officially recognized business in Tarrant County in August 2012." 
As for where they find their pallets, Zaskoda says they get the pallets from everywhere, literally. 
"We do have some companies that donate pallets, but most are picked up locally in random spots. Pallets represent over 90 percent of the world's shipping waste and there is a ton of them out there. I tell everyone who asks that if they start paying attention, within just a few miles, they'll find all they need."
Wall made from reclaimed wood. 
The two men also do all the work themselves from breaking down the lumber, re-milling it, designing and building to finishing all the pieces and, even better, everything is done in-house.
"That includes all of the welding too," Zaskoda adds. "Occasionally we outsource things beyond our expertise, but that has only been a few isolated projects in the past so I'd say 99.9 percent of everything that has left our shop was made by our hands." 
The company makes mostly furniture, but they also build a number of other items, which is why they choose to be called a "fabrication shop" and not a "furniture store." 
Since inception, the company has built items as diverse as doggy stairs to award plaques for the Fort Worth Food and Wine festival.
Last year, former President Jimmy Carter spoke at a podium built by PalletSmart for the local Habitat for Humanity event.
In addition to the pallets, PalletSmart also recycles and upcycles plastic and steel that they plan to use for future projects. All of the steel they use is certified as recycled, which allows the company to keep everything 100 percent re-purposed. 
While recycling is what started the idea of the company, these days Zaskoda and Rennels also make green efforts in other areas of the business as well. For example, the building they are currently in is a restored gas station that sat dormant for more than 12 years. 
"It affords us only so many eco-luxuries, but all of our waste is properly sorted or burned so that we can leave the smallest footprint possible," Zaskoda explains. "Fortunately for us, we try to use everything. We even donate all of our clean pine planer shavings to a horse ranch down the street from our shop." 
PalletSmart created a sign for the UNT Health Science Center's Community Garden.
They also use nontoxic or low VOC stains and paints. Zaskoda says in order to produce quality products they must use finishing solvents and waxes. 
"However, we have made it our priority to use only low VOC or no VOC products and we also use non-toxic, food grade natural oils when possible," he says. 
With a small showroom located in Fort Worth that is open to the public on Friday and Saturday, there is always something new for customers to look at when visiting and at the shop on any given week there will be items as varied as ornate dining tables, end tables and even bottle openers. 
Patio tables by PalletSmart for Cane Rosso in Deep Ellum in Dallas.
"As with any business, we are looking to grow, but want to be smart about it," Zaskoda explains. "For now, we are staying put, taking custom residential and commercial orders and producing top notch furniture. Maybe in the future, we'll see a PalletSmart Austin or Denver location too and there have certainly been a few surprising elements to this journey. The most surprising and refreshing thing was learning how many North Texas based businesses –big and small – are embracing the concept of using repurposed goods when possible. That's a huge step in the right direction."
Zaskoda says that overall, PalletSmart is proof that with a lot of hard work and consistency you can make trash into treasure. 
"We started this business with just five tools, a few bucks and about a dozen pallets," he concludes. "Three years later, we now have five employees, our own brick and mortar, all of the tools and trucks we need and better yet, we did it all without any loans. If I wanted people to know anything about our company, I'd want them to understand that I think most need to know that that is still possible to do in this day and age – to make something for yourself by making your own opportunities."
PalletSmart's shop dog Jake performs a quality control check on a table top.
---
Stay up to date on everything green in North Texas, including the latest news and events! Sign up for the weekly Green Source DFW Newsletter! Follow us on Facebook and Twitter. Also check out our new podcast The Texas Green Report, available on your favorite podcast app.