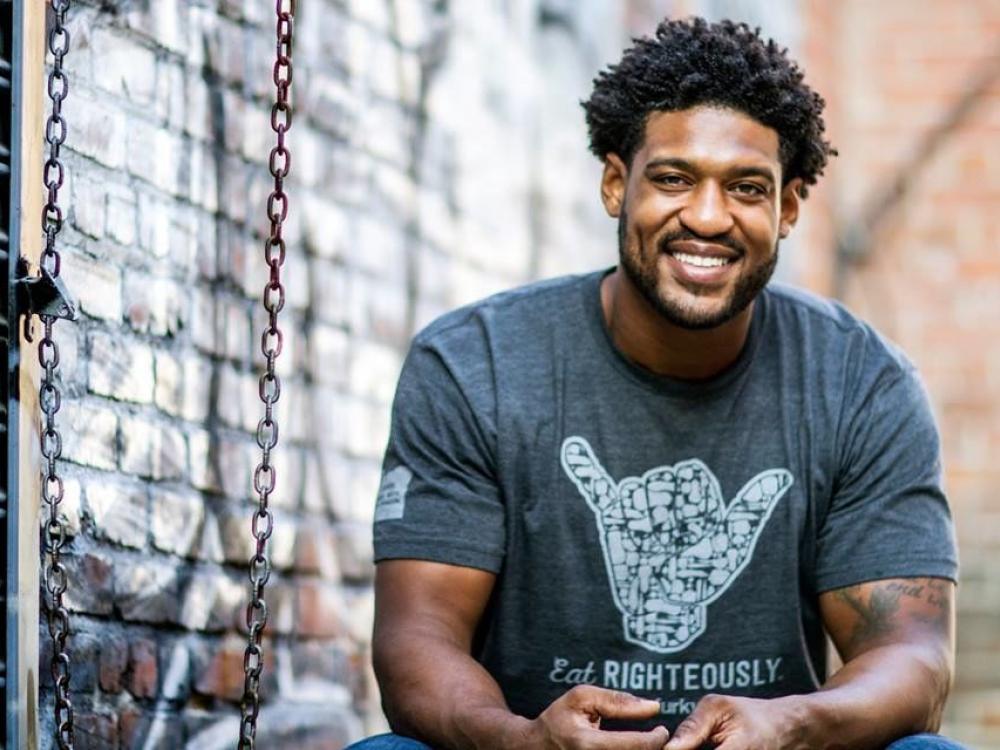 The self-titled "300-Pound Vegan" will share his journey into a plant-based lifestyle March 19 in DeSoto.
March 1, 2016
Is it possible to be a play on a pro football team with its high physical demands and be a vegan at the same time?  Just ask 300-pound former Dallas Cowboy defensive tackle David Carter.
Carter went vegan two years ago, inspired by his wife who had already been a vegan five years at the time. The self-titled "300-Pound Vegan" and animal advocate will share his plant-based success story March 19 at the Black Vegetarian Society of Texas' annual Meatout Festival in DeSoto. The theme is "Tackle Your Heath." 
Carter's journey began when he was preparing to join the Oakland Raiders. At the time, he was battling severe pain from tendonitis. 
"The night before I went vegan just before falling asleep, my entire right arm went completely numb."
Carter said he woke up the next morning determined to make some lifestyle changes.   
"I knew I had a fifth gear. With nothing else to lose I told my wife I was going vegan, and on Feb. 14, 2014 I gave my wife the best Valentine's Day gift ever, her words, not mine. The solemn promise that I would never again consume another animal product." 
Carter admitted, at first, the task was daunting. Growing up in Los Angeles where his grandfather owned a barbeque restaurant, he had always been a big meat eater. He figured he'd eaten the meat of "just about every other animal you can think of."
As a professional football player, he was also encouraged to eat an athlete's diet – lots of meat, raw eggs and gallons of milk. He didn't know if he could change his diet and still keep up with the physical demands of his job.  
However, Carter says on his website, his world was beginning to shift. 
"I didn't know it yet but life was leading me through a series of events that would change me forever."  
Fast forward and now Carter has changed his entire diet to plant-based foods and he feels better for it. After all, the average life span of a professional football player is only 56 years old.  He believes making this one small change will not only save his life "but the countless lives of voiceless and defenseless animals everywhere." The diet is also touted for its sutainability and is promoted by the United Nations as critical to mitigating the impact of climate change.
The Black Vegetarian Society set out to book Carter as their keynote after a couple of members heard him speak. Sherri Doucette, president of the Black Vegetarian Society of Texas, had also read a magazine article about him and was deeply inspired by his story.
"I found his contact info and sent an email and stalked (just kidding), I mean, messaged him via social media. I figured I had a 50/50 chance of getting a response and to my absolute surprise he replied and accepted my invitation."
Previous Meatout events have featured speakers such as Dr. Baxter Montgomery, a Texas cardiologist and plant-based health expert and founder of the Montgomery Heart and Wellness Center; Afya Ibomu, holistic nutritionist and CEO of nattral.com; Tracye McQuirter, a vegan trailblazer, public health nutritionist, author, lecturer; and Dr. Milton Mills, a Maryland physician who prescribes a vegan diet as preventative medicine.
Overall, the purpose of the Meatout is to promote wellness and the adoption of a 100 percent plant based diet and compassionate lifestyle.  
"Event participants are asked to make a pledge to either go vegan for one day on March 20 – the first day of spring – or consider boldly starting the journey toward embracing veganism permanently," Doucette said.   
"Our Meatout event, though on a smaller scale, is quite similar to the Texas Veggie Fair," said Doucette. "It promotes veganism; offers ridiculously delicious vegan food for purchase; a variety of vendors; dynamic speakers, engaging demonstrators and activities for children. How we differ, is that Meatout is always indoors and Meatout is a stand-alone event, not an alternative to a Texas tradition."
Booths at the Meatout will include clean energy providers, vegan food vendors, naturopaths, clothing, jewelry, body and hair care and free health screenings.
Last year, about 250 people attended the Meatout and Doucette said this year they are expecting even more.
Carter said people who try the diet will discover as he did that they will feel better.
"The more I learned, the more my body benefited and my results came quickly. More energy, shorter recovery time, increased stamina, improved strength, and the peace of mind that no one had to die in order for me to live. Every one of my nagging injuries is gone. Tendonitis, inflammation, scar tissue, nerve damage, and chronic muscle fatigue all corrected themselves within months of adopting veganism." 
Black Vegetarian Society Meatout Festival
When: Mar 19, 2016, 10 a.m. to 3 p.m.
Where: DeSoto Civic Center, 211 E Pleasant Run Rd, DeSoto
Cost: Free
RELATED ARTICLES
DFW author Carol Adams touts sustainable plant-based diet for over-50 crowd
---
Sign up for the weekly Green Source DFW Newsletter to stay up to date on everything green in North Texas, the latest news and events. Follow us on Facebook, Twitter and Pinterest.