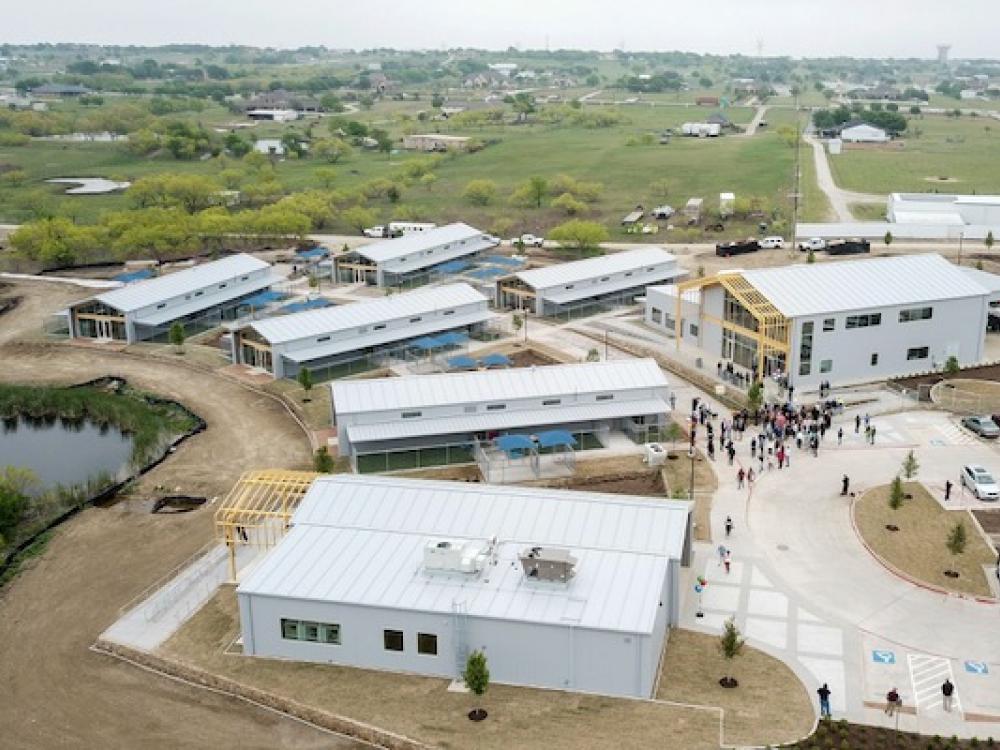 The 7.5-acre campus features LEED-qualified buildings and low-water-use landscaping. Photo courtesy of the City of Fort Worth. 
June 22, 2021
The city of Fort Worth is betting that homeless animals will want to sit and stay – but not for too long – at a new shelter that's designed to promote animal welfare while treading lightly on the environment. 
The North Animal Campus at 351 Hillshire Drive in Fort Worth opened for four-legged clients in April on Earth Day weekend. With nearly 50,000 square feet of facility space on seven and a half picturesque acres, the indoor/outdoor campus offers an interactive experience for staff, visitors and pets.
"Fort Worth is thrilled to have this new facility ultimately helping the homeless pets who need our help so desperately," said Diane Covey, the City of Fort Worth's public information officer for the campus. 
The shelter's stated goal is "to find loving homes for all animals that end up in [our] care."
Green elements abound. The landscape includes a nature trail, and emphasizes native plants with minimal irrigation requirements. Public walkways include Grasscrete pavers with a hollow center in which grass grows, reducing runoff and providing a cooler surface than solid-slab concrete. Buffalo grass, which requires less water than traditional turf grasses, is used throughout the grounds. Extensive bioswale systems reduce stormwater and waste water, and help remove debris and pollution. A natural pond on the property was incorporated into the campus' design, with buildings situated to provide a waterfront view. Many of the natural trees, plants and grasses in undisturbed areas of the campus remain as they were before construction began.
Henry the dog gets some close-up attention at the grand opening of Fort Worth's new North Animal Campus. Grasscrete pavers, pictured, feature a hollow center in which grass grows, reducing runoff and providing a cooler surface than solid-slab concrete.​ Photo courtesy of the City of Fort Worth.
"The campus was built to comply with LEED (Leadership in Energy and Environmental Design) standards but did not spend tax dollars for actual certification," said Dr. Tim Morton, City of Fort Worth Code Compliance assistant director. "All buildings have metal roofs to accommodate future solar panels if funds become available. The buildings focus on metal, concrete and glass to maximize durability and minimize maintenance waste. We are across the street from one of Fort Worth's four recycle and waste Drop-Off Stations, which allows for easy recycling of waste materials."
In keeping with the city's Western heritage, the design of the facility's seven buildings was inspired by the cattle barns at the historic Will Rogers Memorial Center in the city's Cultural District. 
"Each building was constructed to provide as much natural light as possible, allowing us not to have to turn on the lights every time someone walks into a room," Covey said. 
Campus aesthetics are further enhanced by Fort Worth Public Art installations. Works by Julie Richey Mosaics add a touch of whimsy, welcome visitors to various locations and serve as selfie backdrops for happy pets and their new owners.
Mosaic animal sculptures by Julie Richey in the works illustrate the fun and excitement of bringing home a new, four-legged friend. Mockup courtesy of City of Fort Worth.
Designed by PGAL's Dallas office with architects Jeff Bulla, Julio Noriega and Michelle Elbers, the facility includes numerous venues for animal enrichment, including 33 play yards and 20 meet-and-greet yards for dogs. Cats get their own indoor/outdoor recreation area, with lots of windows to keep curiosity and cognitive activity percolating. An enclosed outdoor cats-only patio – a catio – is in the works.
There are five separate kennel pods, along with a medical ward with a veterinary hospital equipped for processing incoming animals, sterilizations, microchipping and treating illnesses and injuries. Isolation areas are available to sequester animals with contagious diseases. A community room and a reception area cater to human guests.
The new facility is on the opposite side of town from the Chuck and Brenda Silcox Animal Care and Adoption Center in far southeast Fort Worth. 
"Residents and animal control staff in far north Fort Worth were spending a lot of time and fuel bringing animals to the Silcox Campus," Morton said. "This campus in far northwest Fort Worth allows residents to visit the campus closest to them to surrender, adopt or reclaim lost pets, saving time and reducing carbon use and emissions." 
He added that animal-control teams working in various parts of the city have reduced their road time and fuel use by bringing stray and found animals to the closest campus.
The North Animal Campus, including the nature trail, is open to the public from noon to 6 p.m. seven days a week. If funding can be arranged, the Code Compliance Department, which operates the campus, will work with the city's Park and Recreation Department to extend the trail into adjacent areas to create more hiking and strolling opportunities.
The shelters are experiencing overcapacity and are imploring residents to consider fostering dogs or cats. Apply to volunteer or foster here.
---
Stay up to date on everything green in North Texas, including the latest news and events! Sign up for the weekly Green Source DFW Newsletter! Follow us on Facebook and Twitter. Also check out our new podcast The Texas Green Report, available on your favorite podcast app.