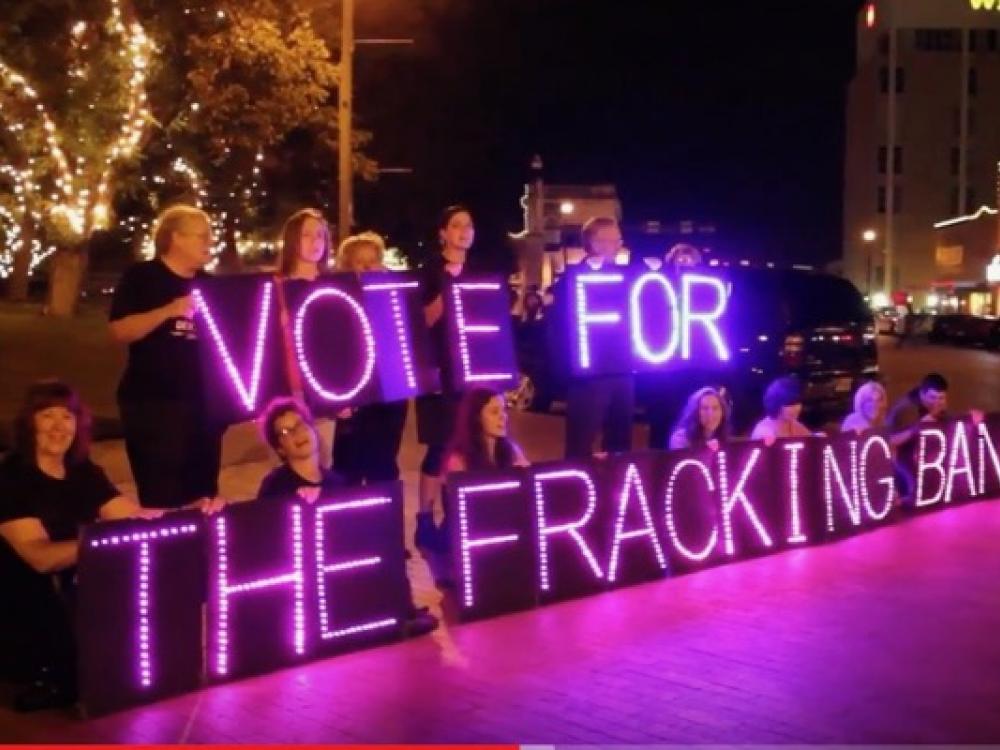 'Don't Frack with Denton,' a film by Garrett Graham, debuts at the 30th annual Dallas Video Fest on Saturday, Oct. 7 at 10:30 p.m.
Oct. 3, 2017
Back in 2014, UNT grad student and videographer Garrett Graham was following a local campaign to pass a fracking ban in Denton. As he filmed, he thought he'd hit on the ultimate feel-good environmental documentary. The ban was passed in November 2014 and the activists won. 
But after he'd finished the short 20-minute film and was preparing to show it, the Texas Legislature came back with HB 40, a law nullifying the ban.
"I edited a new ending and slapped 'to be continued on it," said Graham. "I said, 'I have to follow this.'"
Director Garrett Graham made the film for his thesis project at UNT.
Two years later, Graham is premiering the final one-hour version that follows the story after the Denton ban was overturned.
North Texans can see it Saturday when Graham's film Don't Frack with Denton debuts at the 30th annual Dallas Video Fest on Saturday, Oct. 7 at 10:30 p.m.
Graham, who has an MFA in documentary filmmaking from the University of North Texas, said the film served as his thesis project. As a result, he said it's been through rigorous critiques and is more polished than his first documentary Blockadia Rising: Voices of the Tar Sands Blockade. 
Another distinction between the films is that during the making of the Tar Sands documentary, he had a dual role as an activist in the movement to stop the pipeline in East Texas. With the Denton Frack flick, he approached it as a sympathetic observer but did not participate in the process.
"I wanted to step up my game, make it more cinematic," he said. "I played my cards closer to my chest, so they wouldn't be thinking about what I thought."
The film follows five main characters, who reflect different forces within the anti-fracking movement. They are Adam Briggle, a UNT philosophy professor and leader of the Denton Drilling Awareness Group; Tara-Linn Hunter and Angie Holliday, two women who both came to Denton to pursue music studies but wound up as activists; Cindy Spoon, a UNT graduate who honed her organizing chops at the Tar Sands Blockade; and Maile Bush, a Denton resident and mother who joined the anti-fracking movement after drilling in her neighborhood affected her family's health.
Adam Briggle talks about fracking in a philosophy class at UNT.
Graham admits he does not attempt to show the driller's side of the issue. 
"I start from the assumption that fracking is bad and fossil fuels gotta go. What I was interested in was the different perspectives inside the anti-fracking movement."
Cindy Spoon demonstrates civil disobedience techniques.
On one end of the spectrum is Briggle, representing the practical attempt to work within the system. On the other end is Spoon, an idealist who believes the system is broken and puts her faith in civil disobedience. How the two sides mingle and merge is part of the film's drama and what makes it interesting to Graham.
"I would rather have had a short happy ending," said Graham. "But because these activists asked these hard questions, it makes it a less-easy fable. Instead it becomes a story about what do you do when the system fails us."
About: A documentary by Denton filmmaker Garrett Graham, which follows Denton activists as they push for a ban on fracking, win it and then lose the fight with the passing of HB 40.
When: Oct. 7, 10: 30 p.m.
Where: Studio Movie Grill NW Hwy 6, 10110 Technology Blvd W, Dallas
RELATED ARTICLES
Denton activists regrouping after the city's historic fracking ban is nullified by HB 40
Denton bans fracking, but challenges almost certain
Denton group tackles ethics of gas drilling
---
Stay up to date on everything green in North Texas, including the latest news and events! Sign up for the weekly Green Source DFW Newsletter! Follow us on Facebook and Twitter.