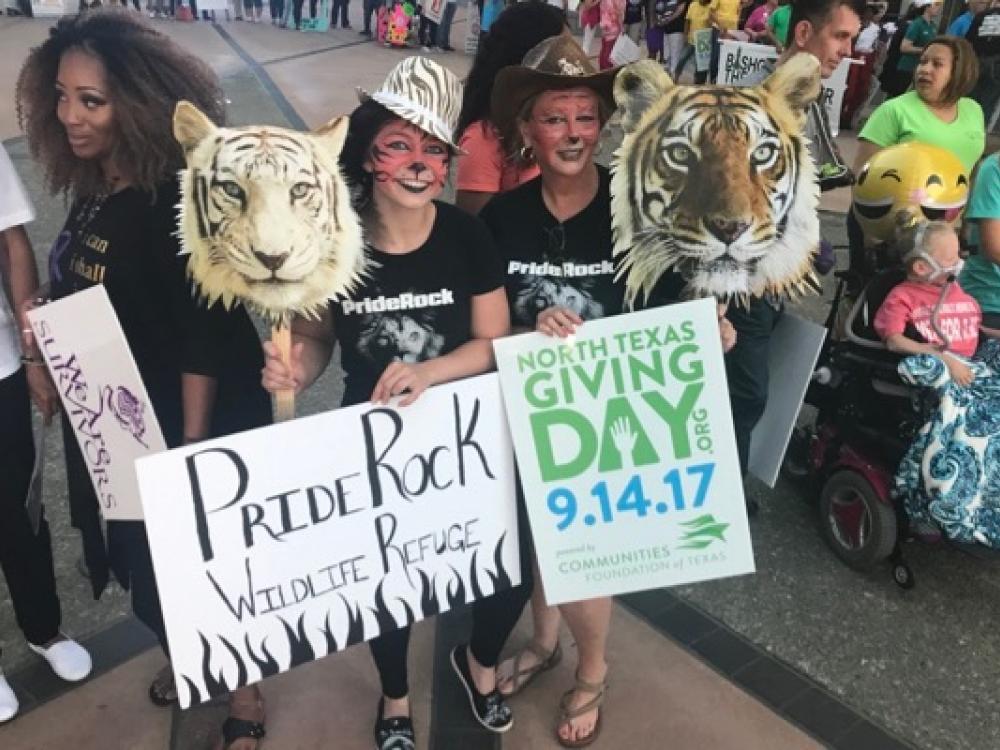 Pride Rock Wildlife Refuge is one of the many North Texas environmental and animal welfare organizations participating in North Texas Giving Day Sept. 14. Courtesy of North Texas Giving Day.
Sept. 14, 2017
Today is North Texas Giving Day, a day when your donation of $25 or more is enhanced with the addition of bonus dollars donated by local foundations, businesses and philanthropists.
Many North Texans have been digging deep into their pockets to help Hurricane Harvey and Irma relief efforts. Consider a donation to our local environmental groups as a bit of preventive medicine. These are the organizations raising awareness about environmental issues like climate change, which is widely believed to contribute to these natural disasters. They're also the groups promoting solutions to global warming such as conservation and renewable energy. 
Many North Texas environmental and animal welfare groups are eligible nonprofits, including:
ENVIRONMENT & NATURE
Downwinders at Risk
Texas Campaign for the Environment
Texas Trees Foundation
Dallas Sierra Club
Greater Fort Worth Sierra Club
Fort Worth Nature Center & Refuge
Friends of Tandy Hills Nature Center
River Legacy Foundation
Heard Natural Science Museum and Wildlife Sanctuary
Bob Jones Nature Center
Twelve Hills Nature Center
Friends of Coppell Nature Center
Southwest Nature Preserve
Connemara Conservancy
Clymer Meadow Preserve
Environmental Co-Op
Trinity Environmental Academy
Solar Car Challenge Foundation
Dallas Peace & Justice Center
PLANTS & GARDENS
Native Plant Society of Texas (Dallas and Trinity Forks Chapters)
Texas Master Naturalists (North Texas and Elm Fork Chapters)
Texas Discovery Gardens
Promise of Peace Gardens
Stonewall Gardens and Outdoor Science Lab
REAL School Gardens
Denton County Master Gardens Association
Gardeners in Community Development
GROW North Texas
WILDLIFE & ANIMALS
Audubon Dallas
Fort Worth Audubon Society
Rogers Wildlife Rehabilitation Center
DFW Wildlife Coalition
Blackland Prairie Raptor Center
In-Syncs Exotics Wildlife Rescue and Educational Center
Pride Rock Wildlife Refuge
International Exotic Animal Sanctuary
Nature's Edge Reptile and Wildlife Rescue
The Bunny Burrow Rabbit Rescue
North Texas Rabbit Sanctuary
Operation Kindness
Humane Society of Dallas
Humane Society of North Texas
(There are many more animal rescue groups. You can search on the website.)
Did we leave off one of your favorite North Texas environmental groups? Let us know - Julie@GreenSourceDFW.org.
---
Stay up to date on everything green in North Texas, including the latest news and events! Sign up for the weekly Green Source DFW Newsletter! Follow us on Facebook, Twitter and Pinterest.