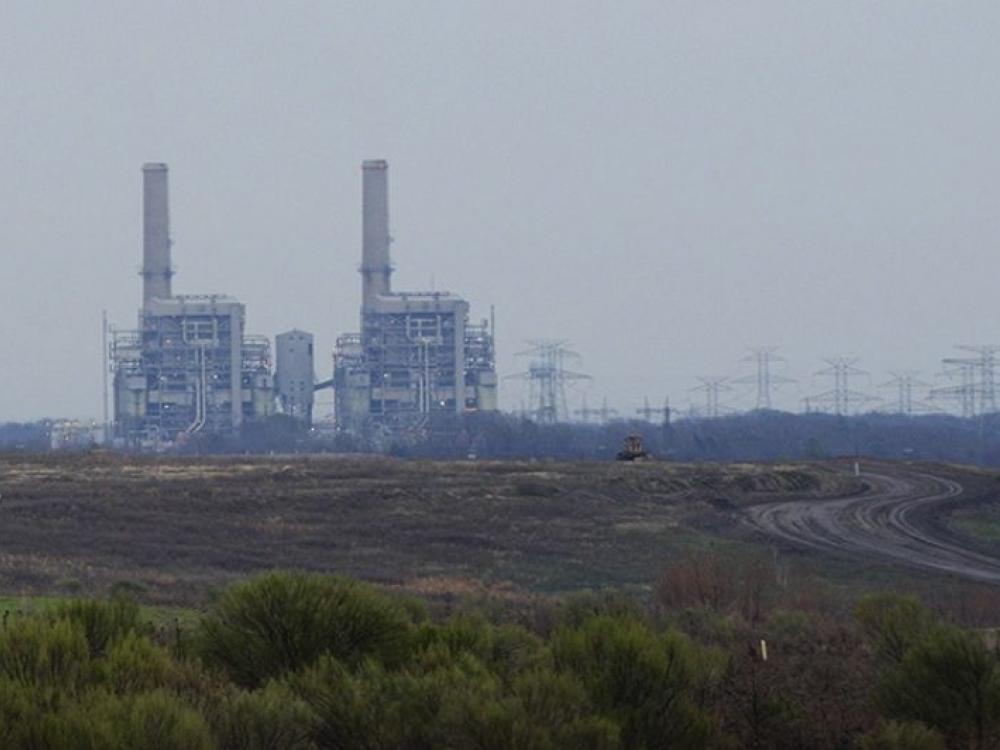 Big Brown in Freestone County is one of the coal-burning power plants that DFW CAN says needs to be regulated. Photo courtesy of Texas Tribune.
May 9, 2016
On Tuesday, Dallas County became the first government entity in North Texas to reject the state's clean air plan and request the Environmental Protection Agency to follow suit. Their resolution asks EPA to develop a federal plan to reduce smog that's worse here than anywhere else in Texas. The County's resolution calls on EPA for two actions. 
First is to reject Texas' State Implementation Plan for DFW ozone pollution and require a federal plan that employs all "reasonably available pollution controls" specified under the federal Clean Air Act.
Second is to regulate the East Texas coal plants that are the largest single source of DFW's air pollution, either by including the plants in the federal DFW "non-attainment" region or by applying to them the same standards as DFW. 
This is the first victory for an alliance of environmental groups banded together as the Dallas-Fort Worth Clean Air Network or DFW CAN, to campaign for local government resolutions for EPA action.
"We formed in February after the Texas Committee for Environmental Quality January hearing," says Jim Schermbeck of Downwinders at Risk, a DFW CAN organizer.  
After overwhelming public outcry against the agency's inaction, seven environmental organizations and campaigns "got together as a group of groups."  Participants include Dallas Sierra Club, the Sierra Club's Beyond Coal campaign, Liveable Arlington, Mansfield Gas Well Awareness, Public Citizen Texas and Texas Campaign for the Environment.
DFW CAN is co-facilitated by Schermbeck and Cherelle Blazer of Sierra Club's Beyond Coal campaign, with various groups taking on different aspects of the effort.
The overarching purpose of the alliance is to take a once-in-a-decade opportunity, says Schermbeck, to get all the sources of industrial pollution "back on the table" for clean air planning.
"Industrial sources [other than coal plants] haven't been touched since 2007," he says. "It's time to do that…the state plan hasn't caught up with the times. Oil and gas facilities aren't touched by EPA because individually, each emits less than 25-50 tons of pollutants a year. But collectively, their pollution is huge."
Only EPA's complete rejection of the Texas plan will trigger a full review of pollution sources, says Schermbeck. Rejecting a portion of it, the plan's requirement for "reasonably available control technology" to reduce pollution, would result in a rewrite of only that portion.  
"That's as I understand it, from trying to get an answer from EPA attorneys," Schermbeck joked. 
"If we fail to do this, it could be 2025 before we get a chance again," he emphasizes. 
At the state plan's July submission deadline, if EPA does not reject the plan entirely, but allows the state further revisions, and those fail to meet EPA standards, "they won't be forced to do a do-over…there will be no penalty for missing the current 75 ppb standard," explains Schermbeck. "By then the federal standard will be 70 ppb of ozone, and they'll be working on that."
Judging from history, kicking the can down the street appears to be TCEQ'S strategy. Going back to 1991, the agency has failed to meet every federal Clean Air Act standard while it was in effect. EPA sent back the agency's most recent DFW plan, pointing out that it made no cuts in pollution sources and its projections for air quality improvement were implausible. That's the plan up for re-submission in July.  
Dallas County Judge Clay Jenkins and Commissioners Theresa Daniel and Elba Garcia sided with the DFW CAN effort at the May 3 vote. "No" votes came from Commissioners John Wiley Price, whose constituency is heavily affected by pollution, and Mike Cantrell. U.S. Reps Eddie Bernice Johnson and Mark Veasey have also written to EPA, requesting the feds to take the plan into their own hands.  
"The background for our alliance was getting better science," says Schermbeck. "The University of North Texas [2015] study gave a map for what cuts would be the most effective to reduce smog levels. It answers the 'what ifs' for different controls of the various sources… So now we know what will do the job." 
UNT's study used TCEQ's own data for this analysis.  
The foundation for DFW CAN goes back two or three years.  
"We've educated a new generation of political leadership on air quality," says Schermbeck. 
"Theresa Daniel and Dallas City Council member Sandy Greyson led the charge…We have a more coordinated effort in general."
What's the next step in that effort?  
"To generate more headlines like the Dallas Morning News'" after the commissioners' vote "and give the EPA political wiggle room."  
And to keep calling on officials.
"It affects every industry and every person in the area--many, many people's lives. We could be in compliance for the first time ever."
---
Sign up for the weekly Green Source DFW Newsletter to stay up to date on everything green in North Texas, the latest news and events. Follow us on Facebook, Twitter and Pinterest.