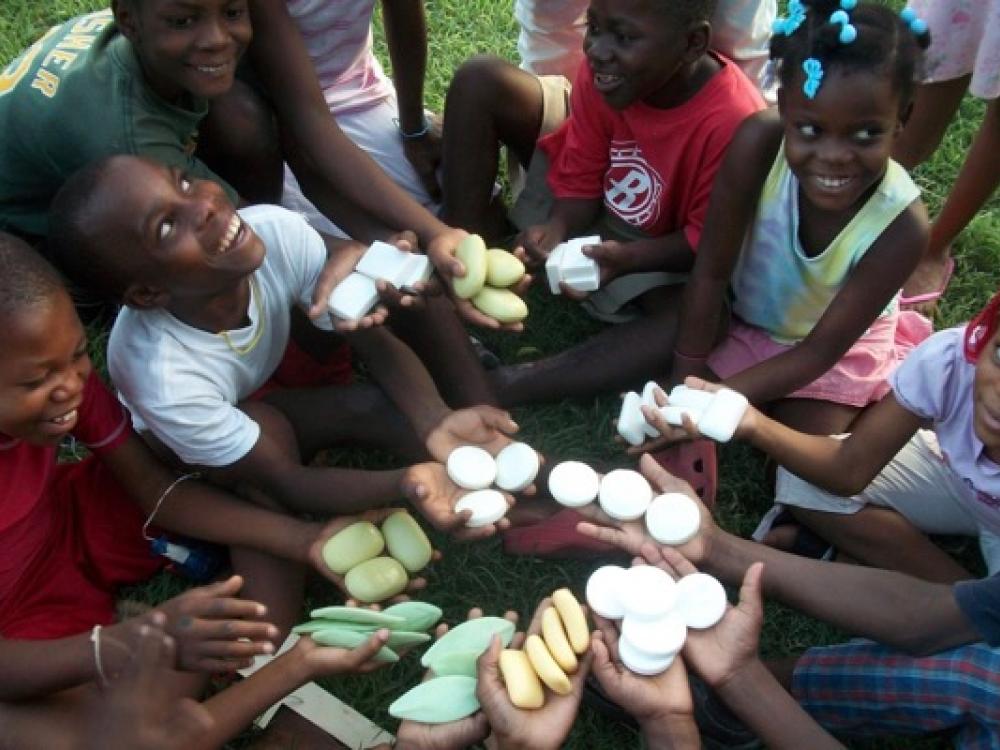 The Hyatt Regency Dallas parteners with Clean the World to recycle its leftover shampoo, conditioner, body lotion and soap and distribute it in impoverished communities. Above, recycled soap distributed to a community in Haiti. Photos courtesy of Clean the World.
Sept. 26, 2017
Have you ever wondered what happens to all those half-full containers of shampoo, conditioner, body lotion and soap that you leave behind at the hotel? One local hotel is making good use of it.
Since 2010, the Hyatt Regency in Dallas has partnered with Clean the World, a Florida nonprofit corporation, to not only recycle the soap but distribute it to those in need.
Clean the World was founded in 2009 by Shawn Seipler, a vice president of sales and marketing for an e-commerce technology company at the time.
"Shawn traveled several days a week," explained Bryan King, Hyatt Regency Dallas director of sales and marketing. "The idea for soap recycling came about after Shawn learned the barely used bars of hotel soap he left behind each morning ended up in a landfill."
Today, Clean the World is the largest global recycler of hotel amenities with more than 4,000 hotel and resort partners, including 125 Hyatt hotels. The organization has hospitality partners in all 50 states, as well as Canada. 
Overall, Clean the World has a two-part mission. First, to collect and recycle soap and hygiene products discarded every day by the hospitality industry and other sectors that generate environmental waste. Then, through the distribution of these and other donated products to impoverished people, to prevent millions of hygiene-related deaths each year while also reducing the morbidity rate for hygiene-related illnesses and encourages vigorous childhood development.
This mission is implemented, explained King, through the collecting, sorting and processing of discarded soap, shampoo, conditioner and lotion product donations from participating hospitality partners. The collected hygiene products are then recycled at one of the Clean the World facilities in Orlando, Fla.; Las Vegas or Hong Kong and delivered to domestic homeless shelters and developing countries suffering from high death rates due to acute respiratory infection and diarrhoeal disease.
In Dallas, the Hyatt housekeeping team is in charge of the collection of these items. Then they are shipped to the Clean the World Recycling Center. 
Usually, these are bottles with some contents still remaining and used bars of soap. These items always go through a very thorough and eco-friendly recycling method that is hygienic before being distributed.
"Clean the World is committed to maintaining an environmentally and hygienically safe recycling process," King said. "As the world's first and only high-volume soap recycler, Clean the World ensures that all bars of soap recycled and distributed around the world are completely safe and will not harm the end-user due to disease or pathogens that can be transmitted in the absence of proper repurposing."
One way this is accomplished, each bar soap is first surface cleaned at the Clean the World Recycling Center. The soap is then sterilized with a process that has been tested and validated by SGS North America. The sterilized soap is ground, and the soap grounds are inserted into a soap manufacturing line and repressed into brand new bars. The bars are boxed and loaded on pallets for distribution.
King said to date, Hyatt Regency Dallas has collected and donated 2,268 pounds of soap and 2,424 pounds in plastic bottles.
Collectively, the organization has collected 417,440-pounds of waste, which has translated to 1,177,621 bars of soap that has been distributed and 393,272 plastic bottles that have been recycled into hygiene kits. 
For more information, go to https://cleantheworld.org
---
Stay up to date on everything green in North Texas, including the latest news and events! Sign up for the weekly Green Source DFW Newsletter! Follow us on Facebook, Twitter and Pinterest.