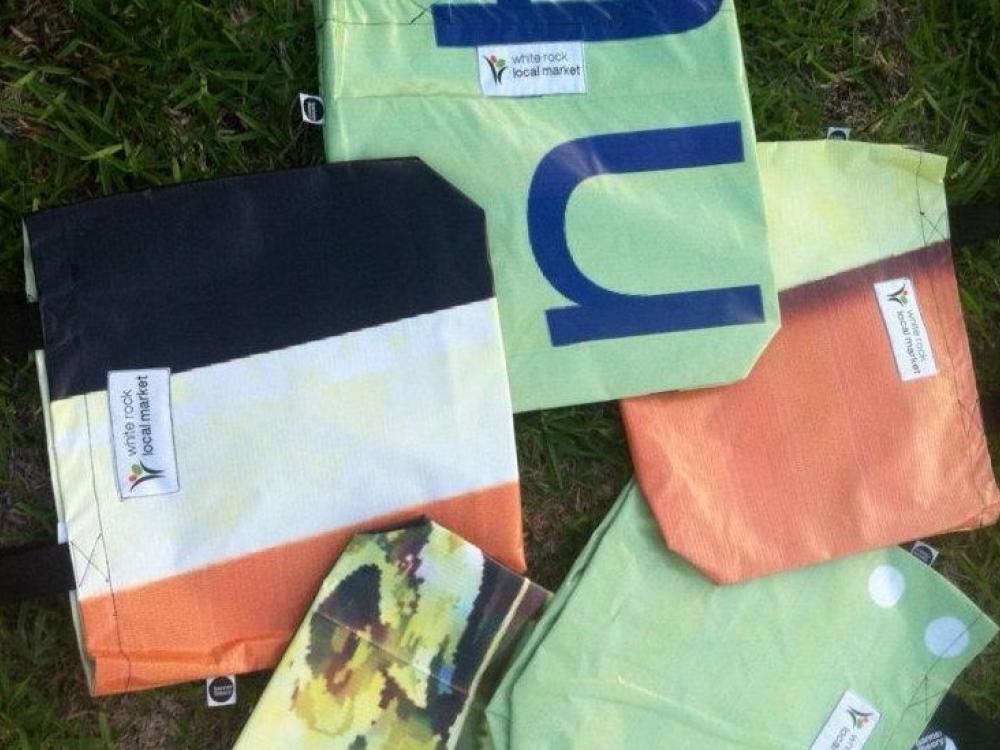 May 17, 2016 
Lisa Walter Rasley has found a way to turn an advertising byproduct into a cool eco-friendly accessory.
Rasley is the founder of  Dallas company called Banner Theory that makes purses and bags from vinyl billboard banners.
Even better, the products are manufactured locally with an ethical supply chain.  
"Everything is produced locally in Dallas at a living wage," Rasley says. "I work with a few teams of talented sewers in the Design District to contract out various jobs each time we go into production on a product."
Banner Theory was launched in 2010 when Rasley says she first produced bags for the Dallas Conference, BigBang. It was the perfect partnership for Banner Theory since BigBang is a conference about innovative ideas that are centered on "doing good."
"I was doing freelance graphic design work for a large billboard advertising company and it was the first time I was ever faced with the understanding of what material is used for billboard graphics," Rasley explains. "It's a sturdy reinforced vinyl material and it's non-recyclable."
She said it shocked her that each time a billboard is changed that a 14-foot-by-48-foot piece of vinyl goes to a landfill.
"I knew that there had to be something else that could be done with this useful material," she says. "After I had started down that path I was also happy to know that a handful of other small companies were doing the same."
The majority of billboard and banner vinyl that Banner Theory uses comes directly from the original advertisers so that her company can produce products specifically for the them and their audience.  However, Rasley says she does, on occasion, need to procure additional material for projects.
"For those needs, we have great partnerships with a few local billboard companies, as well as billboard printers - we take misprints off of their hands," she explains adding that the company does accept donations sparingly of old banners from folks who want to recycle.
"Our storage is limited," she explains. "So we can't always accept material unless it's for a specific project."
Although she designs the products herself, Rasley does not have a background in fashion or sewing so she often relies on her talented sewers to make suggestions on how to better construct the final product.
Retail pricing on the company's more popular items range from $12 for a Zipper Pouch to $35 for a Market Tote to $65 for a Messenger Bag, but wholesale pricing for larger orders and projects is available at a much lower price too.
"We can produce an item that an audience would particularly be interested in such as the cleat bags we produced for FC Dallas, and we can also brand the item for the company by adding a quality woven label or patch with the company's logo," she explains.
At the moment the most popular Banner Theory items include a variety of bags like market totes or messengers, but she says she has also produced more specialized products for more specialized clients such as indoor/outdoor furniture, athletic bags, garden buckets, presentation folders and shower curtains.
"Really, the possibilities are pretty limitless," she says.
Even with the challenges, for example the fact that billboard vinyl isn't as easy to work with as cotton material so that means it will take a little more time and effort to produce each item.
"This extra care and handling does serve as a challenge, but is definitely worth overcoming with each project," Rasley concludes.
Banner Theory does keep some stock in the studio for folks who reach out to Rasley via the website. Even better though, Rasley says that in the coming months, Dallasites will be able to find an array of custom products from Banner Theory at the Dallas Museum of Art. 
For more info, see BannerTheory.com.
---
Sign up for the weekly Green Source DFW Newsletter to stay up to date on everything green in North Texas, the latest news and events. Follow us on Facebook, Twitter and Pinterest.