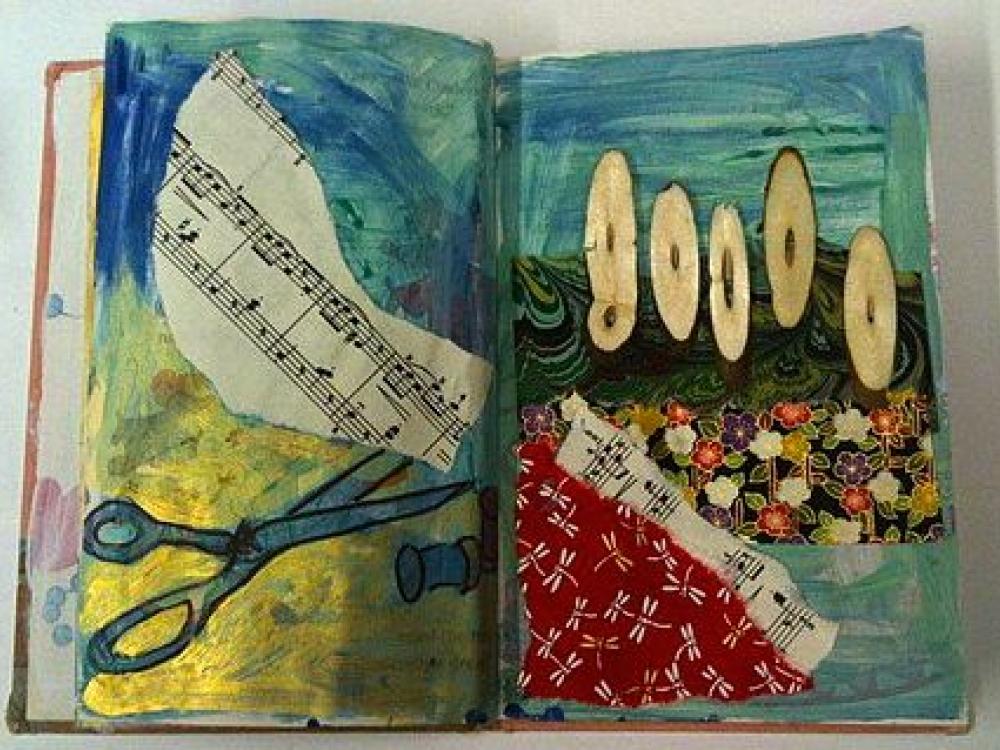 VET sells an eclectic mix of materials for art projects as well as handcrafted art and gift items made from found objects in her online shop, The Artcycle Club Store.
March 8, 2016
The Dallas artist named VET has added a fourth R to the "reduce, reuse, recycle" motto: re-invent.
In her Deep Ellum studio, she creates one-of-a-kind pieces from discarded items such as  books, dolls, paper mats, purses and book markers.
Since launching her Found Object Studio in 2001, she has branched out to encourage others to recycle by offering nontoxic found materials for sale at her online shop, the Artcycle Club Store. Here she sells surplus items at low cost that otherwise would have gone to the landfill – used golf balls, paper beads, gourd tops, corks, coated wire, CD cases, microfiche, wood slices and rubber casters – which can all be used for art projects. 
Dallas artist VET, courtesy of LochwoodLibraryFriends.org
But before you check out her virtual shop, you might be scratching your head about her name, VET.  Yes, it is her full legal name. 
"When I decided to become a professional artist, I wanted a name that was easy for others to pronounce and remember. VET was my childhood nickname and it seemed like a perfect fit for an artist, especially since it was only one name." 
The native Dallasite received her Bachelor of Arts and Performance at the University of Texas at Dallas and has been promoting recycling in her teaching and artwork for more than 20 years. 
"I think I've always recycled as an artist because I didn't have a lot of money to buy new stuff."
And though she started out dumpster diving, now the stuff "finds her" she said. Keeping materials moving is the challenge.
Book installation by VET. Courtesy of the artist.
"At one point I had five storage areas and it got to where I wasn't recycling I was hoarding," she joked.
For her latest project, it was friends she collected for the Friends of Fiber exhibition installed last month at the Jaycee Center for the Arts in Irving. The exhibit, up until March 25, features materials that have been deconstructed, manipulated and repurposed, she said.
The exhibition came about because of her membership in the Irving Art Association. 
"I had an opportunity to have an exhibit at the Jaycee Center and I wanted an exhibit that involved fiber and recycling. So I invited a few fiber artists to join me, which became the Friends of Fiber Exhibit, featuring Brenda Klein, Dee Merrell, Heather Pregger, Debbie Snider, Beth Swider and myself as curator."  
For the exhibit's 20-foot Tight Rope piece, VET put out an open call to other artists to participate. The result is a large string piece created collaboratively by Judy Blackwell, Sheila Cunningham, Patsy Davila, Caren Jandro, Brenda McKinney, Yvonne Perez, Malachi Rose, Beth Swider, Sherrie Tootle, Elisabeth Schalij, Yaro Sutton, Yusef Sutton and Kate Wickham.
The Tight Rope installation is a collaborative piece by VET and friends now on display at the Jaycee Center for the Arts in Irving until March 25​. Courtesy of VET.
"The Tight Rope Installation is a collection of threads, yarn, fabric stripes and ribbon that have been woven into designs and patterns. The various layers are secured by a series of nails placed in defined or random shapes. Each artist determined the size and intricacy of their design. There are underlying cords and repeated colors that unify the overall distribution of fiber."
Meanwhile, VET will continue to artfully weave her environmental message into other initiatives like her online Artcycle Makers Club, which features a new DIY art project every other month, along with instructions and how-to video link. 
Some of the items sold at The Artcycle Club Store. Courtesy of the artist.
"I teach people what they can do with the materials," she said. "So they can get past the pipe cleaners and toilet paper roll projects." 
To contact VET, email artcycleclubtx@gmail.com or call 469-ART-4755. Online: Found Object Studio and The Artcycle Club Store.
---
Sign up for the weekly Green Source DFW Newsletter to stay up to date on everything green in North Texas, the latest news and events. Follow us on Facebook, Twitter and Pinterest.