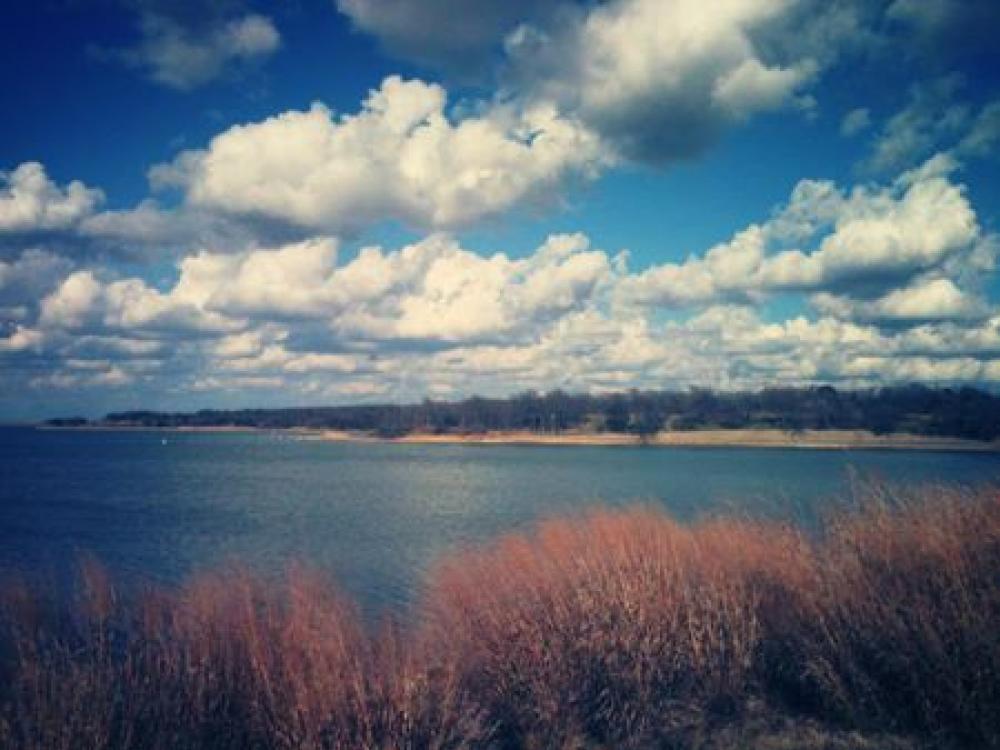 The Green Source DFW Run for the Environment will be held at Cedar Hill State Park, which overlooks Joe Pool Lake.  Photos courtesy of Cedar Hill State Park.
Sept. 30, 2014
By Julie Thibodeaux
Green Source DFW is inviting North Texans to get back to nature at the inaugural Run for the Environment on Oct. 11.
Organizers of the event said they searched for a scenic location for the 5K Run/Walk and found it at Cedar Hill State Park. 
"We wanted a setting where participants would see nature rather than the sidewalks of downtown Dallas," said Phillip Shinoda, founder and project manager of Green Source DFW.
Plus it offers a central location to the Metroplex. Many North Texans may not realize that the 1,800-acre hilly wooded preserve overlooking Joe Pool Lake, is only 10 miles southwest of Dallas and 25 miles southeast of Fort Worth. 
Organizers are hoping attendees will walk away with a new appreciation for the outdoor regional gem. In addition to four hiking trails, Cedar Hill State Park offers birdwatching, camping and access to Joe Pool Lake.
After the run, event-goers can explore some of the park's wooded dog-friendly trails. There will also be green vendors and live music on the scene with a view of the lake.
According to Shinoda, connecting North Texans to environmental issues as well as their natural environment is what Green Source DFW is all about. Through a website, weekly newsletter and social media, GSDFW aims to educate residents about green amenities, sustainable businesses and environmental organizations across DFW.
"Greensource DFW is the single best place to go to learn about all things environmental in North Texas," said Zac Trahan, DFW program director for Texas Campaign for the Environment.
Many of these environmental organizations and businesses will be represented at the Green Source DFW Run. Teams that have already signed up include: Citizens Climate Lobby, Dallas Sierra Club, Living Earth, Memnosyne Institute, Texas Campaign for the Environment, The Grove Coworking Space and the Trail Blazers of North Lake College, a DCCCD campus.
There is still time to register for the Green Source DFW Run for the Environment. Every runner receives a free tree, courtesy of Preservation Tree and the Texas Trees Foundation. In addition, participants will take home a 100-percent organic cotton race T-shirt.
All proceeds support Green Source DFW and its mission to advance the environmental movement in North Texas.
Sponsors for the run include: 
City of Dallas Enviromental Education Initiative, Dolphin Blue, Kroger, Natural Awakenings Dallas Metro, Preservation Tree Services, Recycle Revolution and Margie Haley. 
Garrett Boone and Grier Raggio. 
Botanical Research Institute of Texas; Clean Air Lawn Care; Commodity Recycling Systems; Connemara Conservancy; Dallas County Community College District; Dallas Sierra Club; Pam Daniel-Ebby Halliday; Earth Day Texas; GGO Architects; Dan Lepinski; Living Earth; Nested Strategies; 911 Wildlife; Mary Anne Redmond, CFP, RFC; Texas Trees Foundation; Texas Veggie Fair; Urban Acres; and Whole Earth Provision Co.
---
Julie Thibodeaux is the Managing Editor for Green Source DFW. Previously, she worked as an editor and writer at the Fort Worth Star-Telegram. Contact her at Julie@greensourcedfw.org.
Sign up for the weekly Green Source DFW Newsletter to stay up to date on everything green in North Texas, the latest news and events.