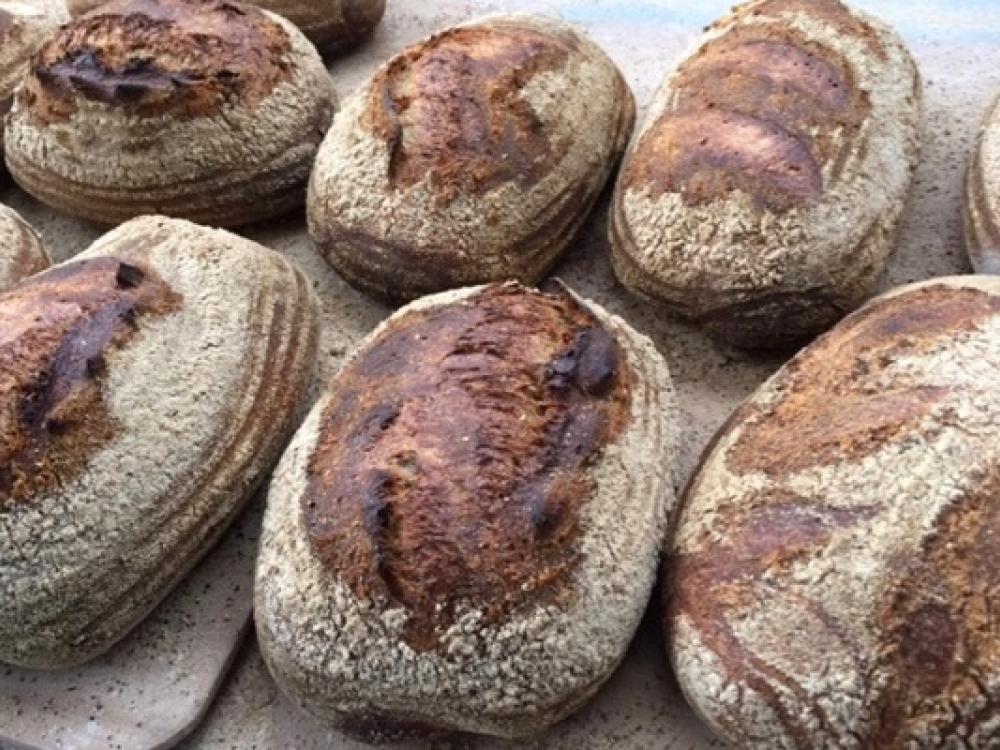 GreenSourceDFW.org writer dishes on the Barefoot Baker's breadmaking class. Photos by Andrea Ridout.
March 7, 2017
The baking of bread holds a spiritual quality for John Mureiko of Navarro County. As one of our most ancient foods, bread is revered, hoarded, traded and even blessed throughout the world, yet the ingredients are most humble: flour, salt, water and leavener. Mureiko, locally known as The Barefoot Baker, understands how to turn these ingredients into an edible masterpiece to feed his family and a growing base of devotees.
I recently had the chance to spend a day learning this process that is both art and science.
Mureiko grew up in Garland, spending weekends on the family farm in Kerens, Texas, about 90 miles south of Dallas-Fort Worth, where he and his wife Nicole eventually settled. Nicole developed an interest in concocting the perfect loaf, John followed and together they launched The Barefoot Baker, delivering their delicious edibles into Dallas weekly via strategically-placed drop-off locations, including Rooster Home and Hardware, Trinity Haymarket and Oak Cliff Coffee Goods.
John Mureiko, owner of the Barefoot Baker in Kerens, slides bread dough into the brick oven during a recent breadmaking class.
Green practices permeate most of the Barefoot Baker's business activities. All grains used in the bread are non-GMO and organic. Scraps and leftover pieces are not wasted but fed to the animals on the farm. Only fallen trees or branches are used for fuel in the oven. No live trees are cut down.
Mureiko's brother, Adam, as well as his parents each have a role in the business, from hand-stamping the company's logo onto eco-friendly brown paper bread bags using a 100-year-old printing press to babysitting the couple's kids on baking days. Brother, Drew, is also a bread man and helps with grinding wheat, cleaning and deliveries.
As a family affair, the Barefoot Baker has followed the model of many local food co-ops, selling shares to food connoisseurs who can opt for one or several loaves each week. Choices include whole wheat, sesame/wheat, rye, kamut and raisin bread. In addition to their loaves, the Mureiko's are now offering kamut cookies, pizza crusts and freshly-milled flour in their booth at White Rock Market.
They also offer workshops on bread baking to local aficionados at their home, which enticed me and my son to take a roadtrip last month.
Bread 101
Mureiko is a devotee of Chad Robertson, co-owner of Tartine Bakery in San Francisco, and he instructed each of the class attendees to pick up a copy of Tartine Bread, Robertson's book on the topic. This method produces a crisp outer loaf with a soft center, much like the hard breads that are common in Europe.
The class was held at the Mureiko family's yellow main house in Kerens with its sprawling kitchen that had plenty of room for our group of six fledgling bakers. We began by combining flour, sea salt and water, mixing it thoroughly and then allowing it to rest for an "autolyse" period of around 30 minutes. Patience is important in this technique, we learned, and it does not succeed if you rush things.
Student breadmakers at Mureiko's class. 
Next, the natural leavening was added, along with more water. Instead of conventional yeast, Mureiko and his family create their own, which is similar to sourdough, out of natural bacteria that is encouraged into a blend of flour and water. By nurturing and fermenting this precious mixture over a two-week period, it expands, just as yeast would, creating the bubbly essence that bakers have used for millennia to help their loaves rise and fluff. 
After adding the leavening, we carried out a series of "turns" or "folds" approximately every 30 minutes for a few hours. Then we rounded each ball of dough, giving the loaf its first shaping. After adding a bit more flour and smoothing the balls into rectangles, we carefully folded each into a loaf so that we did not "break" the gluten and placed them gently into small rattan proofing baskets. They were then covered to allow for rising.
It was time for lunch as Mureiko's wife, Nicole, invited us to enjoy a generous spread of salads fresh from their garden, sausages made from the farm's own pigs and as much pan-fried bread as we could eat, slathered with homemade butter and jam. Laughter abounded as individuals from many different backgrounds forged friendships over delicious but simple fare and stimulating conversation.
After a hearty meal, coffee was served while Mureiko discussed the finer points from Tartine Bread and imparted a few family secrets that I hesitate to pass on, just in case I decide to go into the bread business. OK, I will tell, but only if you keep this to yourself; the two most important ingredients in bread have nothing to do with what you pour into the mixing bowl. The first is TIME. As Mureiko says, "Bread demands that you follow a clock. If you are unaware of critical times during baking, you will fail." Second is TEMPERATURE. John insists, "Do not neglect the temperature of your dough if you want consistent bread." 
We all listened intently and were pleased when we peeked at our loaves that had doubled in size and were ready for the next, most critical step. Our entourage moved outdoors and fanned out around the massive wood-fired brick oven that is the centerpiece of the Barefoot Baker's enterprise. As John and Drew Mureiko checked the temperature to be sure that it was a few degrees above 600F, we all marveled at the two-ton masonry wonder that took over six months to build. 
After the loaves were carefully placed directly onto the oven's stone floor and the heavy iron door was locked securely in place, we warmed ourselves from the toasty draft, basking in the sweet aroma and hoping for the best. It wasn't long before we had an answer when the first steaming loaves were removed from the inferno using large metal paddles, called peels. 
Reporter's son Frank Ridout moves the bread with a metal peel.
The excitement was contagious while we tasted our creations – warm and wonderful like manna from heaven. Each loaf was more perfect than the last; dark, sweet and beautiful. Thanks, John, and the rest of the Barefoot Baker family for helping us to learn more about this amazing process of baking bread – food for stomach and soul. 
Readers can connect with the Barefoot Baker by visiting their website BarefootBreads.com and by liking them on Facebook. Future workshops planned include fermentation that will cover vegetable, grain, dairy and beverage ferments as well as more bread classes.
---
Stay up to date on everything green in North Texas, including the latest news and events! Sign up for the weekly Green Source DFW Newsletter! Follow us on Facebook, Twitter and Pinterest.