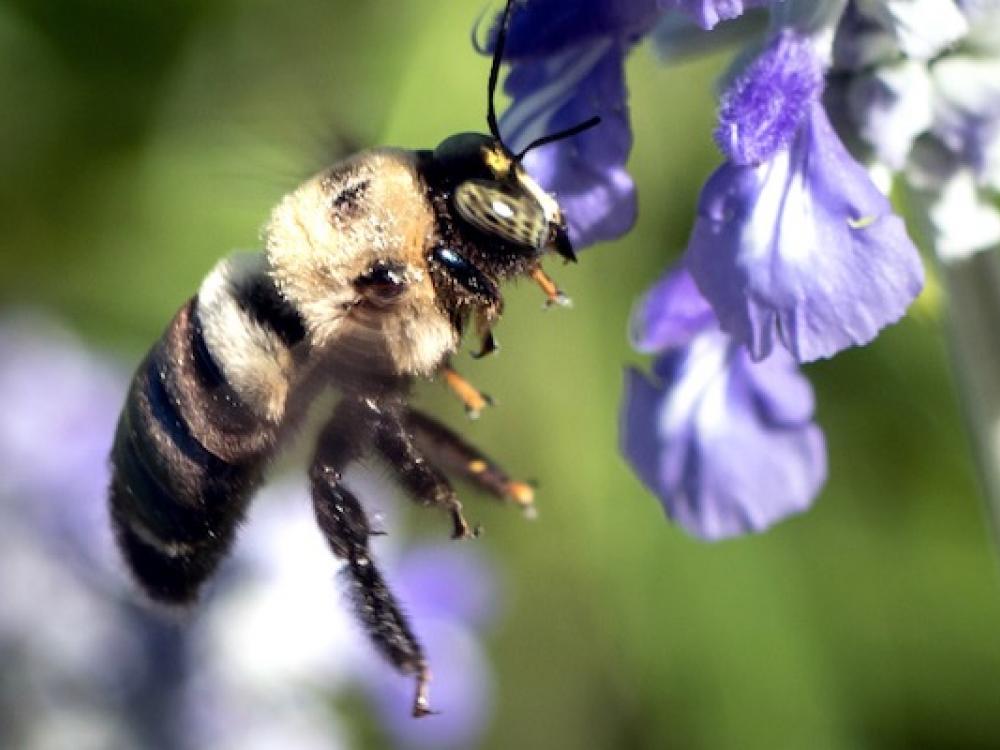 Above, a bee locates a blossom at O.S. Gray Natural Area in Arlington. Photo by J.G. Domke.
May 13, 2021
There's a familiar buzz in the air these days. 
North Texas gardens and roadsides are blooming and bees, butterflies and other insects are once again foraging for pollen and nectar to survive and raise their offspring.
But research has shown up to 40 percent of pollinator species may be at risk of extinction in the coming years, according to Bee City USA, an initiative of the Xerces Society for Invertebrate Conservation. 
The culprit – habitat loss, pesticide use and climate change.
Some North Texas cities and college campuses are working with Bee City USA to make their communities more bee friendly. 
Here in DFW, cities with current Bee City USA certification include Denton, Arlington and Grapevine, along with three college campuses — the University of North Texas, the University of Texas at Dallas and Tarrant County College's Southeast Campus.
The University of North Texas was the first campus in Texas to become a Bee Campus USA. Photo courtesy of UNT.
CITY BEES
When most people hear about "bees" they probably think of the European honey bee (Apis mellifera). However, the United States is also home to just over 3,600 native (wild) bee species such as bumble bees, leafcutter bees, sweat bees, mason bees, longhorn bees and mining bees, according to Bee City USA. 
"Native pollinators evolved alongside our native plants and in many cases are the most effective pollinators — and in a few cases, the only pollinators," says the organization.
Denton, a certified Bee City, has been working to consolidate management of their green spaces to be under the control of the Park and Recreation Department. Park and Recreation director, Drew Huffins says this includes pest control programs in the city.
"As a Bee City, we aren't using neonicotinoids at all to make sure we aren't effecting the pollinators," says Huffins.
Arlington, which became the 100th city in the U.S. to become a Bee City in 2019, is working on implementing a citizen science program looking for and identifying pollinators around the city, according to Melissa Walker with the City of Arlington Stormwater Department.
They hope to kick-off during National Pollinator Week in June and upload data into iNaturalist along with creating a "bee/pollinator education trunk" to show residents at events and for school programs. She promises "there will be more to come."
Grapevine pledged its commitment as a Bee City last year. This month, the city's Park and Recreation department is teaming up with the non-profit Keep Grapevine Beautiful on the fourth Saturday to plant 200 milkweed plants at the Parr Park Pollinator Prairie to help insects, especially the monarch butterfly.
CAMPUS BUZZ
Sustainability Service Honors graduates planted a pollinator garden by the UT Dallas library last week. Courtesy of UT Dallas.
The first Bee Campus in Texas was at the University of North Texas in 2016, where they have worked to enhance the pollinator habitat and bring awareness of pollinator conservation.
UNT's bee friendly projects include the creation of the Pollinative Prairie, a four-acre prairie reconstruction, along with a Community Garden and Natural Dye Garden, which provides natural resources for art students.
"We encourage our UNT community members to be gracious stewards of our environment and the certification is a testament to our commitment to sustainability," says Emily Bilcik, Chair of the UNT Bee Campus USA committee.
The University of Texas at Dallas was certified as a Bee Campus USA in 2018.
"We have over 13 acres of pollinator habitat," said Gary Cocke, Sustainability Director for UTD, via email.
According to Cocke, there are two apiaries on campus.
In the fall, the campus is launching the "Honey Helpers" program, where students will learn beekeeping and help harvest honey. "Comet Honey" will be sold to support student sustainability projects.
UTD also seeded three acres in October at the corner of Synergy and Waterview in partnership with City of Richardson's Operation Bloomtown.
To the west, Tarrant County College's Southeast Campus also received its Bee City certification in 2018 and continues its programs.
According to TCC, the Southeast campus is located on 166 acres in the southeastern section of Arlington. The campus features two ponds, a creek and a heavily wooded area and is part of a natural Blackland Prairie. Field trips are conducted at the nearby Blackland Prairie Park.
"By emphasizing the importance of maintaining the environment for both human, vegetation, and monarch and bee survival, it is our goal to help students develop an appreciation of our responsibility to live in the world as informed citizens," said Michael Cinatl, TCC Southeast sustainability committee chairman and assistant to the campus president. 
RELATED ARTICLES
North Texans step-up aid for migrating monarchs
Denton landscapers aim to create urban 'wildscapes'
Dallas promotes 'wildflower power' with pollinator program
---
Stay up to date on everything green in North Texas, including the latest news and events! Sign up for the weekly Green Source DFW Newsletter! Follow us on Facebook and Twitter. Also check out our new podcast The Texas Green Report, available on your favorite podcast app.